Spring Career Fair Draws 28 Companies

Computer Science Students Make Career Connections
The Spring Computer Science Career Fair gave nearly 250 undergraduate and graduate students an opportunity to connect with future employers.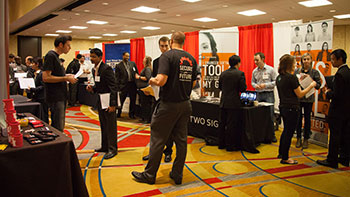 The four-hour event, held February 4 at the Hilton University of Houston, drew 28 companies. It was organized by CougarCS and the Department of Computer Science. CougarCS and the department team up each semester to organize a career fair.
"At this Career Fair, I told many of my fellow officers and organizers that we are striving for 'Bigger, Better, Brighter.' And with no doubt, the students and companies that attended agreed with that statement," said Maria Briceno-Rojas, CougarCS president. "The Career Fair has been substantially improving over the years in the quality of the event and the quantity of student and employer attendance."
A reception, held following the job fair, was attended by the company representatives, Cougar CS officers, and select faculty members from the department.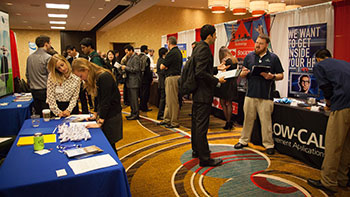 "Without exception, the company reps I spoke to were impressed by the caliber and preparation of the students they interacted with. It is very rewarding to learn that the tireless efforts of faculty and students are leading to internationally competitive graduates," said Jaspal Subhlok, chair of the computer science department.
"The most common request was to graduate more students. The demand for experts in computer science continues to grow in Houston and neighboring areas in line with worldwide trends," Subhlok said.

The Career Fair is an integral component of the Friends of Computer Science program intended to build a broad-based relationship between the Department of Computer Science and companies that have a strong interest in a high-quality computing program at UH.
Three companies, ExxonMobil, Flow-Cal and Intergraph Corporation, supported the event as Friends of Computer Science members. The Friends of CS program is designed to meet the needs of industry and give companies the opportunity to have a greater impact in the development of computer science work force.
Companies Attending the Spring 2015 Computer Science Career Fair
Adapt2 Solutions
American National
Baylor College of Medicine
CAPSHER Technology, Inc.
CenterPoint Energy
CSC Computer Science Corporation
cPanel
Ctuit Software
Data Foundry
ECMG
Egen Solutions Inc.
Element Blue
Epoch
ExxonMobil
Flow-Cal
Harris County Information Technology Center - Harris County Justice Applications Development Team
IBM Flash Systems
Intergraph Corporation
MRE Consulting
NetIQ
Pason Systems
Reynolds & Reynolds
Smart Systems
Sogeti USA
SunGard Consulting Services
The Friedkin Group
Two Sigma
United