Huang Receives 2013 UH Computer Science Chairman's Choice

Award Recognizes Overall Contributions to Research, Teaching and Service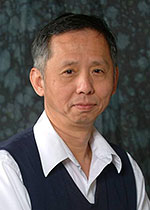 What does it take for a professor to be considered "excellent?" 
Every year, the chairman of the UH Computer Science Department has the honor of recognizing a faculty member's overall contributions to research, teaching and service. This year's winner of the Chairman's Choice Award is Prof. Stephen Huang who has served in the department for the last 32 years.
Prof. Huang is best known for his educational initiatives. He is the PI of the department's first NSF Research Experience for Undergraduates (REU) Program which offers undergraduate students motivation and training to pursue a graduate degree. During the last nine summers, more than 100 students have participated in the REU Program with resounding success. These undergraduate students have co-authored more than 40 conference and journal papers over the last nine years. Many of them still keep in touch with their mentors to share their professional successes.
In addition, Prof. Huang established the GAANN Fellowship Program, supported by the Department of Education. This program currently supports nine U.S. nationals toward their Ph.D. degree. Overall, Dr. Huang has mentored seven Ph.D. students, over 30 M.S. students, and more than 20 undergraduate students. Several of his past Ph.D. graduates are now tenured faculty members at other universities (e.g., Columbus State University, Georgia and University of Wisconsin-Parkside).
Dr. Huang has made significant contributions in Data Structures, Parallel Algorithms, and Intrusion Detection, resulting in about 100 papers published in refereed conferences and journals and about $2.8 million is external grant awards. In a soon-to-be published article in BMC Genomics, Dr. Huang's team developed a computational method to diagnose certain types of lymphoma. This proof-of-concept study demonstrated that automated diagnosis of chronic lymphocytic leukemia and follicular lymphoma can be obtained by examining the cell capture rates of a test case, using a computational method based on a multi-profile detection algorithm.
Apart from an astute educator and successful researcher, Prof. Huang has served in numerous administrative positions including Director of Graduate Studies, Associate Chair, and Chair of the department. During his tenure as the Associate Chair and Chair, he led the department in several areas:
Addressing an enrollment surge with over 1,000 students majoring in Computer Science by aggressively recruiting several instructional faculty to the department
Increasing the number of Computer Science tenure-track faculty from 16 to 20
Facilitating a five-fold increase of the department's external research funding from 0.5 M to 2.5 M
Facilitating the creation of new student organization (CougarCS) that has flourished and impacted the department in many positive ways.
"Every year we select one colleague for the Chairman's Choice Award who has dedicated a major part of their career to raising the profile of the Computer Science Department," said Department Chair and Prof. Jaspal Subhlok. "Without doubt, Dr. Huang deserves this honor. In addition to his outstanding research and teaching contributions, he has risen to the occasion every time the department needed leadership or help in innovative projects."
Prof. Huang, in accepting the award, stated, "It's a great honor to receive this recognition from my colleagues. I am glad that my work has made a difference in the department."