Student Information Employer Information
The Department of Computer Science (CS) at the University of Houston (UH), in collaboration with the student organization, CougarCS, hosts a career fair each fall and spring. The Computer Science Career Fair is an avenue for current CS students and companies to connect and discuss rewarding opportunities such as internships, co-ops, and full-time positions.
Computer Science Career Fair - Spring 2019
Wednesday, February 13, 2019
10am -2pm (entry doors will close at ~1:30pm)
Student Center South (UC) – Houston Room (2nd floor, room 220)
---
For Students
Preparing for Career Fair (CS specific)
Do you need assistance with preparing or editing your resume? Unsure of what to expect at the career fair or need advice on how to prepare? The department invites UH Career Services as well as company representatives to review resumes prior the fair. Below are the currently scheduled events:
UH College Suit-Up Event - Sunday, January 27, 6:30pm-9:30pm, JCPenney Meyerland Plaza

Exclusive event open only to UH main campus community (students, alumni, faculty, staff). Up to 40% discounts on select men's and women's career dress apparel and shoes.
RSVP required here

CANCELLED

- Career Fair Preparation Workshop - Monday, February 4, 3:30pm-4:30pm, PGH 563

This workshop has been cancelled due to speaker illness

Resume Workshop & Review - Wednesday, February 6, 1pm-2pm, PGH 563
Resume Review - Monday, Feburary 11, 4pm-6pm, PGH 5th Floor Hallway
Resume Review - Tuesday, February 12, 1pm-3pm, PGH 5th Floor Hallway
Other Resources - University Career Services has online resources to help develop and improve your resume, as well as tips for preparing for the career fair. If you need additional assistance:
Preparing for Career Fair - University-Wide Professional Development Week
All of the Professional Development Week events take place in University Career Services located at Student Services Center 1 (room 106)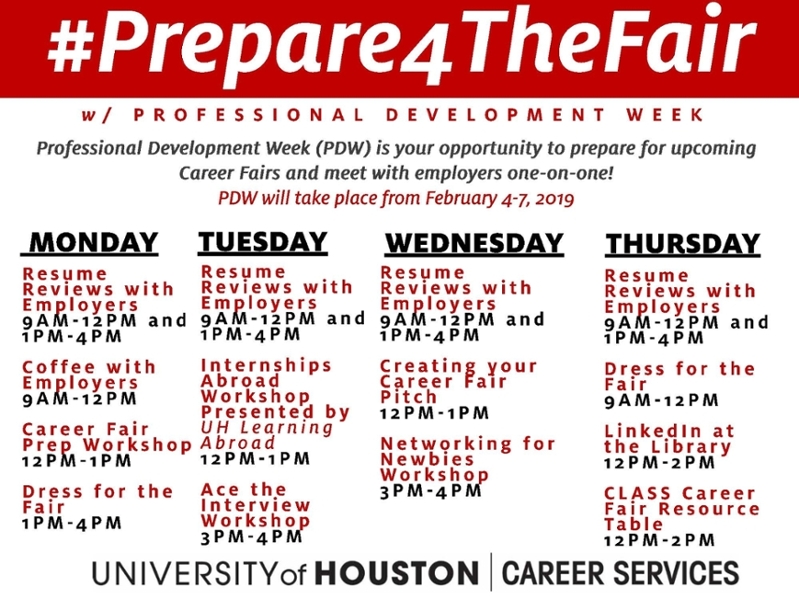 Career Fair Details and Policies
All currently enrolled UH Computer Science students are encouraged to attend. Meet with any employer anytime between 10am-2pm. Entry doors will close at ~1:30pm to allow companies enougth time to meet with the students remaining students in line.
A UH ID is required for entry.
Resumes – be sure to bring several copies of your professional resume.
Bag Policy - no backpacks will be permitted into the career fair. You will be able to store your bag in a separate room during check-in. The bag room will be monitored by a student volunteer.
Dress Code Policy - UH CS and CougarCS require dressing business professional. We adhere to the dress code policy outlined by UH Career Services. Students who fail to follow the dress code policy may be prohibited from entering the career fair until they are in compliance. Take a look at this infograph for reference. A list of resources are available if you are in need of professional dress assistance.
Employers Attending
---
For Employers
Based on past attendance, we expect to connect you with close to 400 Computer Science students.
Registration fee: $500. A reduced rate for government entities is available. The fee is waived for Friends of Computer Science (FoCS). Inquiries regarding the government rate can be directed to Matthew Pariyothorn at mmpariyo@central.uh.edu. The registration includes:
Breakfast and lunch
One table/booth: suitable for ~4 representatives
Parking
Electricity
Additional fees:
Holding and storage fee: for each package of recruiting materials. Cost varies by the number of packages.
Additional table/booth fee: if you would like an additional table/booth, the fee will be half the original registration rate. An additional table/booth is not required for representatives beyond 4, but is recommended to help alleviate congestion.
Priority registration deadline: Wednesday, January 9, 2019
Final registration deadline: Wednesday, January 30, 2019
Steps to register:
Submit the Employer Registration Form
You will receive an acknowledgement email, including invoice, in 2-3 business days.
Submit a $500 payment online or via check. Payment instructions will be provided after submitting the registration form.

Receipt will be emailed 2-3 business days upon payment.
Employer Schedule

8:30am-10am Employer check-in, setup, light breakfast
10:00am-2:00pm Career Fair
11:00am-1:00pm Employer lunch (concurrent with career fair)
Location
Student Center South – Houston Room (2nd floor, room 220)
Employer Parking
Welcome Center Garage located at the corner of Calhoun Road and University Drive. We will provide a validation ticket during the career fair. Please park only at the Welcome Center Garage as we are unable to validate tickets from other parking garages.
Shipping - it is highly recommended to use a company such as FedEx, UPS, etc. as shipping through the US Postal Service will be delayed. Below is the address to ship TO before the fair and the address for PICK UP after the fair.
4455 University Drive
University of Houston
Student Center South, Room 271
Conference & Reservations, Attn: Caitlin Goodwill, Res 90426
Houston, TX 77204
Ship To UH: please arrange your shipment so they arrive any date AFTER Wednesday, February 6.
Ship from UH: all companies are responsible for pre-scheduling the pick-up of any materials that need to be shipped back after the fair. Please have your shipping label(s) ready, if applicable.
Employer Representatives
Please send all employer respresentative names to Faith Kelly at fdkelly@central.uh.edu by Thursday, February 7.
---
Contact
If you have questions or need additional information regarding the career fair, contact Matthew Pariyothorn at mmpariyo@central.uh.edu.
If you are a student needing assistance with preparing for the career fair, utilize the resources on the UH Career Services website or contact the UH STEM Career Counselor, Caitlin Deis, at cdeis@Central.UH.EDU or 713-743-5100.