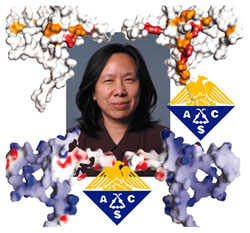 American Chemistry Society Award to Dr. Xiaolian Gao
Dr. Xiaolian Gao won the 2007 American Chemistry Society Southwest Region award. Dr. Gao received the award for her outstanding research in parallel chemistry synthesis. The ceremony took place at the ACS Southwest Regional Meeting in Lubbock.
Dr. Gaos lab conducts interdisciplinary research covering important areas in chemistry and biology, including single-cell molecule DNA sequencing, bioinformatics of nucleic acids and proteins, and parallel synthesis and digital photochemistry of bio and organic molecules.
Dr. Gao received her undergraduate degree from Beijing Institute of Chemical Engineering and a Ph.D. from Rutgers University. After post-doctorate work at Columbia University, she became a research scientist with Glaxo Inc. before joining UH in 1992.