University of Houston, the Energy University, is proud to introduce the inaugural cohort of UH-Chevron Energy Graduate Fellows – eight graduate students who are actively involved in innovative energy-related research across the UH campus.
Funded by Chevron, the program supports graduate students' research efforts through a one-year, $12,000 fellowship which includes mentoring by faculty experts and the opportunity to engage with subject matter experts at Chevron.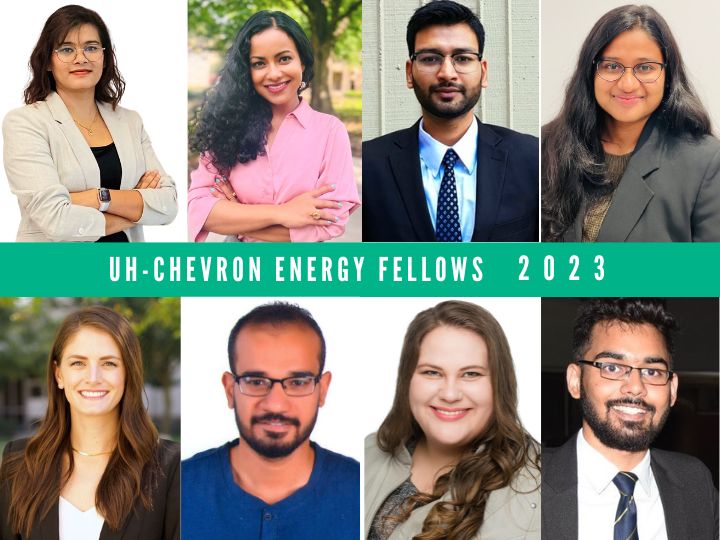 "We love that Chevron is sponsoring this group of fellows because it's a fantastic way for us to get involved with the students who are working on some of the biggest problems we'll face in society," said Chevron Technology Ventures President Jim Gable. 
The winners showcase a broad range of energy-related research at UH and their work focuses on scalable innovations for transformational impact on the energy industry.
Erin Picton is passionate about building resilient communities and sustainable technologies. Her research aims to increase the sustainability of lithium processing from unconventional brine sources.
"I love the idea of taking waste and turning it into value," she said. "As populations grow and become more technologically advanced, the need for energy generation will continue to expand as will the need for valuable elements like lithium, so optimizing every source of these resources is essential to reduce wasted water and energy."
Aparajita Datta is a political science Ph.D. candidate whose research focuses on the intersection of energy, climate and redistributive policies in the U.S. along with socioeconomic status, race and ethnicity in American politics. Her submitted proposal focuses on the federal Low-Income Home Energy Assistance Program (LIHEAP), a redistributive welfare policy designed to help households pay their energy bills.
"The motivation for my research focus came from my past work evaluating the impact of state climate policies on household energy burden across socioeconomic groups," she said. "My research is centered around exploring the impact of LIHEAP's administrative burden on program participation and the strategies that can reduce this burden for racial minorities."
Chirag Goel, a doctoral student, has long been fascinated by the nuclear fusion reactions that power the sun and stars and has been driven to replicate a similar process on Earth. His research proposal stems from this passion.
"High Temperature Superconductors (HTS) present the opportunity to achieve carbon-free economies by 2050," Goel said. "My research focuses on upscaling high-performance ReBCO (Rare-earth Barium Copper Oxide) HTS tapes and optimizing manufacturing processes. The goal is to enable the widespread application of HTS in clean energy systems."
The potential impact of this research extends to renewable energy generation, electric power transmission and advanced scientific applications, all of which contribute to a sustainable clean energy future.
Vice President for Energy and Innovation Ramanan Krishnamoorti is not surprised by the diversity of research topics that were submitted considering UH is a Carnegie-designated Tier One Research University where students at all levels are encouraged to engage in thoughtful and innovative research.
"The UH-Chevron Energy Fellowship program is an exciting opportunity for our graduate students to research the many critical areas that impact the energy industry, our communities and our global competitiveness," Krishnamoorti said. "Today's students not only recognize the importance of energy, but they are actively driving the push for affordable, reliable, sustainable and secure energy and making choices that clearly indicate that they are meaningfully contributing to the change."
The selected fellows will engage with Chevron subject matter experts on a quarterly basis and participate in educational and research engagements organized by UH Energy throughout the year. They will submit quarterly progress reports and may have opportunities to contribute to energy-related blogs and thought leadership pieces.
The 2023 UH-Chevron Energy Graduate Fellows:
Kripa Adhikari is a Ph.D. student in the Department of Civil and Environmental Engineering in the Cullen College of Engineering. Working under the mentorship of Professor Kalyana Babu Nakshatrala, she has been engaged in pioneering research involving thermal regulation and its practical implications in real-world scenarios and in the field of emerging green energy solutions, specifically enhanced geothermal systems (EGS). She has experience with computational science utilizing mathematical principles, data analysis, and natural language processing with some project experience in machine learning and deep learning. Adhikari has a bachelor's degree in civil engineering from Tribhuvan University in Nepal. She previously worked as a civil engineer with the Nepal Reconstruction Authority.
Aparajita Datta is a researcher at UH Energy and a Ph.D. candidate in the Department of Political Science in the College of Liberal Arts and social Sciences where she is studying public policy and international relations. Her research is focused on policy feedback analyses to improve energy equity and affordability for low-income communities. Datta has a bachelor's degree in computer science and engineering from the University of Petroleum and Energy Studies in India; and master's degrees in energy management and public policy from UH.
Chirag Goel is a Ph.D. student in materials science and engineering at UH, working under Professor Venkat Selvamanickam's mentorship since 2021. His research focuses on thin film fabrication of long-length high-temperature superconductors using Advanced MOCVD or metal organic chemical vapor deposition. Goel earned his master's in mechanical engineering from UH in 2020. From 2020 to 2021, he worked as a researcher in Selvamanickam's Energy and Device Fabrication Lab. He has co-authored seven published reference papers in renowned journals such as Superconductor Science and Technology and IEEE Transactions on Applied Superconductivity. Goel hopes to work on groundbreaking advancements in materials science and energy technologies.
Meghana Idamakanti is a third-year Ph.D. student in the William A. Brookshire Department of Chemical and Biomolecular Engineering. Working under the guidance of Praveen Bollini, Idamakanti's research focuses on the material aspects and intrinsic kinetic analysis of electrically heated steam methane reforming for cleaner hydrogen production. She received her bachelor's degree in chemical engineering from Jawaharlal Nehru Technological University in India in 2020. Her past research experience includes bio-oil synthesis, studying its properties and upgradability. Additionally, she studied hydrogen production efficiency from biowaste-derived proton exchange membrane water electrolysis during her undergraduate years. Before coming to UH, Idamakanti worked as a process engineering intern at Glochem Industries in India, contributing to maintenance and equipment testing. She hopes to contribute to sustainable energy initiatives, focusing on the reduction of carbon dioxide emissions. 
Erin Picton is an environmental engineering Ph.D. student in the Shaffer Lab at UH where she studies membrane separations for water treatment and renewable energy applications, especially pertaining to lithium resources. In addition, as a senior TEX-E fellow, Picton works with a cohort of Texas students in collaboration with MIT and Greentown Labs to build an entrepreneurship ecosystem around sustainable energy innovation. Previously, she worked in research and development as the chief sustainability officer of a desalination startup company based out of Houston. She also served as a visiting graduate researcher at Argonne National Lab and at INSA in Lyon, France.
Mohamad Sarhan is a Ph.D. student and a teaching assistant in the Department of Petroleum Engineering. He earned his bachelor's degree and a master's degree in petroleum engineering from Cairo University. His doctoral research focuses on seasonal hydrogen storage, in particular the geochemical and geomechanical stability of storage candidates during hydrogen cycling. His research interests include reservoir geomechanics and image analysis.
Swapnil Sharma is a Ph.D. student in the William A. Brookshire Department of Chemical and Biomolecular Engineering. His work with Professor Vemuri Balakotaiah, funded by the U.S Department of Energy, focuses on thermal modelling of large-scale liquid hydrogen storage tanks. He earned his bachelor's and master's degrees in chemical engineering from the Indian Institute of Technology (IIT) Delhi in India in 2019. Sharma co-founded CovRelief with two friends in 2021, a web-based non-profit app that tracked the availability of hospital beds, oxygen suppliers, updated list of state helpline numbers and more. It amassed millions of hits and helped fellow citizens get resources during the COVID-19 pandemic in India. Previously, he worked at Sterlite Technologies Limited or STL, an optical fiber cable company, in India for two years. There Sharma filed several patents on developing the world's highest fiber-count optical fiber cable. Creating positive social impact through his work has been a core motivator for Sharma.
Larkin Spires is working on her doctoral research involving a semi-empirical Brown and Korringa model for fluid substitution in the Department of Earth and Atmospheric Sciences in the College of Natural Sciences and Mathematics under Professor John Castagna. As someone intrigued by the world of geophysics and its intricate ties to mathematics, Spires has relevant industry experience in quantitative interpretation and post-processing of seismic data. Previously, she earned a bachelor's degree in math from Louisiana State University and a master's degree in geophysics from UH.