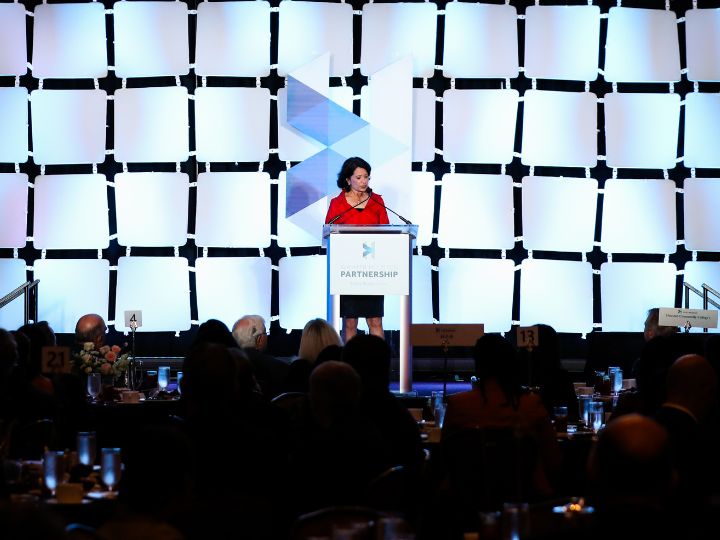 The University of Houston is changing lives.
That was the overarching message delivered by UH President Renu Khator at the Greater Houston Partnership's "State of Education." The annual event unites a who's who of academic leaders to address successes and challenges in the city's educational landscape. During her Nov. 29 presentation at the Royal Sonesta Houston Galleria, Khator offered compelling proof that UH is indeed making a difference in the lives of students and Houstonians. It also is helping drive growth in Texas and beyond.
At the onset of her speech, she thanked those in attendance for their work in educating Houstonians. She also expressed gratitude for the opportunity to support student success in the nation's fourth largest city.
"Houston is a large metropolitan area. We can't accomplish our goals alone," she said. "The beauty of this city is that we all work together and collaborate. That's why each Thanksgiving, I give thanks for working in this city and at the University of Houston."
She is especially grateful that UH continues to support the personal and professional growth of Houstonians from all walks of life. UH remains Texas' top ranked institution for social mobility, she said. With a No. 45 ranking in U.S. News & World Report, UH holds a significant advantage over its peer research institutions throughout the state.
Khator then offered evidence of UH's reach throughout the region.
"The University of Houston is important for anyone who lives or works in Houston … or is even thinking about moving to Houston," she said.
Khator acknowledged that UH enrolls 50% of four-year university students in Houston and awards half of the city's four-year university degrees. Likewise, UH's research expenditures account for nearly half (49%) of those awarded to universities in the city. UH, she added, is No. 1 in the state for intellectual property awards.
She followed that statistic with a nod to another top ranking, the Men's Basketball team taking the No. 1 spot in the Associated Press Top 25 poll. That quick note inspired an eruption of cheers and applause from those in attendance.
Khator then turned her attention to key focus areas for the University as it supports the needs of the region and its students.
"Universities are in the business of building knowledge," she said. "There is another piece to what we do and that is capacity-building for the community. I've always said great communities support great universities, and great universities help build great communities."
She cited three examples of UH's capacity-building (or adapting the institution's strengths, resources and programs to support Houston's evolving landscape). These areas include education, energy transition and health care.
In addressing education, she cited statistics reflecting educational attainment (or the highest level the degree received by individuals) in Houston. Among the top 10 most populated metropolitan service areas in the U.S., Houston ranks ninth for educational attainment for people 25 and older holding graduate, bachelor's or associate degrees.
One educational attainment strategy she referenced is Houston Guided Pathways to Success (Houston GPS). The initiative partners 13 universities (including UH) and community colleges to help streamline transfer processes and provide clear pathways toward bachelor's degrees.
Khator also shared details on UH's partnerships with six Third Ward schools: Cullen Middle School, Thompson Elementary School, Hatfield Elementary School, Blackshear Elementary School and Foster Elementary School. All previously received "needing improvement" scores on their Texas Education Agency (TEA) report cards. Khator revealed that recent TEA report cards reflected significant improvement across all of these schools.
"If you set your mind to it, you can truly make a difference," she said about the dramatic turnaround of these schools.
Khator also lauded the C. T. Bauer College of Business' Stimulating Urban Renewal Through Education (SURE℠) program. This initiative, she said, has supported the professional ambitions of more than 1,500 aspiring entrepreneurs through cutting edge curriculum and partnerships with venture capitalists. To date, the program has helped launch 560 businesses.
Khator then offered examples of the University's contributions to the energy transition, including its Energy Transition Institute, launched with the support of a $10 million gift from Shell USA and Shell Global Solutions. This research-focused initiative benefits from the talents of both the academy and industry, she said. Among those from UH involved with the institute are seven National Academy members who specialize in this field.
"This institute is research-based because energy transition presents challenges of both scale and scope," she said. "At least 50% of the technologies needed to achieve net zero carbon emissions have not yet been discovered. We want to be on the front lines when it comes to making those discoveries."
Additionally, she cited the Carbon Management Hub (aligning leaders in the energy industry) and Hydrogen Hub (a partnership with 13 universities and community colleges) as further examples of the institution's commitment to energy transition solutions. Another collaborative effort, EVolve Houston, addresses clean transportation and partners UH with the city of Houston and the energy industry.
"The goal of EVolve is to make sure that 50% of the vehicles on Houston's roads are electric by 2030," she said. "Clean air and clean transportation should be available for all Houstonians."
Khator then offered insight on UH's ongoing progress in the area of health care. She pointed specifically to its Household-Centered Care Program that is driven by students from the Tilman J. Fertitta Family College of Medicine, College of Nursing and Graduate College of Social Work. These Cougars make social health "house calls" to families in the Third Ward and East End.
"These are not social meetings or social visits," Khator said. "These interactions are part of carefully designed cross-disciplinary curriculum for our students. Student teams are assigned to families within Houston's underserved communities. Under the supervision of faculty, our students work together to create healthier outcomes for Houstonians by addressing their home environments, lifestyles and behaviors."
Khator closed her presentation with a summary of what's ahead for UH, including its continued push to become a Top 50 university and its top goal for the upcoming legislative session, a request for a $1 billion permanent endowment. She also reiterated the citywide impact of everyone in attendance at the State of Education and offered thanks for their ongoing support of the University of Houston.
"Together, we can raise the educational profile of this city," she said. "When we invest in our communities and in institutions like the University of Houston, we are investing in our city and in our future."
-By Mike Emery
---