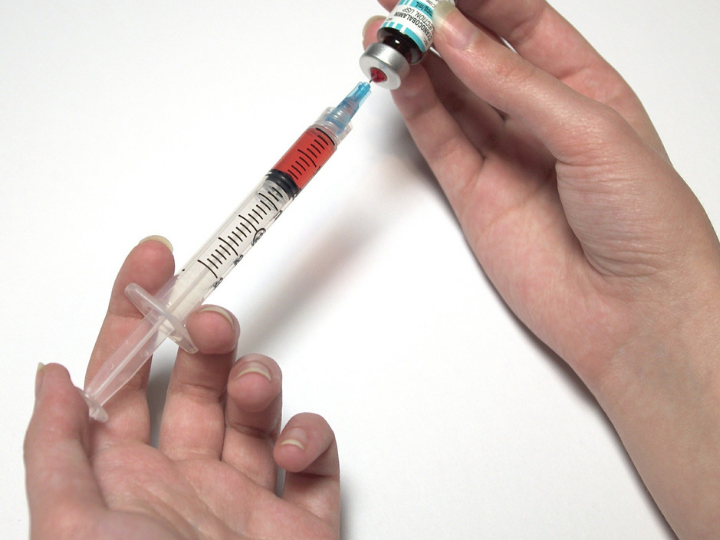 Wear a mask, keep your distance, wash hands and get a flu shot. That's the message the University of Houston is sending as this year's influenza season arrives during the COVID-19 pandemic. For three days this month, UH is offering flu shot clinics for the campus community.  There is no out-of-pocket cost for those with insurance coverage. With the coronavirus still a serious threat, medical experts say getting immunized for the flu is more important than ever.
"The one thing we certainly want to avoid is people getting infected with COVID-19 and the flu at the same time," said Dr. Stephen Spann, UH vice president for medical affairs and a family physician. "That would be a real double whammy because they both affect the respiratory system and have a fair number of overlapping symptoms."
This season, POWER UP Employee Wellness is teaming up with the UH Student Health Center to offer multiple H-E-B Pharmacy-sponsored flu shot clinics at various locations on campus on Tuesday, Sept. 8, Wednesday, Sept. 16 and Thursday, Sept. 24. There are plenty of shots available, but due to social distancing requirements, appointments will be necessary. Click here to see clinic locations and times and to make an appointment.
In order to receive a flu shot, UH employees and students need to:
Schedule an appointment early. Appointments will be closed two days prior to each clinic and walk-ins will not be allowed.
Make your appointment online for a day, time and location that works for you by clicking on your selected location here.
Consent to having a temperature check and not have fever.
Wear a face mask covering the mouth and nose.
Complete the Vaccination Consent Form in its entirety, in advance, and bring it with you.
UH employees:
OptumRx pharmacy insurance card or Blue Cross Blue Shield Texas medical card required; or,
Employees who do not have BCBSTX insurance should check with insurance provider to see if immunizations are covered; and,
Employees 65 years or older with Medicare Part B need to bring red, white and blue card to the clinic.
UH students:
UH System-endorsed Blue Cross Blue Shield Texas insurance plan insurance card required; or,
Proof of coverage under parent's insurance.
"We want to make sure everyone in the UH community – faculty, staff and students – has the opportunity to get immunized. That means making sure shots are easily accessible across campus," said Suzy Harrington, assistant vice president for student affairs- health and well- being. "We are also encouraging people, whether they are on campus or not, to please get a flu shot this season. We don't want that double respiratory impact of the flu and COVID-19."
Harrington adds employees who choose to pay out-of-pocket can pay $39 for a shot at the H-E-B Pharmacy onsite clinics and encourages those who can't make it to campus get a vaccine at the doctor's office or local pharmacy.
For students who choose to pay out-of-pocket, the cost for a shot is $25 at an H-E-B Pharmacy-sponsored clinic or $35 at the Student Health Center. Students who use the Student Health Center must schedule an appointment and complete required consents through the Healthy Coog Patient Portal for Students.
"We strongly encourage everyone to get the influenza vaccine," stressed Spann. "It's the best way to prevent the flu, and the benefits far outweigh the risks."
---