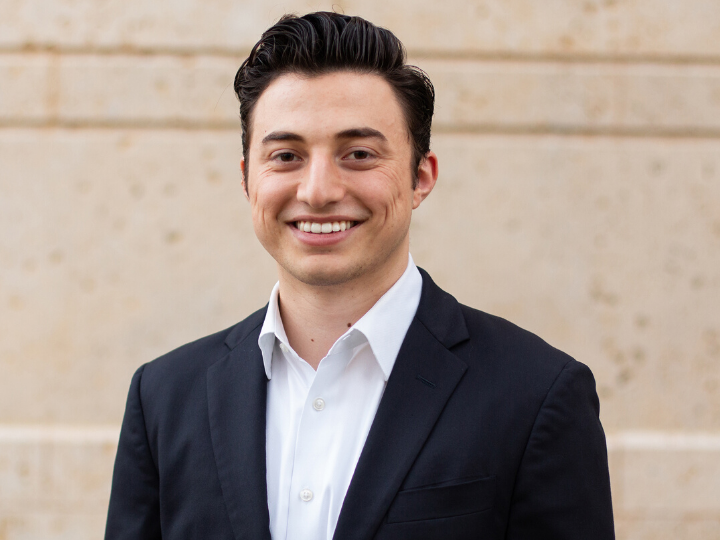 Mike Floyd, a University of Houston Honors College student and political science major in the College of Liberal Arts and Social Sciences, has been named a 2020 Truman Scholar by the Harry S. Truman Foundation. The Truman is widely regarded as one of the most prestigious national fellowships in the United States. Floyd is the just the second UH student to receive this honor and the first in 36 years. He is one of 62 scholars selected from a pool of 773 applicants, representing 316 colleges and universities.
"I'm grateful to be named a Truman Scholar, and I look forward to being part of a network of dedicated scholars and alumni committed to public service leadership," Floyd said. "Public service, but especially youth civic engagement, is a strong passion of mine. This award opens many doors to help create positive changes for all members of our communities."
As a 2020 Truman Scholar, Floyd will receive $30,000 toward graduate school and the opportunity to participate in professional development programming to help prepare for a career in public service leadership.
"Mike Floyd is a shining example of what happens when hard work meets talent, selflessness and compassion," said Renu Khator, University of Houston president. "Being named the University's second-ever Truman Scholar is not only an incredible honor, but a testament to his commitment to public service. We congratulate Mike on this accomplishment and look forward to seeing what he does next."
Floyd is passionate about youth civic engagement and making sure that every person's voice is heard. Tired of seeing the voices of young people neglected in his town's educational policies, he was elected to the Pearland Independent School District Board of Trustees in 2017 while still a senior in high school.
In 2018, as the Texas Democratic Party treasurer, Floyd began traveling throughout Texas to speak with college students about the importance of voting. He subsequently established a college registration and activism program to revitalize youth civic participation in Texas, which has already yielded significant results in pilot programs at several campuses.
"I ran for office at 18-years-old and took on the role of a state party officer just a year later because I believe that young people and our voices are essential in government," he said. "The issues that will affect young people the most - climate change, the national debt, education reform, and more - are being deliberated often without the youth perspective present. When young people do not vote and do not participate in civic life, our interests are not heard. Young people are going to have to step up and engage in all levels of government if we want to see a better future. I cannot think of a more important mission than that of revitalizing our democracy."
"Mike has demonstrated remarkable leadership as a University of Houston student, both on and away from campus. I am proud of his achievements, and that he will represent UH and Texas as a Truman Foundation Scholar," said Paula Myrick Short, senior vice president for academic affairs and provost.
At UH, Floyd is an associate justice for the University of Houston Supreme Court and member of the University Democrats. He is also a researcher in the UH Honors Phronêsis Research and Mentoring Program, in which he was recognized for his academic work on Thomas Jefferson. He will finish his undergraduate degree this spring and plans to go to law school.
"Mike has embraced the many opportunities available in the Honors College, the Department of Political Science, and at the University," said William Monroe, dean of the Honors College.
The application for the Truman Scholarship is intensive and potential candidates must first be nominated by their home institution before they can apply. Floyd was supported by Ben Rayder, director of the Office of Undergraduate Research and Major Awards, who was immediately impressed with his commitment to the application process.
"In addition to his duties as a public servant, Mike is also a full-time student. However, even with his various responsibilities and the run-up to the Texas primaries in early March, Mike took the application process very seriously." Rayder said. "This type of dedication not only made him an outstanding candidate, but I expect that it will define his career as a future change agent."
The Truman Foundation was created by Congress in 1975 as the living memorial to President Harry S. Truman and the Presidential Memorial to Public Service. The Foundation's mission is premised on the belief that a better future relies on attracting to public service the commitment and sound judgment of bright, outstanding Americans. For over forty years, the Truman Foundation has fulfilled that mission: inspiring and supporting Americans from diverse backgrounds and from across the United States to public service.
More information on the Truman Foundation and a complete list of the 2020 scholars can be found here.
---