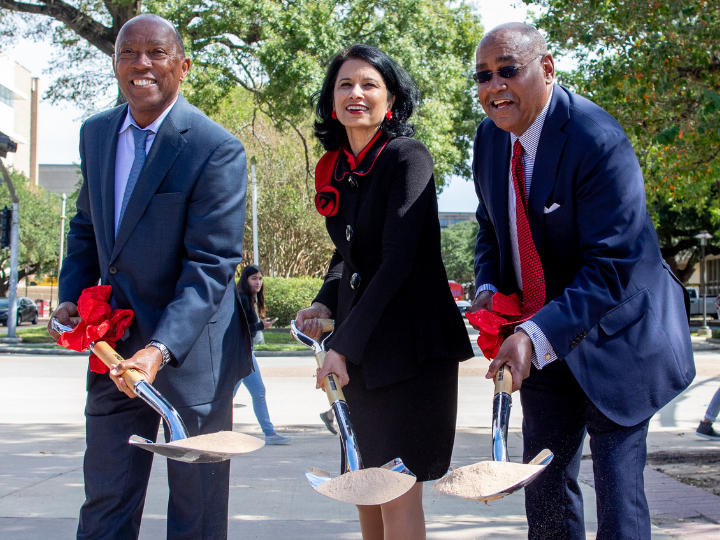 University of Houston President Renu Khator was joined by Harris County Precinct One Commissioner Rodney Ellis and Houston Mayor Sylvester Turner to break ground on the $19 million Cullen Boulevard construction project that will improve mobility and drainage in the area.
Last year, Ellis pledged to invest $30 million to reconstruct Cullen and other streets in the UH and Texas Southern University corridor. The construction will improve safety and accessibility for all users, including pedestrians, bicyclists, motorists and transit riders. The project also includes drainage improvements to help reduce street flooding during heavy rain events as well as lighting and landscaping features.
"In a few important ways, this project will significantly improve the quality of life for those in the UH and TSU communities who spend time on the campuses as well as those who live in the surrounding neighborhoods of Third Ward," said Ellis. "Road and drainage improvements like this are long overdue in Third Ward, which has been historically underserved when it comes to infrastructure."
Precinct One will contribute $15 million toward the Cullen project while the city will contribute $4 million and UH will pay for amenities such as pedestrian lighting, bus shelters and benches.
"This transformative project will not only improve safety and mobility on campus but will also enhance the University's image by creating a more pedestrian-friendly street at our front door. We are extremely grateful to Commissioner Ellis and Mayor Turner for their partnership and can't wait to take advantage of the new Cullen Boulevard," said Khator.
Khator, Ellis and Turner outlined the Cullen project during a news conference on the UH campus on Monday, Oct. 21. The $4.2 million phase one between North MacGregor Way and Wheeler, which started in June and is expected to be completed in March 2020, consists of the reconstruction of concrete curb and gutter roadway with 12-foot sidewalks and bikeways on both sides. It also includes a drainage system, new waterline, new street lighting, irrigation system and trees.
Phase two between Wheeler and I-45, scheduled to begin in March, also calls for reconstruction of concrete curb and gutter roadway with 12-foot sidewalks and bikeways on both sides. The work also involves a drainage system, waterline, five traffic signals, street lighting, irrigation system and trees. The construction is expected to be completed in 27-30 months.
The other street to be repaired near UH is Wheeler (Cullen to Scott). Streets in the TSU area scheduled for improvements are Cleburne (Ennis to Scott); Blodgett (Scott to Ennis); Tierwester (Blodgett to Rosewood) and Rosewood (Tierwester to Scott).
"This is an important example of how local governments and partners – Harris County, the city of Houston and the University of Houston – can achieve more by working together and leveraging our resources to better serve the community," Ellis said. "This campus is a vital part of the fabric of Harris County in many ways. Cullen is a primary thoroughfare and our goal is to make it a beautiful, welcoming gateway into this university."
---