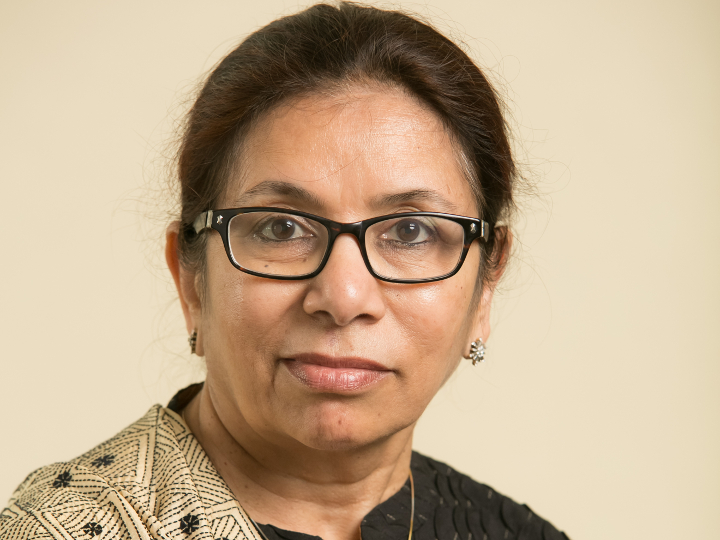 The Stimulating Urban Renewal through Entrepreneurship (SURE™) program at the University of Houston C. T. Bauer College of Business has been recognized as one of the nation's top university-led economic development initiatives.
The project received the 2019 Award of Excellence for Innovation + Talent at the University Economic Development Association annual summit earlier this month.
SURE™ is an innovative educational model that creates a partnership between UH students, entrepreneurs from the local community and area business leaders. Since its founding in 2012, SURE™ has educated more than 1,200 current and aspiring Houston area entrepreneurs, trained more than 300 Bauer College students and been involved in the launch or expansion of nearly 300 local businesses.
"At the heart of the program is experiential learning for our students, along with a commitment to service and civic engagement," said SURE™ Founder/Director Saleha Khumawala, the Robert Grinaker Professor of Accounting at Bauer.
Judges described the program as a best practice initiative in university-based economic development and an example of regional transformation for economic prosperity. "This project has been recognized by peers nationwide as an original, scalable, and sustainable solution which should be replicated," they wrote.
Graduates have likened the program to "a mini-MBA." Aspiring entrepreneurs who have proposed a business idea attend 12 free lectures and partner with graduate student consultant/mentors from Bauer College, the UH Law Center, the Cullen College of Engineering and the College of Liberal Arts and Social Sciences. Classes are led by experts in their fields, who share valuable insight into key components of successfully starting a business, from writing a business plan to developing and delivering a pitch to secure capital.
Khumawala said the program is grateful for the recognition, "as it highlights the effort and collaboration by our students, community volunteers and entrepreneurs. However, the greatest benefit was to present the SURE™ program on a national stage. Our goal is to not only make this program a transformative experience for our students and many in the city of Houston, but to also replicate its impact on college campuses and cities across the country."
The experiential, service-learning approach offers many benefits for students, Khumawala said.
"What the students are getting out of it is so powerful," she said. "They get real world experience, world class business guidance from the experts in the corporate world. And students who have this on their resume get jobs, because they have developed the skills employers are asking for: Working in teams, deep empathy, critical thinking, communication and leadership training."
For the UEDA competition, a panel of university and economic development professionals selected 20 finalists from nominated projects representing the top university-based economic development initiatives in the country.
Finalists from each Award of Excellence category presented their projects at the Summit in Reno-Tahoe, Nevada, and the professionals and educators in attendance voted.
Bauer's fellow finalists in the Innovation + Talent category included Western Carolina University, the University of Alabama and the University of Wisconsin System.
"Participation in UEDA's Awards of Excellence Program has shown that when these unique and innovative initiatives are given a wider audience to share their successes, they spur further engagement and inspire other professionals and institutions to introduce these best practices in their home regions," said Margo Fliss, chair of the UEDA Awards of Excellence committee.
SURE™ has won numerous awards. In August, it was named one of 66 organizations in 14 countries that make up Ashoka U's #MillionsofChangemakers coalition, showcasing the program's commitment to developing next-generation leaders and entrepreneurs whose business ventures elevate individuals, their neighborhoods and the world at large. Ashoka U is the higher education initiative of Ashoka, a global network of social entrepreneurs.
By Julie Bonnin
---