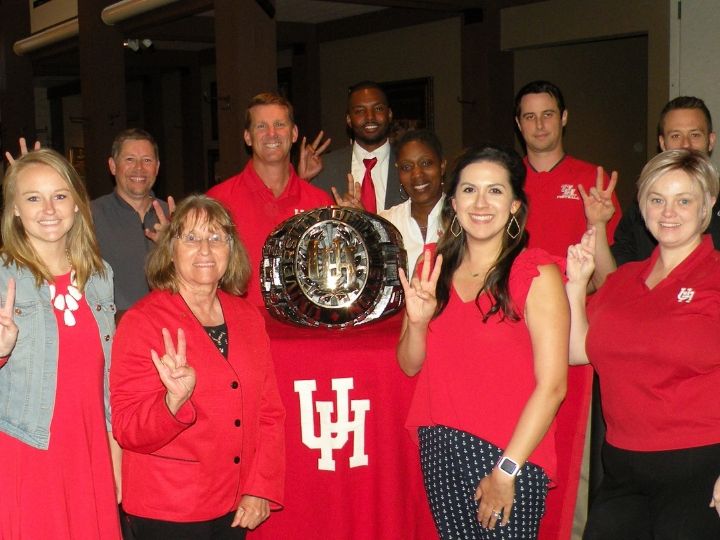 The University of Houston Alumni Association (UHAA) will unveil the new UH class ring statue at 4 p.m. on Friday, November 15 in the Student Center.
UHAA envisions the replica ring statue will inspire a spirited "ring" culture as part of the many cherished UH traditions. The prominent location in the Student Center is intended to serve as a definitive landmark on campus and instill pride as a symbol of a student's educational journey.
Wearing a UH class ring has been a tradition at the University of Houston since 1946. Prior to graduation each semester, the class ring is given to students at a formal ring ceremony. Tradition dictates that current students wear the ring facing inward until graduation while alumni wear the ring facing outward. The day before the ring ceremony, class rings spend the evening with UH mascot, Shasta VI, in the cougar habitat at the Houston Zoo.
The interlocking UH logo adorns the top of the official class ring. The right shank presents the University seal — a variation of Sam Houston's coat of arms — that features flanked martlets, two greyhounds, and a winged hourglass with the motto "In Time" above it. The student's graduation year is also featured on this side. The left shank bears the student's degree, a facade of the Ezekiel Cullen Building and the University's founding date, 1927. The commemorative ring displays the date of UH's first graduating class, 1935.
Invited guests scheduled to be in attendance include Mike Pede, UH associate vice president of alumni relations; Laurie Rutherford, board president of the UH Alumni Association Foundation; Christopher Caldwell, chair of the Student Center Policy Board; and the Spirit of Houston Band.
What: UH Class Ring Unveiling Event
Who: University of Houston Alumni Association
When: 4 - 4:30 p.m., Friday, November 15
Where: UH Student Center (West Entrance to Legacy Lounge), 4455 University Drive
Houston, TX 77204
---