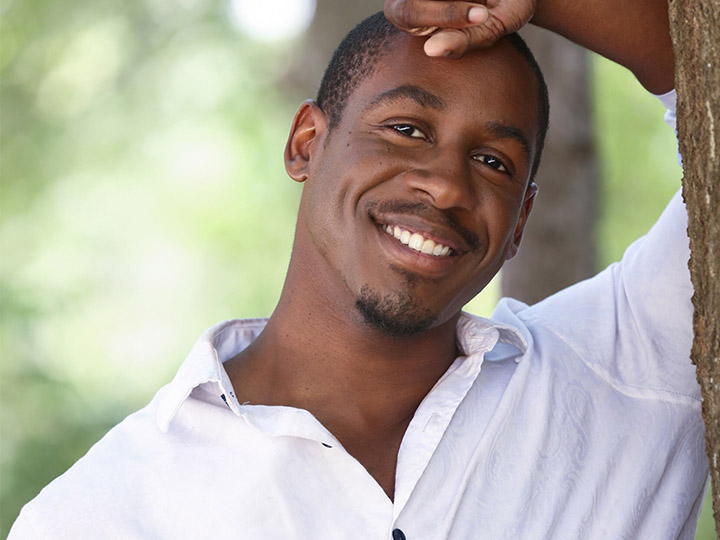 Ten years ago Kyle Rivera first picked up a viola by mistake. But it turned out to be a serendipitous accident for Rivera, who was 12-years-old at the time.  
"I originally signed up to play the double bass in the school orchestra," Rivera recalled with a chuckle. "But on the first day of orchestra, the instructors handed me a viola. I had no idea what it was, and I was too embarrassed to say anything. So I just stuck with it."
It turned out to be a life-changing decision for Rivera, who just graduated from the University of Houston Moores School of Music with bachelor's degrees in viola performance and music composition.
"Once I got in touch with music, it made me realize there are greater things to reach for," said the rising star, who is now fine tuning his viola for his debut at the 30th anniversary season of the Immanuel and Helen Olshan Texas Music Festival (TMF). As a TMF fellow, Rivera will perform with 92 other young musicians from around the world and work with renowned guest conductors. The festival runs Tuesday, June 4-Saturday, June 29 at the UH Moores Opera House and Dudley Recital Hall.
Continuing on the theme of "firsts," Rivera will experience another incredible moment this summer.  He will fulfill a longtime dream of composing for the Houston Symphony when it debuts a piece he wrote as a UH student. The opportunity is made possible by a partnership between UH, the Houston Symphony and Interfaith Ministries for Greater Houston. "Bella Laeta" is inspired by a Congolese refugee named Shinga who grew up surrounded by violence and political turmoil in the Democratic Republic of Congo.
"His story is divided into day and night," Rivera explained. "During the day, he and the other kids would go to school and play games. There was always fighting going on, but they were able to work their lives around it. At night, their elders would warn them about a monster—a metaphor for the rebels who kidnapped children in the darkness. "
Shinga now lives in Houston and works for Interfaith Ministries to help resettle other refugees.
Rivera wants music to be his life's work— nurturing his ability to express himself as both a performer and composer. And it's all because of the chance encounter with a particular string instrument.
Texas Music Festival 30th Anniversary Season Highlights: 
Opening night solo recital by Kenny Broberg, UH Moores School alumnus and silver medalist at the 2017 Van Cliburn International Piano Competition
Solo performance by French hornist Ernesto Tovar Torres, 2006 TMF alum and member of the Philadelphia Orchestra
Guest artist violinist Xiao Wang, 2016 TMF alum and faculty, Manhattan School of Music
Return appearances by conductors Franz Anton Krager, Carl St. Clair, Rossen Milanov and Josep Caballé-Domenech           
Appearance by WindSync, an award-winning woodwind group that includes three TMF alumni, on TMF PERSPECTIVES series
"For three decades the Olshan Texas Music Festival has brought classical music's rising stars to Houston and influenced the next generation of exceptional talent," said Alan Austin, TMF general and artistic director. "The festival's impact can be seen in the number of alumni who find a place in music as members of a major orchestra, solo and chamber music performers, and teachers."
TMF runs Tuesday, June 4- Saturday, June 29. Performances will take place at the Moores Opera House and Dudley Recital Hall.  Click here for concert schedules and ticket information.
---