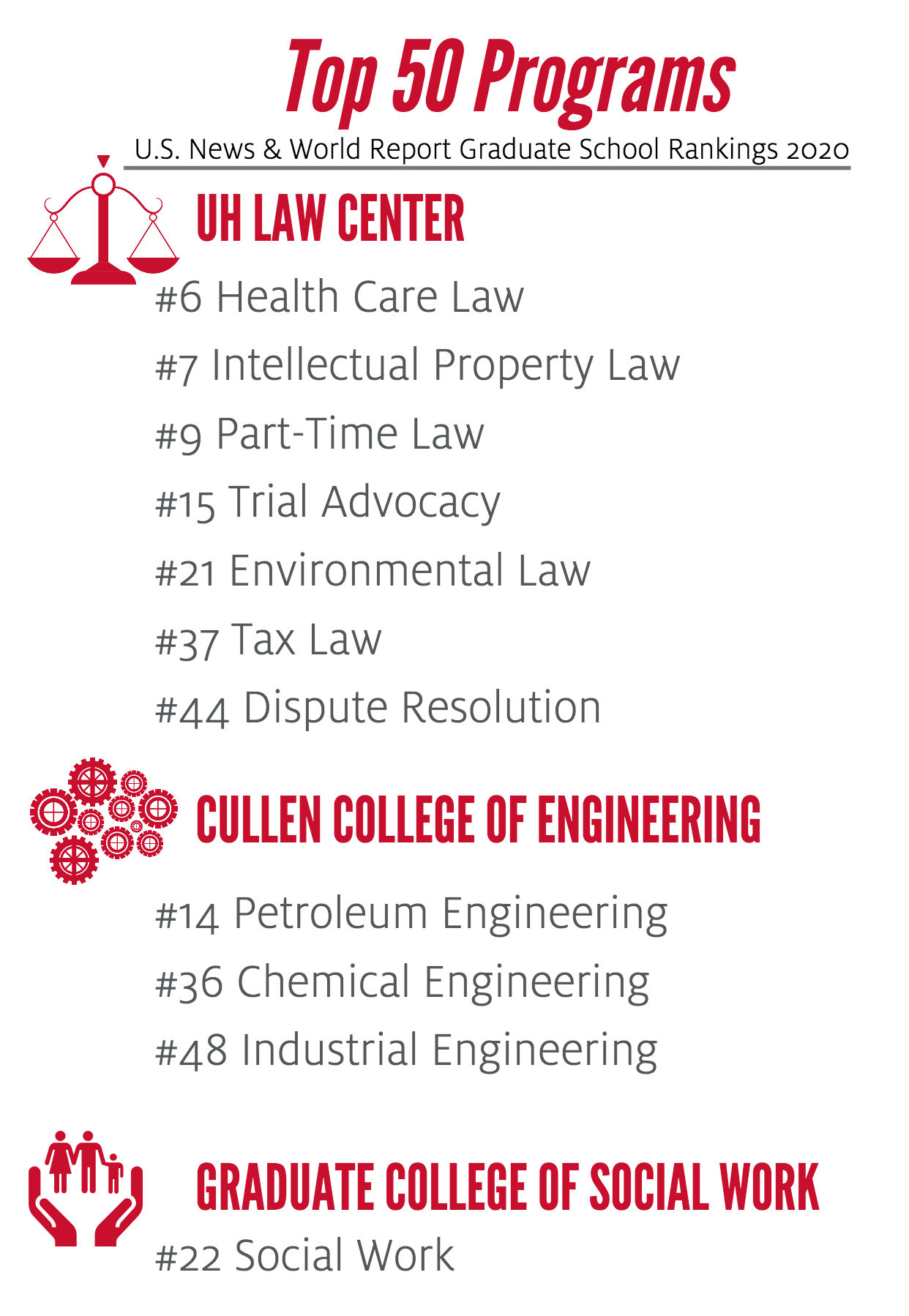 Eleven graduate programs at the University of Houston have been ranked as Top 50 programs in their disciplines in the 2020 U.S. News & World Report graduate program rankings released today.
The UH Law Center has three Top 10 programs: health law at No. 6; intellectual property law, No. 7; and the part-time program, No. 9.
As part of its strategic vision, the Law Center set a five-year goal in 2016 to have three specialty programs ranked in the top ten and one additional specialty program that was nationally ranked. In three years, it now has three specialty programs in the top 10, five in the top 25, and seven in the top 50: trial advocacy at No. 15; environmental law, No. 21; tax law, No. 37; and dispute resolution at No. 44.
"While rankings are important and serve as a useful scorecard, they are just part of what goes into defining the educational quality and reputation of a law school. We are an excellent law school with an outstanding faculty, high caliber students and thousands of successful alumni," said Leonard Baynes, Law Center dean.
The UH Graduate College of Social Work was ranked No. 22 among institutions offering a master's degree in social work, up two spots from last year's rankings.
"It is an honor to be recognized by our peers as one of the top social work programs in the country. For the second year, we have advanced in the rankings. I am particularly proud of this accomplishment during our 50th year as it is a reflection of the hard work of our faculty and staff," said Alan Dettlaff, dean of the Graduate College of Social Work and the inaugural Maconda Brown O'Connor Endowed Dean's Chair. "We continue to move forward as we work towards our vision to achieve social, racial, economic and political justice. This vision inspires all that we do and is at the core of our commitment to preparing diverse social work leaders in practice and research."
Three Cullen College of Engineering programs ranked in the Top 50: petroleum engineering at No. 14; chemical engineering, No. 36; and industrial engineering, No. 48.
Each year, U.S. News ranks professional school programs in business, education, engineering, law, medicine and nursing, including specialties in each area. Other disciplines are ranked periodically.
The rankings are based on two types of data: expert opinions about program excellence and statistical indicators that measure the quality of a school's faculty, research and students.
---