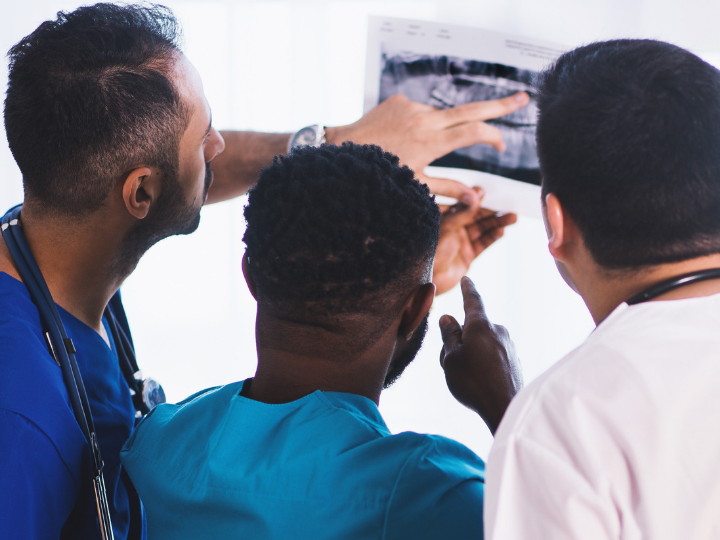 The University of Houston and HCA Houston Healthcare have taken an important step toward addressing the local and statewide shortage of primary care physicians by partnering to bring 138 resident positions to Houston by 2020 with plans for 389 total resident positions by 2025.
The inaugural group of 39 residents will be welcomed to the newly established HCA Houston Healthcare/University of Houston College of Medicine Consortium residency program during a Long White Coat Ceremony on Friday, June 28 at 10 a.m. at the Hilton University of Houston. The newly-minted doctors from around the world will be given new long white lab coats, recite the Hippocratic Oath, and meet the faculty and program directors they will be training under during the years of their residencies.
"Our partnership with the University of Houston will train and keep high-quality physicians where they're needed most – right here in Texas," said Jose Perez, M.D., vice president of graduate medical education for HCA Houston Healthcare. "The Long White Coat Ceremony is a very important milestone in the career of a young doctor. It symbolizes the transition between being a doctor in training, and becoming a fully-fledged medical doctor charged with the care of patients."
Houston has grown by four million residents since the last local medical school was established in 1972. Moreover, Texas ranks 47th out of 50 states in primary care physician-to-population ratio. The new UH College of Medicine is focused on preparing primary care doctors to practice in underserved urban and rural communities and hopes to admit its first class in 2020, pending preliminary accreditation by the Liaison Committee on Medical Education. The number of residency slots created in the UH-HCA partnership exceeds the total required by the State of Texas for consideration of new medical schools.
Studies conducted by the American Association of Medical Colleges found that 68% of all medical residents stay in the communities where they complete their graduate medical education.
"We are thrilled to partner with HCA Houston Healthcare to launch this residency program and we expect it to expand quickly," said Stephen Spann, M.D., UH vice president for medical affairs and founding dean of the UH College of Medicine. "HCA will provide clinical training sites for our medical students and we hope that many of them will want to complete their residencies within the new graduate medical education training program. Our goal is to train and keep primary care doctors in Texas to address the significant shortage, so it's a natural fit."
Starting Monday, July 1, the residents will be located at HCA Houston Healthcare Kingwood, host of four surgical residents and 20 internal medicine residents, and HCA Houston Healthcare West, the base for five obstetrics/gynecology residents and 10 in family medicine. The residents will also spend time training at HOPE Clinic, a local Federally Qualified Health Center with sites located in Aldine, Alief, Asiatown and west Houston.
Ana Benitez, M.D., one of the residents who will start working in internal medicine at HCA Houston Healthcare Kingwood, is excited about beginning the next phase of her training.
"I'm looking forward to learning about all of the latest treatments," she said. "I'm also eager to learn how to interact with patients and handle difficult situations."
Benitez, who has been living in New York City, is also "happy to be leaving all of my winter clothes behind!"
WHAT: University of Houston and HCA Houston Healthcare White Coat Ceremony
WHEN: 10 a.m. Friday, June 28, 2019
WHERE: Hilton University of Houston, Waldorf Astoria Ballroom, 4800 Calhoun Rd., Houston, 77004
PARKING: From Interstate 45 South, exit Spur 5 (Exit #44B). Follow to University Drive and make a right. Turn left on Calhoun Road and then make a right at the first stop sign (between the parking garages). Turn right at the dead end and the entrance to the underground Hilton parking garage will be on your left.  Please note there are road closures due to construction near the Hilton Hotel.
FOR THE MEDIA:  Jose Perez, M.D., vice president of graduate medical education for HCA Houston Healthcare, and Stephen Spann, M.D., UH vice president for medical affairs and founding dean of the UH College of Medicine, will be available for interviews before and after the ceremony.
---