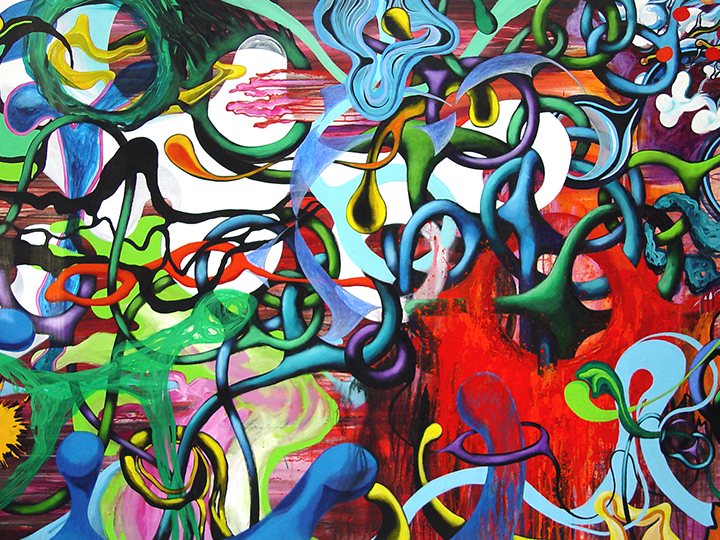 The Inter-University Program for Latino Research at the University of Houston Center for Mexican American Studies (CMAS) is joining forces with the city of Houston to host Latino Art Now! Houston (LAN!), a four-month citywide celebration that explores and celebrates local and national Latino and Latin American artists.
"The Latino and Latin American communities are the fastest-growing demographic," said Antonio D. Tillis, dean of the UH College of Liberal Arts and Social Sciences and M.D. Anderson Professor of Hispanic Studies. "I am especially excited to witness the ways in which Latino Art Now! will engage and inspire Houstonians of all ages and ethnicities."
LAN! Houston features more than 70 art exhibitions and other forms of cultural engagement at UH, area museums, galleries and cultural centers beginning Friday, Feb. 1 through Friday, May 31. A special feature of LAN! is the Spring of Latino Art (SOLA), an outgrowth of partnerships with area arts organizations and artists.
The centerpiece event of LAN! Houston is the LAN! Conference Thursday, April 4- Saturday, April 6 on the second floor of the UH Student Center South. This event is recognized as one of the nation's leading forums for visual artists, art historians, curators, collectors and educators. The theme of this year's conference "Sight Lines and Time Frames," refers to the building of critical visual literacy signaling that Latino art is an evolving notion traversing multiple generations and varying historical and social contexts. Houston is the fifth major city to host the conference since it started in 2005. Latino Art Now! is organized by the Inter-University Program for Latino Research (UPLR), a consortium of nationally-ranked research universities, and sponsored by the Office of the Provost. Click here to read about the history of the LAN! Conference.
"The goal of these exhibitions and programs is to engage artists, students, museum leaders and communities in conversations about the creation and dissemination of Latino art," said Pamela Quiroz, CMAS director and executive director of IUPLR. "These conversations are particularly important to global cities like Houston, where U.S. Latinos have played prominent roles in shaping artistic culture."
LAN! Houston sponsors include: Southwest Airlines, The City of Houston Mayor's Office of Cultural Affairs, Houston Endowment, Smithsonian Latino Center, University of Houston-Downtown, Houston Arts Alliance, Houston First/Visit Houston, Clear Channel Outdoor and Allegiance Bank. Click here to read more about LAN! Houston and see a list of artists and events.
---