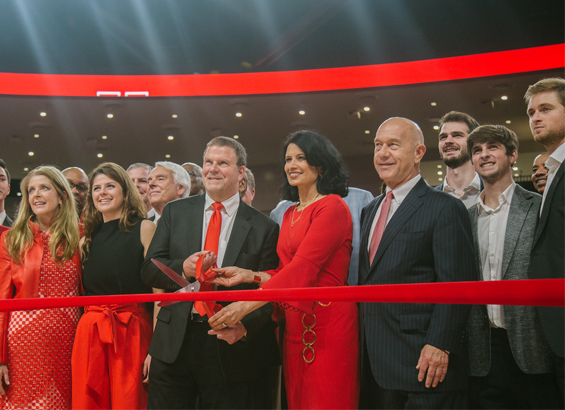 University of Houston President Renu Khator joined Tilman Fertitta, chairman of the University of Houston System Board of Regents, as the newest members of the UH Athletics Hall of Honor. Both leaders were inducted during the private opening celebration of the new Fertitta Center. Khator's induction was an unexpected surprise for not only her, but also the hundreds of alumni, donors and Hall of Honor members in attendance.
Their unwavering commitment to success has been instrumental in the transformation of the UH Athletics program over the past decade. Facility upgrades for football, basketball, baseball, track, golf and more - along with key personnel hires and commitments from top tier recruits - have elevated success on the playing field. Over a quarter of a billion dollars has been invested in upgrading athletics facilities since Khator took office in 2008 (Fertitta was appointed to the UHS Board of Regents in 2009 and has been chairman since 2014).
"Successful athletics helps drive student success which is a top priority," said Khator. "It's really important to have quality facilities to help our coaches recruit the best student-athletes. The transformation has been incredible."
Since 2008 UH Athletics has:
• Made 103 NCAA postseason team and individual appearances
• Won 34 team conference championships
• Won five NCAA individual national championships (Two Diving; Two Men's Indoor Track & Field; One Outdoor Men's Track & Field)
• Won two NCAA relay national championships (Two Men's Outdoor Track & Field)
The football program opened TDECU Stadium in 2014 and won the American Athletic Conference championship and the Peach Bowl the following season. Basketball dedicated the Guy V. Lewis Development Facility in 2016 and two years later the men's basketball team won its first NCAA Tournament game in 34 years and nearly advanced to the Sweet 16, while the women's team competed in the NIT. In addition, with the opening of the Ellen and Dominic Ng Academic Center of Excellence, student-athletes are being trained to be even better leaders in their homes and in their communities.
"One of the ways you build brand awareness is through your athletics department. It's a proven fact that if you have winning athletics, money pours back into the university and our chancellor and president Renu Khator understands that," said Fertitta.
Fertitta's $20 million gift - the largest individual donation ever to UH Athletics - helped transform the UH basketball arena into a modern-day sports venue. The former Hofheinz Pavilion was gutted beginning in spring 2017 and the $60 million transformation was completed in November 2018.
The refreshed facility seats 7,100 and features a premium club area and a courtside club. The reconfigured bowl has mid-court seating locations closer to game action with floor-level seating for UH students opposite the team benches. Renovations include a new audio system, sports lighting and video boards, as well as new concession stands and expanded restrooms.
The UH men's basketball team will host the University of Oregon at 8 p.m. Saturday, Dec. 1, in the first game played at the new Fertitta Center.
About Renu Khator
Renu Khator recently celebrated her 10th anniversary as president of the University of Houston, having assumed her post as well as the UH System's chancellorship in 2008. UH enrolls more than 46,000 students, offers 280 degree programs and now awards nearly 10,000 degrees each year. During her tenure, UH has experienced record-breaking research funding, enrollment and private support, highlighted by the "Here, We Go" campaign, which has raised more than $957 million toward its $1 billion goal.
Born in Uttar Pradesh, India, Khator is the first Indian immigrant to lead a comprehensive research university in the United States and the first female chancellor of a Texas higher education system. Among the institutional accomplishments Khator is most proud of are the elevation of UH to Tier One status in 2011, being awarded a Phi Beta Kappa chapter in 2015, establishing a College of Medicine in 2018 and improving graduation rates 10 points in 10 years.
About Tilman Fertitta
Tilman J. Fertitta was appointed to the University of Houston System Board of Regents in 2015 by Governor Greg Abbott for a second six-year term and will serve through August 31, 2021. He has been chairman since 2014. A native of Galveston, he attended UH's Conrad N. Hilton College of Hotel and Restaurant Management. In 2016, Fertitta donated $20 million, the largest individual donation ever to UH Athletics, to help transform the UH basketball arena into a modern-day sports venue now called the Fertitta Center.
Fertitta is the sole owner, chairman and CEO of Fertitta Entertainment, Inc., which owns both the restaurant giant Landry's, Inc. and the Golden Nugget Casinos and is recognized as a world leader in dining, hospitality, entertainment and gaming industries. Landry's operates more than 500 properties in 34 states and owns a number of international locations. It is also one of the country's largest employers with more than 60,000 employees. He purchased the NBA's Houston Rockets in 2017. An influential business figure, Fertitta stars in his own reality TV show on CNBC called Billion Dollar Buyer.
---