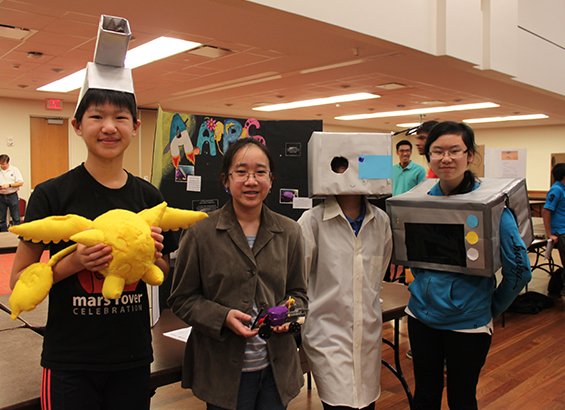 Future space explorers from dozens of Houston area elementary and middle schools are putting the finishing touches on an important mission: to build model Mars Rovers. Their creations will go on display at the 2018 Mars Rover Celebration from 9 a.m. - 6 p.m., Saturday, Jan. 27, at the University of Houston Student Center South Houston Room. Click here for map.   
Among the hundreds of rover models will be a new set of Martian habitats created by students from public housing communities. Two teams of fourth and fifth-grade girls from Cuney Homes, a public housing development in Houston's Third Ward, are building a home and an escape vehicle with help from Sylvia Guilliam, a Cuney Homes resident.
Guilliam, a certified community health worker, is part of a new UH initiative to train public housing community residents to lead students in project-based STEM challenges. The curriculum for the habitation program was developed by the Honors College and the College of Education's STEM Teaching Equity Project.
"I've learned a lot working with the children. We are exploring together. We don't have all the answers, but we will find them," said Guilliam.
Ultimately, the program seeks expand and create a national corps of community-embedded STEM educators through the U.S. Department of Housing and Urban Development's STEM Innovation Network.
"The idea is to teach children who live in public housing how to become problem solvers in areas of science, technology, engineering and math, a skill that can extend to all areas of their lives," said Dan Price, a UH Honors College faculty member who is working with Guilliam and her students.
The Mars Rover Model Celebration and Competition follows a NASA curriculum that teaches students to use $25 worth of common household items – such as toilet paper, aluminum foil and paper towels - to design and build a model rover for a science mission on the surface of Mars.
This year, organizers from the UH STEM Center expanded the Mars Rover Celebration to include housing modules and remote participants from other states, including California and Indiana. Heather Domjan is executive director of the UH STEM Center and 2018 Chair of the Mars Rover Celebration organizing committee.
"With NASA working towards launching manned missions to Mars as early as the 2030s, it is incredibly exciting to consider the possibility students at this year's celebration could be among the first to step foot on a new world."
---