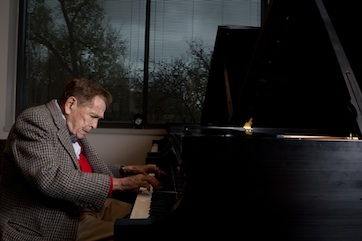 For more than three decades, the University of Houston has welcomed rising stars and music legends to campus for the International Piano Festival.  This year's event continues the tradition with performances and master classes from the festival's esteemed founder Abbey Simon and special guests Roberto Plano and Robert McDonald.
The 32nd Annual International Piano Festival will entertain and educate audiences Feb. 6 – 8 at UH's Moores School of Music. Recitals will be performed in the Moores Opera House, and master classes will be conducted in UH's Dudley Recital Hall. Festival tickets can be purchased online or reserved by calling 713-743-3313. Prices are as follows:
Recitals only - $60, $35 for students and seniors
Recitals and master classes - $85, $45 for students and seniors
Single recitals - $25, $15 for students and seniors
Single master classes - $10, $5 for students and seniors
Artist conversation luncheon - $15 (includes boxed lunch)
A legend in classical music, Simon picked up the piano at the age of 3 after replicating a melody that was playing on the radio. Since then, Simon has rarely been away from the piano and continues to dazzle audiences around the globe.  Trained by legendary composer Josef Hofmann, Simon earned the prestigious Walter Naumburg Prize in 1940 – leading to performances at New York's Town Hall and Carnegie Hall. In 1977, he brought his talents to UH, where he continues to groom rising musicians and entertain Houston concertgoers. Simon remains one of the most recorded classical music artists of all time. At age 93, he shows no signs of slowing down. According to colleague Franz Krager, Simon is a link between three generations of musicians.
"He represents the 21st century because he's still performing. He represents the 20th century because that's when he built his career. And he has a direct connection to the 19th century because the people who taught him were from that era," Krager said.
Italian pianist Plano's accolades include first prize at the 2001 Cleveland International Piano Competition, laureate of the 2003 Honens International Piano Competition and finalist at the 2005 Van Cliburn International Piano Competition. He's performed at noted concert halls throughout North America including Alice Tully Hall in New York's Lincoln Center and the National Arts Centre in Ottawa. Plano also has taken his talents to international stages and served as a soloist for the Calgary Philharmonic. For more details on Plano, visit his website.
McDonald holds the Penelope P. Watkins Chair in Piano Studies at the Curtis Institute of Music and is a faculty member at the Juilliard School.  He has paired his talents with noted musicians including legendary violinist Isaac Stern. He's also performed with the Takacs, Vermeer, Juilliard, Brentano, Borromeo, American, Shanghai and St. Lawrence string quartets. McDonald's prizes include the Gold Medal at the Busoni International Piano Competition, the top prize at the William Kapell International Competition and the Deutsche Schallplatten Critics Award. To learn more about McDonald, visit his website.
A schedule of 2015 International Piano Festival concerts and master classes is as follows:
7:30 p.m. – Abbey Simon recital in the Moores Opera House – Works to be performed include Beethoven: "Sonata No. 30 in E Major, Op. 109," Brahms: "Fantasies, Op. 116," Chopin: "Andante spianato and Grand Polonaise Brilliante in E-flat Major, Op. 22."
9 a.m. – Roberto Plano Master Class in Dudley Recital Hall
12:30 p.m. - Artist Conversations Luncheon in Room 108 of the Moores School of Music – An informal luncheon featuring IPF artists discussing their lives and careers. Advance reservations are required for lunch. Auditors are welcome to attend this event for $5 (lunch not included) and may pay at the door.
2 p.m. - Abbey Simon Master Class in Dudley Recital Hall.
7:30 p.m. – Robert McDonald recital in the Moores Opera House – Works to be performed include Bach: "Prelude and Fugue in B major, Book II WTC," Mendelssohn: "Prelude and Fugue in E minor, Op. 35, No. 1," Beethoven: "Sonata in A-flat Major, Op. 110," Brahms: "Variations and Fugue on a Theme by Handel, Op. 24."
11:30 a.m. – Robert McDonald master class in Dudley Recital Hall
3 p.m. – Roberto Plano recital – Works to be performed include Debussy: "3 Preludes," Scriabin: "2 Impromptus," "Vers la flamme," Liszt: "3 Petrach Sonnets from Années de pèlerinage," "Deluxiéme année: Italie S. 161."
Plano and McDonald will be performing on Steinway pianos, complementing the Moores School of Music's initiative to become an all-Steinway institution. Recently, an anonymous donor contributed $5 million to provide the school with 170 Steinway pianos. This donor challenged the school to raise $1 million for an endowed fund to support the maintenance of these instruments.
The Moores School of Music offers bachelor's, master's and doctoral degrees. It serves approximately 600 students annually. Areas of study include composition, conducting, performance, theory and musicology. Its faculty consists of internationally recognized performers, composers and scholars. A majority of the school's concerts are performed in the 800-seat Moores Opera House. For more details on the Moores School of Music, visit http://www.music.uh.edu/.
---