Galveston residents won't soon forget the wrath of Hurricane Ike. Surge tides flooded portions of the island, displacing thousands of homeowners, destroying businesses and leaving a lasting impact on the island's coastline. As bad as Ike was, the damage could have been much worse.
Recently, researchers from the Severe Storm Prediction, Education and Evacuation from Disasters Center (SSPEED) proposed a levee system to protect downtown Galveston businesses and the University of Texas Medical Branch
(UTMB). For now, community leaders are pondering this prospective storm barrier, but University of Houston architecture students are actively demonstrating how it can be a functional aspect of the city's landscape.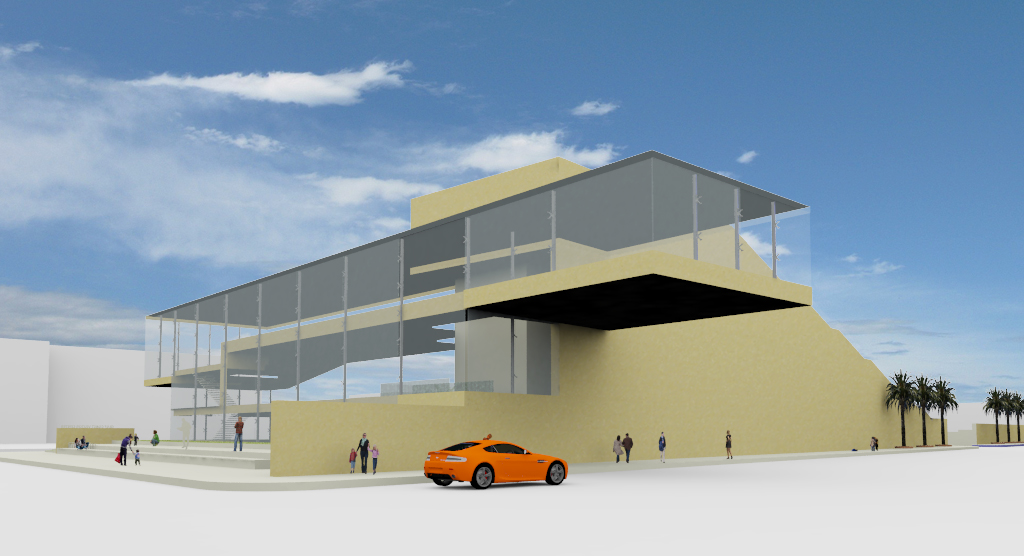 This fall, 12 students at UH's Gerald D. Hines College of Architecture developed designs and plans for urban amenities that can be incorporated into a Galveston levee. Parks, landscaping, parking lots, commercial spaces and other amenities are included in students' physical and computer models. Students recently presented their ideas for a panel of industry professionals, and these plans soon will be shared with Galveston civic leaders. These projects were part of professor Thomas Colbert's Advanced Design Studio class.
"As architects, we have the opportunity to shape the physical environment around us…to shape our cities, so they're more sustainable and more resilient," Colbert said. "This exercise allows us to show community leaders that a levee doesn't have to be a concrete wall that disrupts a pleasant streetscape. It can actually enhance an entire district and make it a nicer place, while at the same time making it safe."
Students visited Galveston earlier in the semester and explored the area in which a levee would be placed. They then focused their energies on integrating the levee with a visitors' center for a prospective coastal recreational area (also proposed by SSPEED).
Fifth-year architecture student Mel Fuentes developed a plan that would create an urban park alongside the levee. He also had the envisioned the transformation of an rarely used rail line into a tourist-friendly light rail system.
"For this project, I looked at other cities with levees, particularly New Orleans," Fuentes said. "I focused on the consequences of the failure of that levee system and how I could improve on that. Galveston basically has a flat topography and is less vulnerable than New Orleans, but it still needs a levee system of some sort."
Cristhian Bisso, a fourth-year architecture student, conceptualized a plan to unite areas of Galveston along the levee through enhanced landscaping, a jogging trail and performance pavilion. His plans also include a bridge that joins parking areas and cruise terminals.
"People often think of levees as barriers, but I am using this one to connect two sides of the island," Bisso said.  "It's an exciting project because community leaders will have a chance to look at our work and perhaps come away
with some ideas," he said.
Colbert is among the researchers participating in SSPEED. He contributed to a recent report that recommended the Galveston levee system, in addition to a hydraulic gate structure that would protect the Houston Ship Channel. The
report also advocated the construction of a levee system along State Highway 146, which serves a major evacuation route during hurricanes. The entire report can be accessed at http://sspeed.rice.edu/sspeed/downloads/Final_Paper_2011.pdf.
SSPEED was founded in 2007 and is based at Rice University. Its mission is to advance research and disseminate information related to severe storm impacts and evacuation strategies in the Gulf Coast area. Participating researchers include professors from the University of Houston, Rice University, the University of Texas at Austin, Texas Southern University, Louisiana State University, University of Texas at Brownsville and Texas A&M University.
In addition to Colbert, UH contributors to SSPEED include Jim Granato, director of the Hobby Center for Public Policy and Hanadi Rifai, professor of civil and environmental engineering. To learn more about SSPEED, visit http://sspeed.rice.edu/sspeed/index.html.
"Some of the best images from this class will be included in future SSPEED presentations to community leaders in the Galveston area and possibly legislators and anyone who is interested in the future of the island," Colbert said.
The Gerald D. Hines College of Architecture offers bachelor's and master's degrees in a variety of disciplines including architecture, space architecture, interior architecture and industrial design. Faculty members include esteemed professionals in the architectural community, as well as award-winning academic veterans. Facilities include studio spaces, the new Materials Research Collaborative, computer labs and the Burdette Keeland Jr. Design Exploration Center. To learn more about the college, visit http://www.arch.uh.edu/.
(Levee design image by student Basma Oshiba)
---