Social Media Profile Images
Many UH colleges, programs, departments and business units use official UH social media profile images in their social media accounts to express their connection to UH and to differentiate from competing accounts. These images are included among UH symbols and branding and they should be protected as such.
As an official UH symbol, social media profile images cannot be manipulated in any way.
The social media icons may not be appended, integrated into or combined with any other image, photo or text.
Digital copies of the social media profile images are available in the Download Zone.
Moving Away From Department Subheading
The majority of social media is consumed on mobile devices. Mobile profiles have a significantly smaller display size (example: 36x36 pixel on Facebook), which makes it difficult to read any writing displayed on profile images.
By switching to the logo without a subheading, profiles are easily recognized as an entity of the UH brand in social media streams. Identification of departments and colleges can be placed in profile names.


Profile Names and Handles
Profile names are a place to identify specific department and colleges names on social media profiles. These are not usernames or handles (example: University of Houston is a display name, whereas @UHouston is a handle on Twitter.)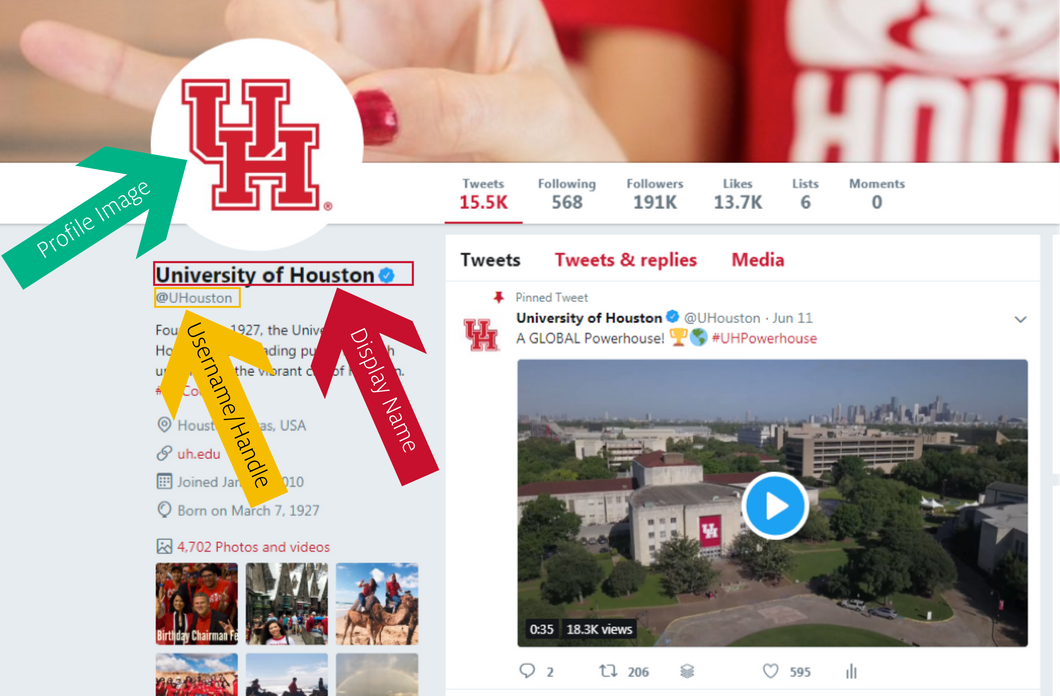 Display names appear next to the profile image in the stream, except Instagram, which currently displays usernames/handles in the stream.
Avoid using acronyms in display names unless the entire name does not fit in the character limit, in this case, be sure to spell out the acronym in your profile description text so the account can easily be searched.
We encourage the use of 'UH' or other university identifiers in usernames/handles for Instagram display and profile tagging. (Example: @UHouston)
Below are the current character limits for display names and handles by platform:
Facebook

Display: 50 Characters

Twitter

Display: 50 characters
Handle: 15 characters

Instagram

Display: 30 characters
Handle: 30 characters

YouTube

Display: 60 characters
Handle: 20 characters

LinkedIn

Display (Company Name): 100 characters
Handle (Page Name): 50 characters

Pinterest

Display: 20 characters
Handle: 15 characters

Tumblr

Display (Blog title): 50 characters
Handle: 32 characters

Snapchat

Display: 50 characters
Handle: 30 characters
Using the Correct Size
Digital copies of the social media profile images are available in the Download Zone in the correct sizes for each platform.
When uploading images, ensure the entire logo and copyright symbol are visible in their entirety on both web and mobile versions of the platform.
Cover Images on Social Media Profiles
When uploading an image for a cover photo, ensure it is large enough not to create any pixelation and small enough as to not cut off any text or graphics. It is recommended to check both mobile and desktop versions after being uploaded. Keep in mind that depending on the design of the social network parts of your cover image may be covered by other elements, such as your profile picture. That being said, it's important to make sure important parts of your cover photo such as text won't be unintenionally obscured. Below are the current recommended upload sizes for cover images by platform.
Facebook

820x312 pixels (displays 640 x360 on smartphones)

Twitter

1500x500 pixels

YouTube

2560x1440 pixels (safe area for mobile 1546x423 pixels)

LinkedIn

Cover: 1584x396
Banner: 646x220
Hero: 1128x376