Our logo is a symbol of our pride and the most visible representation of who we are. In a sense, it's our face, so it's important for us to uphold the design so that it remains the same in all materials.
University Wordmark
The University of Houston wordmark is the graphic depiction of the name "University of Houston" in a type format. It is a one-of-a-kind signature, which identifies our University and projects our unique identity. An important key to presenting a strong and consistent image is the correct use of the wordmark.
An official UH logo is required in all communications and materials.
They may not be combined with any other text, image, UH Logo or any other organization's logo.
Do not retype logo text using university fonts.
Do not tilt or rotate logos.
Do not add shadows or other elements.
Do not alter the colors or reverse the colors of the logos.
Do not combine logos.
Do not distort or alter proportions.
Do not place images on or near the logos.
Do not place the logos on unreadable colors or type.
Primary UH wordmark
Secondary UH wordmark
---
University Unit Wordmark
Divisions, colleges and departments may not use their unit name without the "University of Houston" appearing in its designated format and may not use a logo that has not been created or approved by the Division of University Marketing and Communications.
Primary unit wordmarks
Secondary unit wordmarks
Tertiary unit wordmarks
Logo Request Form
If you would like to request a new logo suite or update a current logo suite please submit a Logo Request.
Using Multiple UH Logos
When needing to represent multiple university units on a single marketing communication piece, instead of using multiple UH logos, we recommend selecting one UH logo (wordmark or interlocking) and in text write out the participating units.
In doing so, the logos will not visually compete and all university units will be clearly identified without creating a UH logo soup. 
Logo Spacing
In order to maintain the integrity of the wordmark, please note the required minimum distance allowed around the wordmark is the height of the letter "N" in Houston, as seen in the example.
---
Interlocking UH
Collegiate logos are a long-standing and well-respected tradition in higher education. Alumni, students, faculty, and staff instantly recognize their university by its logo and wear it with great pride. The Interlocking UH will most often be seen as a mark among the "Cougar Family" and supports school spirit in current students, alumni, and sports.  
Please use the logo with the registration mark in all instances.
Logo Spacing
In order to maintain the integrity of the interlocking UH, please note that the minimum distance allowed around the logo is relative to the height of the logo and should be half the height of the logo. For example, if a logo is 1.0" high the required clear space is 0.5".
---
Text Treatments
Programs and Initiatives
University wordmarks are no longer created for programs and initiatives. We recommend creating and using a text treatment as a graphic representation for your program or initiative.   
  
Please visit our text treatment guidelines  and contact branding@uh.edu if you have any questions. 
Research Center and Academic Centers
If you are a Research or Academic Center or Institute, please contact branding@uh.edu for next steps.   
Seal
The seal of the University of Houston, officially adopted in 1938, is the coat-of-arms of General Sam Houston, who claimed descent from a Norman knight, Sir Hugh. The simple Escutcheon in the center of the seal consists of checkered chevrons denoting nobility, and three Martlets, gentle Lowland birds symbolizing peace and deliverance. A winged hourglass is above the shield and surmounting this, the motto, "In Tempore" (In Time). Greyhounds were placed at the sides to indicate the speed in giving aid.  
 
As an official mark of the University, the UH Seal may only be used by the President's Office and Provost's Office. Doing so helps retain the seals' integrity for official communications from these offices and designated ceremonies, such as commencements.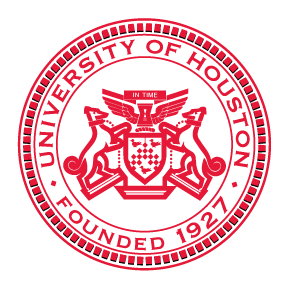 ---
Minimum size requirements
Interlocking logo: In print, the minimum allowable width is .25". For the web, 18 pixels wide at 72 pixels per inch (ppi).
University wordmark: In print, the minimum allowable width is 1". For the web, 72 pixels wide at 72 ppi.
---
Need a logo?
Official UH business units may request a new logo suite or an update to a current logo suite by submitting a UH Logo Request.