Mark Hughes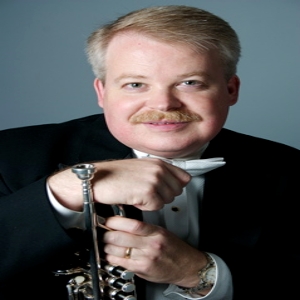 Affiliate Artist
e-mail:
office: MSM 335
office phone: (713)743-3009
address: 120 School of Music Bldg, Houston, TX 77204-4017
Mark Hughes "knows how to spin out a long line with the eloquence of a gifted singer," says Derrick Henry of the Atlanta Journal and Constitution. Hughes developed his abilities while a student at Northwestern University where he studied with the late Vincent Cichowicz of the Chicago Symphony. While at NU, Hughes co-founded the much-recorded Alice Millar Brass Ensemble along with his Houston Symphony section mate, Robert Walp. After graduation, he was selected to be in the Civic Orchestra of Chicago allowing him to be a scholarship student with Adolph Herseth, the legendary principal trumpet of the Chicago Symphony. 
Hughes then began touring with Richard Morris as the popular organ and trumpet duo, "Toccatas and Flourishes," performing in all 48 contiguous states and Canada. His appointment as Associate Principal Trumpet with the Atlanta Symphony Orchestra followed, a position he held for 12 years. During his time with the ASO, he appeared as soloist with the orchestra on numerous occasions as well as performing on dozens of recordings, including several Grammy award winning recordings. These recordings have been on a variety of labels, including Duetsche Grammophon, Telarc, Sony Classics, Naxos, New World, Argo and Nonesuch. While in Atlanta, Hughes was also in demand as a studio musician, recording for such clients as: Delta Air Lines, CNN, TBS, TNT, the Cartoon Network, EWTN and CNN International. He also recorded for NPR Classics, performing works used during the 1996 Olympics. 
In 2006, Mark was appointed to the position of principal trumpet of the Houston Symphony. His talents as trumpet soloist have been on display in Houston during a number of pops and community concerts in addition to his performance of Haydn's Trumpet Concerto under the baton of Carlos Miguel Prieto. He has also appeared with the HSO in the Shostakovich Concerto #1 for Piano, Trumpet and Orchestra as well as Bach's Brandenburg Concerto #2 and Copland's Quiet City, all under Maestro Hans Graf's baton. In June 2007, Hughes participated in a recital at the International Trumpet Guild with Tom Rolfs, principal trumpet of the Boston Symphony and Neal Berntsen of the Pittsburgh Symphony. Hughes recently participated in a recording project with Chris Martin, principal trumpet of the Chicago Symphony, and Phil Smith, principal trumpet of the New York Philharmonic. Mark has also performed and recorded with the Boston and Chicago Symphonies. Along with being an Artist Affiliate at the University of Houston, Hughes currently teaches at the Texas Music Festival and the Brevard Music Center.