Mei-Ann Chen

Praised for her dynamic, passionate conducting style, Taiwanese American conductor Mei-Ann Chen is acclaimed for infusing orchestras with energy, enthusiasm and high-level music-making, galvanizing audiences and communities alike. Music Director of the MacArthur Award-winning Chicago Sinfonietta since 2011, Ms. Chen has been named Chief Conductor of Austria's recreation - Grosses Orchester Graz at  Styriarte  beginning fall 2021 after two seasons as the orchestra's first-ever Principal Guest Conductor, making her the first female Asian conductor to hold this position with an Austrian orchestra. Since September 2019, she also serves as the first-ever Artistic Partner of Houston's ROCO (River Oaks Chamber Orchestra). Ms. Chen also has served as Artistic Director & Conductor for the National Taiwan Symphony Orchestra Summer Festival since 2016. Highly regarded as a compelling communicator and an innovative leader both on and off the podium, and a sought-after guest conductor, Ms. Chen continues to expand her relationships with orchestras worldwide (over 110 orchestras to date).  
 
Upcoming engagements include serving on the jury for the prestigious  Malko  Competition for Young Conductors in 2021, Carnegie Hall's NYO2, concerts with the National Taiwan Symphony Orchestra Summer Festival, and the highly anticipated return of Chicago Sinfonietta to the renowned Ravinia Festival. In addition to subscription performances with Chicago Sinfonietta, recreation - Grosses Orchester Graz at  Styriarte , and ROCO, highlights of the 2021-2022 season include return engagements to England's BBC Symphony in London, Finland's Helsinki Philharmonic Orchestra, Liechtenstein Symphony Orchestra, Norway's Oslo Philharmonic, Het  Residentie   Orkest  in The Netherlands, Malmö and  Norrlandsoperan  in Sweden, and Taiwan Philharmonic, and a debuts with Santa Fe Pro  Musica  and Spain's Basque National Orchestra. Amongst postponed dates due to Covid-19 are debuts with the New York Philharmonic, Germany's  Staatsorchester  Darmstadt, and Ireland's Ulster Orchestra, returns with San Francisco Symphony, Netherlands Philharmonic, and Norwegian Radio Orchestra.  
 
Recent guesting highlights include Austria's  Tonkünstler -Orchester, Finland's Tampere  Filharmonia , Germany's  Musikalische   Adademie  des  Nationaltheater-Orchestesters  Mannheim, and NDR  Radiophilharmonie  Hanover, Sweden's  Gävle  and Helsingborg Symphonies, Switzerland's  Luzerner   Sinfonieorchester , Taiwan's Kaohsiung Symphony Orchestra at  Weiwuying  (the world's largest performing arts center since 2018), in addition to return engagements with symphonies of America's Atlanta, Detroit, Pacific and Toledo.  
 
Other North American guesting credits include appearances with symphonies of Baltimore, Cincinnati, Chicago, Houston, Indianapolis, National, Oregon, San Diego, Seattle, Toronto, Tucson, and Vancouver, to name a few. Amongst her overseas guesting credits are the symphonies of BBC Scottish; Brazil's São Paulo (OSESP); Denmark's National, Aalborg, Aarhus, Odense and Copenhagen Philharmonic; Germany's  Badische   Staatskapelle  Karlsruhe; Mexico's National; Norway's Trondheim; Sweden's Gothenburg and  Norrköping ; Switzerland's Basel; and Turkey's  Bilkent  in Ankara.  
As Music Director of Chicago Sinfonietta, Ms. Chen has made two recordings for  Cedille  Records: "Project W - Works by Diverse Women Composers" (March 2019, nominated for GRAMMY® Award for Producer of the Year, Jim Ginsburg) and "Delights and Dances" (June 2013). In 2018, Innova Records released River Oaks Chamber Orchestra's debut album "ROCO: Visions Take Flight" (recognized with a GRAMMY® Award for Producer of the Year, Blanton  Alspaugh ) featuring 5 commissioned contemporary works conducted by Ms. Chen.  
 
Past honors include being named one of the 2015 Top 30 Influencers by Musical America; the 2012 Helen M. Thompson Award from the League of American Orchestras; Winner, the 2007 Taki Concordia Fellowship founded by Marin Alsop; and 2005 First Prize Winner of the  Malko  Competition (she remains as the only woman in the competition history since 1965 to have won First Prize). Ms. Chen is Conductor Laureate of the Memphis Symphony Orchestra after serving as Music Director 2010 – 2016. Born in Taiwan, Ms. Chen came to the United States to study violin in 1989 and became the first student in New England Conservatory's history to receive master's degrees simultaneously in both violin and conducting, and she earned a Doctor of Musical Arts degree in conducting at the University of Michigan.  
Photo credit:  Kristin Hoebermann  
Hans Graf

Known for his wide range of repertoire and creative programming, the distinguished Austrian conductor Hans Graf is one of today's most highly respected musicians. In July 2019, he was appointed Chief Conductor of the Singapore Symphony, a position he will assume in the 20/21 season.
Appointed Music Director of the Houston Symphony in 2001, Mr. Graf concluded his tenure in May 2013 and is the longest serving Music Director in the orchestra's history. Prior to his appointment in Houston, he was the Music Director of the Calgary Philharmonic for eight seasons and held the same post with the Orchestre National Bordeaux Aquitaine for six years. He also led the Salzburg Mozarteum Orchestra from 1984 to 1994 and the Basque National Orchestra from 1994 to 1996.
Hans Graf is a frequent guest with all of the major North American orchestras. His recent and upcoming guest engagements include appearances with the Cleveland and Philadelphia Orchestras, the New York and Los Angeles Philharmonics, and the Boston, San Francisco, St. Louis, Cincinnati, National, Detroit, Dallas, Baltimore, Indianapolis, New Jersey, Milwaukee, Colorado and Utah symphonies, as well as the St. Paul Chamber Orchestra among others.
Mr. Graf made his Carnegie Hall debut with the Houston Symphony in January 2006 and returned to Carnegie leading the Orchestra of St. Luke's in March 2007. He and the Houston Symphony were re-invited to appear at Carnegie Hall in January 2010, at which time they presented the New York premiere of The Planets – An HD Odyssey, featuring the orchestra playing Holst's famous work, The Planets, accompanied by exclusive high definition images from NASA's exploration of the solar system. Mr. Graf and the Houston Symphony returned to Carnegie Hall again in May 2012 to participate in Carnegie's Spring for Music festival with an all-Shostakovich program.
In Europe, Mr. Graf has conducted the Vienna and London Philharmonics, Vienna Symphony, Royal Concertgebouw Orchestra and Leipzig Gewandhaus Orchestra as well as the St. Petersburg Philharmonic, Deutsches Symphony Orchestra Berlin, Royal Philharmonic, Bavarian Radio Orchestra, Rotterdam Philharmonic, Budapest Festival Orchestra, Dresden Philharmonic, Danish Radio Symphony Orchestra and the Netherlands Radio Philharmonic among others. He is also a regular guest with the Sydney and Auckland symphonies and the Hong Kong, Malaysia and Seoul Philharmonics.
During Mr. Graf's most recent appearance at the Salzburg Festival, he led an unusual, multi-media TV production of Mozart's The Abduction From the Seraglio with the Camerata Salzburg. He has also appeared at other prestigious European festivals such as the Maggio Musicale, Bregenz and Aix en Provence. His US festival appearances include performances at Tanglewood and the Aspen Music Festival, as well as the Blossom Music Festival, the Grant Park Music Festival in downtown Chicago, and the Bravo! Vail Valley Music Festival where he conducted the New York Philharmonic in July 2018.
An experienced opera conductor, Mr. Graf first conducted the Vienna State Opera in 1981 and has since led productions in the opera houses of Berlin, Munich, Paris and Rome among others. His extensive opera repertoire includes several world premieres. Recent opera engagements include Parsifal at the Zurich Opera, Boris Godunov at the Opera National du Rhin in Strasbourg, and a rarely produced opera by Strauss, Die Feuersnot, at the famed Volksoper Vienna, for which he received the 2014 Austrian Music Theatre Prize.
Hans Graf has recorded for the EMI, Orfeo, CBC, Erato, Capriccio and JVC labels and his extensive discography includes the complete symphonies of Mozart and Schubert, the premiere recording of Zemlinsky's opera Es war einmal and the complete orchestral works of Dutilleux, which he recorded under the supervision of the composer, with the Orchestre National Bordeaux Aquitaine for BMG Arte Nova. His recordings with the Houston Symphony include Bartok's Wooden Prince for Koch International; Zemlinsky's Lyric Symphony, Berg's Three Pieces from the Lyric Suite and Mahler's Das Lied von der Erde for Naxos; and a DVD of The Planets – An HD Odyssey. His recent recordings include the complete works by Paul Hindemith for viola and orchestra with Tabea Zimmermann and the Deutsches Symphony Orchestra Berlin and a live recording of Carmina Burana with the London Philharmonic Orchestra. In addition, a recording of a live performance of Wozzeck with the Houston Symphony was released by Naxos in the spring of 2017; this recording won the 2018 Grammy for best opera recording, as well as the 2017 ECHO Klassik prize for best opera recording in the category of 20th and 21st century opera.
Born near Linz, Hans Graf began his musical education studying the violin and piano. After receiving diplomas in piano and conducting from the Musikhochschule in Graz, he continued his studies in Italy with Franco Ferrara and Sergui Celibadache and in Russia with Arvid Jansons. Mr. Graf was awarded the Chevalier de l'Ordre de la Legion d'Honneur by the French government for championing French music around the world as well as the Grand Decoration of Honour in Gold for Services to the Republic of Austria. He is also Professor Emeritus for Orchestral Conducting at the Universitat Mozarteum in Salzburg.
Franz Anton Krager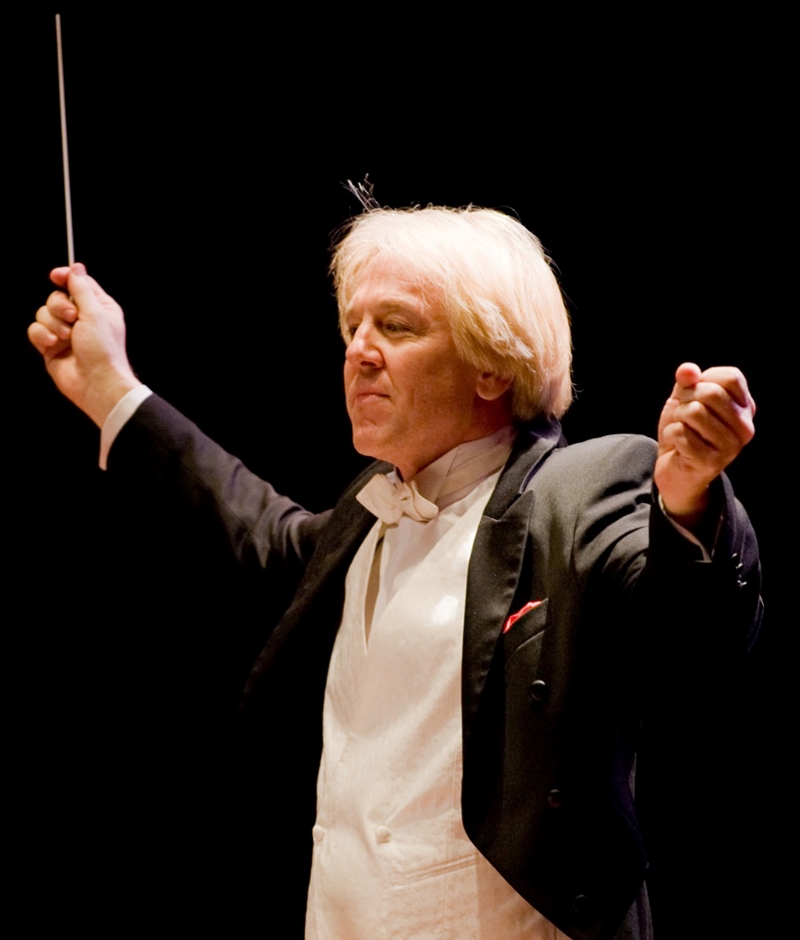 American born and trained, conductor Franz Anton Krager has made his artistic presence felt both at home and abroad with performance engagements in some of the world's most celebrated concert halls and musical centers. Since making his prize-winning European conducting debut in Copenhagen's Tivoli Koncertsalen in 1978, Krager has led orchestras in the Leipzig Gewandhaus, Moscow's State Kremlin Palace, Manchester's Bridgewater Hall, Birmingham England's Adrian Boult Hall, Guangzhou China's Xinghai Music Center, the Sydney Opera House, The Hague's Congresgebouw, Kazan's State Philharmonic Hall in Russia, Guadalajara's Degollado Theater, and Sarasota's Van Wezel Performing Arts Hall. His affiliations with leading music festivals include the Lancaster International Concert Series and Lichfield and Aberystwyth International Arts Festivals in the U.K., the Festival Internacional de Santa Lucía in Mexico, and the Texas Music Festival and Interlochen National Music Camp in the U.S. Maestro Krager has led the Houston, Russian State, Traverse City Michigan and Florida West Coast symphonies, Romanian and Kazan State philharmonics, and orchestras in Berlin, London, Chicago, Paris, Singapore, Leipzig, Bratislava, Monterrey, Pordenone, Ingolstadt, Neuss, and Honolulu. In 2015, he was appointed Principal Guest Conductor of the North Shore Chamber Arts Ensemble in Chicago.
Krager is Music Director & Chief Conductor of the Texas Music Festival, Founding Co-Artistic Director for the Virtuosi of Houston, Artist-in- Residence at The Kinkaid School and Evaluator/Clinician for the Orchestra America National Festival. Krager is also the Hourani Endowed Professor of Music, Director of Orchestras, and Chair of the Conducting Department at the University of Houston Moores School of Music, where he has brought the orchestra and orchestral conducting program into international prominence. The Moores School Orchestra is heard frequently on National Public Radio and has commercially recorded the music of Thomas Fortmann, Percy Grainger, Michael Horvit, Peter Lieuwen, Robert Nelson, and Stephen Shewan on the Divine Art (Métier), Albany, MSR Classics, Newport, and "Surround-Sound Blu-Ray Audio" HDTT record labels.
Photo Credit: Jeff Grass.