Fredell Lack Legacy Violin Series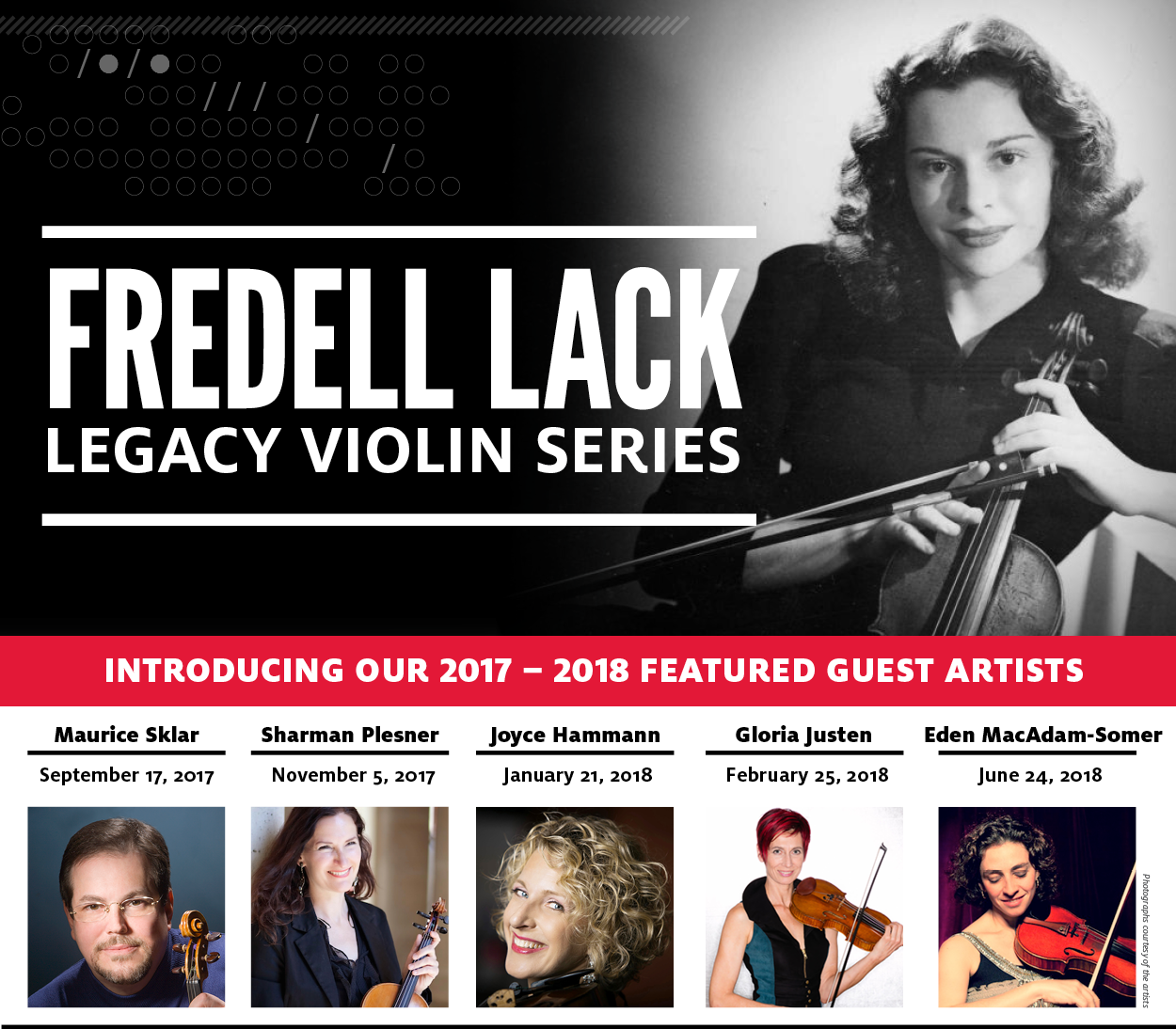 The Fredell Lack Legacy Violin Series at the Moores School of Music, established by its legendary namesake in 2017, brings world-class musical artists to the University of Houston Kathrine G. McGovern College of the Arts for special public performances and masterclasses. As C. W. Moores Professor of Violin at the University of Houston, Lack served for five decades, inspiring countless students as a teacher, mentor and friend. The Fredell Lack Legacy Violin Series features Lack's former students and mentees as guest artists, honoring her contribution to the University and the City of Houston.
Artists
Maurice Sklar | September 17, 2017 at 2:30 p.m.
Moores Opera House
Timothy Hester, piano
Musician and minister
Maurice Sklar
has appeared as a soloist with many orchestras and continues to perform concerts around the world. He studied with the esteemed violinist Fredell Lack in Texas, before continuing his education at the Julliard School of Music and Curtis Institute of Music. In 1987, he debuted in the Young Concert Artist Series in New York and Washington, DC. In 1990, Sklar was chosen by Musical American as one of the top ten "Young Artists of the Year." From 1990 – 1991, he was the Associate Concertmaster of the Tulsa Philharmonic Orchestra. He also served as Artist in Residence and Professor of Violin at Oral Roberts University in Tulsa for over 13 years. 
Sharman Plesner | November 5, 2017 at 2:30 p.m.
Dudley Recital Hall
Timothy Hester, piano
Native Texan Sharman Plesner began playing violin at the age of four with her mother, a violist with the Houston Symphony. A year later, Fredell Lack became her teacher, working with her for the next ten years. At 15, Plesner became one of the youngest students of the prestigious Curtis Institute of Music in Philadelphia. During her seven years there, she performed frequently as a soloist and won numerous competitions, including the Ima Hogg, Kingsville and Performers of Connecticut competitions. Plesner discovered France during two concerts with the Curtis Symphony Orchestra – and it was love at first sight. After graduating, she moved to Paris and participated in master classes with Reinhard Goebel. She has also been involved with the Orchestra of the Champs Elysées and Les Musiciens du Louvre, the Baroque Nomad, Baroque Graffiti Ensemble and Trio Borsalino. Currently, she is working on a series of "crossover" projects with her partner, Jazz bassist Pierre Boussaguet, that unites Jazz, classical music, film music, original and traditional music from the U.S. and British Isles. 
Joyce Hammann | January 21, 2018 at 2:30 p.m.
Dudley Recital Hall
Timothy Hester, piano
Equally at home on the concert stage, in a jazz club or in front of 17,000 screaming fans at a rock concert, Joyce Hammann's musical versatility and virtuosity remarkably distinguish her from the rest. Her performances have been hailed as "splendid soloing" and as having a "sweet, rich tone" by The New York Times. Performing and recording with such artists as Paul McCartney, Sting, Michael Jackson and Bruce Springsteen, Joyce's discography includes John Zorn's String Quartets, Sam Zyman's Bashe, Uri Caine's Wagner and Venezia, Mozart Re-imagined and The Othello Syndrome, Michael Breckers' Grammy award-winning Wide Angles, Gil Goldstein's Under Rousseau's Moon, Ted Nash's Double Quartet and Mark Feldman's Book of Tells. Currently, she is the Concertmaster for the longest running show on Broadway "The Phantom of the Opera." She continues to perform as a member of The Harlem Chamber Players, The Craftsbury Chamber Players (Vermont) and The Meeting House Players (Cape Cod).
Gloria Justen | February 25, 2018 at 2:30 p.m.
Moores Opera House
Moores School of Music students
Gloria Justen is a versatile composer, violinist and violist known for her dynamic, emotionally charged performances. She was a student of Fredell Lack as a teenager in Houston, then attended the Curtis Institute of Music in Philadelphia, where she studied violin with Szymon Goldberg and David Cerone and viola with Karen Tuttle. Her compositions draw upon influences from Bach to contemporary electronic music, and have been performed by soloists, small groups and chamber orchestras in Philadelphia and San Francisco. Justen has performed and toured internationally with the Philadelphia Orchestra and the San Francisco Symphony, toured with the Philip Glass Ensemble and played many works by contemporary composers. She served as concertmaster of the Chamber Orchestra of Philadelphia from 2006 – 2011, and has also collaborated with modern dancers, video artists and electronic musicians. A resident of San Francisco since 2007, she released her first original album, "Four-Stringed Voice: music for solo violin," in 2008 and recently released her new album, "Sonaquifer: music for solo viola," in early January 2018. She currently works full-time as an independent composer, performer, recording artist and publisher of her own scores.
Eden MacAdam-Somer | June 24, 2018 at 2:30 p.m.
Dudley Recital Hall
Timothy Hester, piano
Eden MacAdam-Somer is one of the most exciting and versatile artists performing today. Hailed by the New York Times as reflecting "astonishing virtuosity and raw expression," her music transcends genre through soaring violin, sweet vocals and percussive dance, weaving in and out of the many cultures that have formed her experience. She has been a featured soloist with symphony and chamber orchestras, jazz and swing bands, and Eastern European and American folk ensembles. As an educator and composer/improviser, she has been a guest artist at such institutions as the Afghanistan National Institute of Music and the Dundalk Institute of Technology,a featured performer at the Eastbourne and Beijing international music festivals, and has toured across the contiguous United States, Alaska, Hawaii, India, Iceland, the U.K. and Afghanistan. MacAdam-Somer is currently a full-time faculty member at New England Conservatory, where she maintains a private studio, leads contemporary classical and folk music ensembles, teaches musicology and serves as co-chair of the Department of Contemporary Improvisation. Her 2015 live solo album, "My First Love Story," was listed as one of the top ten jazz albums of the year in the Boston Globe. In addition to her work in Boston, MacAdam-Somer enjoys spending time with her family and maintains an active international performance and recording career as a soloist and with such bands as Notorious Folk and the Klezmer Conservatory Band.