This unit is used for playing and recording VHS tapes. It requires a TV set and connecting cable for viewing a tape. The VCR comes with a remote control.
When recording, the unit must be connected to a TV camera (for image recording) and microphone (for sound recording). An easier way to record is to a video camcorder, which combines a camera, microphone, and VCR.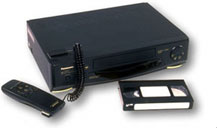 To rent or place on reserve for classroom use, submit this form TSS Distribution Equipment Request Form.
Contact Us
Call Us:
713-743-1155
Fax Us:
713-743-1410
Email Us:
mdist@uh.edu
Mail Code:
TSS 2002