Lavaliere Wired Microphone
Lavaliere microphone on a 25' extension cord. Lavaliere cord is slipped around the neck to hang hands-free in the front of the shirt or blouse. Microphone is connected to an audio or video recording device.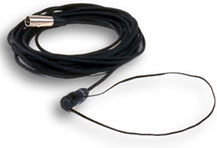 To rent or place on reserve for classroom use, submit the TSS Distribution Equipment Request Form.
Contact Us
Call Us:
713-743-1155
Fax Us:
713-743-1410
Email Us:
mdist@uh.edu
Mail Code:
TSS 2002