Mobile Technologies: UH Go
OVERVIEW
The University provides an extensive suite of online and technology enabled tools to allow students to access resources, succeed in class, communicate with faculty and staff and conduct business with the University.
UIT has worked with UH Marketing to create a comprehensive mobile app for UH students that consolidates communication, business functions, social and student life activities and academic support into a single mobile platform to improve student life and facilitate student success.
The current generation of students engages with the world through their mobile devices. Creating a comprehensive mobile app for UH students to provide access to critical UH services will improve student success. Given that 96% of students prefer mobile apps
to mobile-ready portals, we are integrating AccessUH and 3rd party apps into UH Go, the official mobile app for the University of Houston.
ALIGNMENT
With the University — National Competitiveness: UIT presented "Transforming Campus Safety with Location Services and Emergency Calling in Your Mobile App" at EDUCAUSE 2021, "Let's Go Mobile!" and "Engaging Gen Z with a Unified Hybrid Campus App" at the National Association of Campus Card Users (NACCU) 2021 conference. UH Go has won four national awards: best overall app, best use of X-Modules (integration strategy), best use of personalization, and most innovative app for communications.
With the University — Student Success: Providing students with a single, comprehensive app is an institutional priority. Transitioning core services already available online and through existing apps to the UH Go app is a key part of this effort.
With the State — Mobile & Digital Services: UH Go helps to create a seamless and consistent user experience across many devices, services and applications.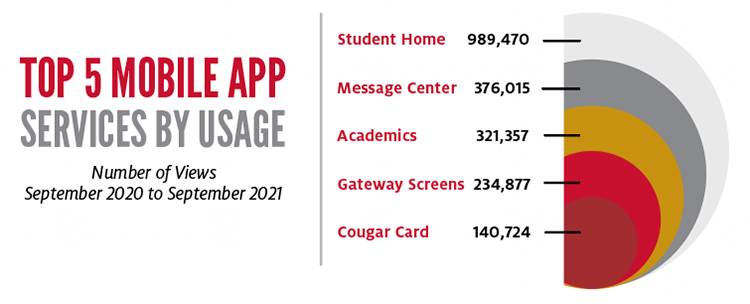 CURRENT STATE
To date, 38 services have been integrated into the UH Go mobile app, including myUH, parking, housing, dining, emergency call, emergency notification, Get Involved, calendar and events, catalogs, laundry view, location-based push notifications using Aruba access points in the Student Center and dining halls, single sign-on using Office 365, BlackBoard, Touchnet (Cougar Card), the Parking Guidance System, and a grade center that aggregates grades from myUH, CASA (Courseware) and Blackboard.
Integrations are in progress for Communicate Directory Services to better target messaging within the app, Navigate, and Cougar Card event access with QR code.
User experience improvements:

Alumni persona and login 6/30/2020.
New persona journey 7/27/2020.
Upgrading to Modo 4.0. 11/19/2021.

We enhanced student success by adding the Are You Tech Ready module into new student orientation.
PATH TO SUCCESS
Single sign-on via Office 365 using biometrics is key to the success of the app. Making it easier to log in and use services will keep users coming back. Other efforts to keep Coogs using the app are to:
Simplify the mobile ecosystem at UH by providing a policy that covers governance, procurement and easy-to-follow steps to get services integrated into the app.
Provide just-in-time services through UH Go every 6–8 weeks.
Target meaningful messages to groups and individuals.
Ensure that UH Go is service-heavy rather than content-heavy.
Use gamification and user incentives to keep the app installed.
FY2022 INITIATIVES
Continue to reduce the number of apps at UH. Even though three existing services already available through a third-party app were integrated into UH Go, three new apps were added.
Increase student engagement by hosting Ideathon, where students compete to build a module of their choice to be included in UH Go.
Enhance user experience by upgrading our mobile platform.