2018 Faculty & Staff Campaign

How to donate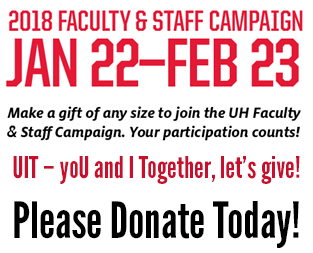 Faculty and staff are encouraged to give to those noble causes that support and benefit UH students, colleges and programs that matter most to them.
All gifts, no matter the size or designation, make a difference!
Giving is easy through Payroll Deduction
Donate directly via Payroll Deduction:
Go to Access UH payroll
Main menu > Self Service > Payroll and Compensation > Voluntary Deductions
Enter deduction type
Type today's date for start date 
Enter deduction amount (you can donate as little as $5 per month)
Click Add Deduction
Donations can be made one-time, weekly, monthly, quarterly, or annually.
You may also donate through the Annual Giving link
Select a school, unit or program
Select a department
Select a designation
Enter amount and click Add Gift
Click Next
Fill in billing details and click Confirm Your Gift
Contribute via form 
Submit completed form to:
University of Houston, Gift and Processing Records, PO Box 867 Houston, TX 77001-0867
Download the form here:  2018 Annual Giving Form
You can even give a Naming Gift
If you are interested in a naming gift or planned gift, please contact Connie Loyd at 713-743-8116 or clloyd2@central.uh.edu
No cash or checks may be accepted.
For questions or information, please contact Debbie Samuels, UIT Ambassador for the 2018 Faculty & Staff Campaign at dcsamuels@uh.edu or via phone number 832.842.4660.