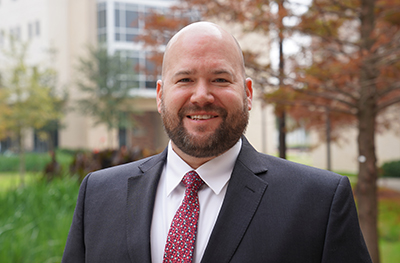 Director of Operations and Outreach for Student Housing and Residential Life (SHRL), Kenny Mauk, has been selected to serve as the Business Practices and Enhancement Director for the Association of College and University Housing Officers International (ACUHO-I).
In this 2-year-term role, Kenny will provide leadership and support for association business practices and provide expertise in areas of occupancy management, conference management, market analysis, financing of housing, crisis management, procurement, and contract services.
Executive Board positions are voted on by the members. Each institution is allowed one vote per position which is cast by the senior housing officer or designee.
Kenny has served in multiple leadership positions for ACUHO-I, including Chair of the Housing Marketing Strategies Committee, and Chair and Educational Chair for the Business Operations Conference. As a regional volunteer with the Southwest Association of College & University Housing Officers (SWACUHO) he served as President, Treasurer, Texas State Director, Diversity and Social Justice Committee Chair, Human Resource Development Chair, and Annual Conference Co-Chair. Kenny has also been a member of the Program Committee, Exhibits and Display Committee, and the Senior Housing Officer and Mid-Level Steering Committees.
In 2017, Kenny was awarded the James L. Gibson Exceptional Service Award from SWACUHO, one of the highest honors given to a SWACUHO member
Additionally, in 2018, Kenny served as a faculty member in the ACUHO-I James C. Grimm National Housing Training Institute. His involvement at UH and in regional and national housing organizations highlights his dedication to professional development and to improving the lives of other housing professionals.
"I am so happy to see Kenny's experience, expertise, leadership, and service recognized in this way. ACUHO-I is lucky to have him on the Executive Board," said Don Yackley, Assistant Vice President for Student Affairs.