Great Leaders: Delaine Foss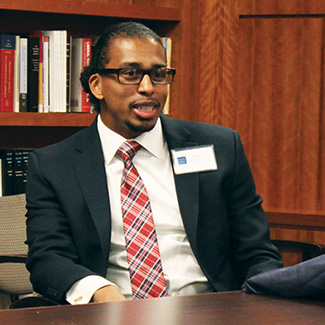 Delaine Foss didn't expect to choose the University of Houston, even though her father was an alum and "keen" on her attending. Instead she looked around, taking a visit to Plan II at UT, among others. When she came to Cougar Preview and visited Honors, however, her experiences getting to know Honors and "Estess' deputy" (current dean Bill Monroe), led her to choose Honors, a decision she's always been happy with. Read more of Delaine's Honors story...
Why did you choose Honors?
I had grown up knowing about the University of Houston, due to my late father, Buck Foss, who had attended UH and played football there. I went to many UH football games through my childhood and youth and cheered for the Cougars, but I didn't initially seriously consider attending UH and becoming one. That changed, however, after my parents brought me to Cougar Preview. I attended the Honors Banquet and had the opportunity to meet many of the professors and current students. I remember visiting with a certain English Literature professor, and literally making a note to enroll in one of his classes as soon as I was able. To this day I also remember then-Associate Dean Bill Monroe introducing himself as "Estess' Deputy." The friendly, open attitude toward the prospective students and the structure of the Honors Program, as it was then known, convinced me that Honors was where I belonged.
How did the Honors College prepare you to become a great alumni leader?
In my Honors classes, especially The Human Situation, I learned to think critically and write logically. Through the close examination in small group discussion of the great texts we studied, I became able to think critically and pay attention to detail and nuance. In Dr. Monroe's classes, especially, I learned how to write clearly and logically so that thesis of each paragraph was supported by the sentences within it and so that each paragraph linked with the one after it, crafting a document as strong and as well-connected as a chain.
What was the most profound take away that has resonated throughout the years?
The skills I described above are my most profound take away. These are critical abilities for an attorney, and they have served me well. In private practice, the partners and associates liked to have me draft their motions and briefs, and I was told that I had a "wicked pen." In my current position, I review the motions and briefs submitted to the court and draft legal memoranda, analyzing those same documents and persuading the judge whose position is correct. Without those skills I learned in my early Honors classes and refined in subsequent ones, I would not be where I am today.
What's your favorite Honors memory?
I have so many cherished Honors memories that it is hard to select a favorite. I remember how much fun I had on the trips to the National Collegiate Honors Council conference in Chicago and St. Louis and on the trip to Milledgeville, Georgia, for a Flannery O'Connor conference. I also think back on my years as an Honors Advocate and being able to show and tell prospective students the great things about Honors, as former Advocates did for me.
However, I have found, while sifting through all the memories, that the one that appears most frequently is the annual Great Conversation Dinner. I suppose that is also foremost in my mind since I just attended the 20th Anniversary Dinner on March 28, 2012. I was fortunate enough to have been asked to share my reminiscences on the event and was even more honored to have them published in the glamorous, glossy book commemorating the last twenty years that was presented to each attendee.
I won't repeat them all here except for the very last portion: I always felt fortunate to be a part of The Great Conversation and to play a small role in supporting the Honors College. I also feel proud to have participated in The Great Conversation through the years of the Founding Dean, Dr. Ted Estess, and our current Dean, Dr. Bill Monroe. I attended twelve Great Conversations in a row before a move from Houston made my attendance slightly more sporadic, but I still get the same feeling of excitement and expectation when I return and walk into the ballroom of the Houston Country Club, transformed for the night into a modern School of Athens. And think of these words:
"The time has come…"
"To talk of many things:
Of shoes—and ships—and sealing wax—
Of cabbages—and kings…."
About Delaine Foss
After receiving my B.A. in English Literature, I completed my J.D. at the University of Houston Law Center. I am currently the Staff Attorney for the 261st District Court in Austin, Texas, where I have lived and worked the past eleven years. I am proud to be able to impact the lives of the people who come before our court. I enjoy traveling whenever I can and most recently visited Venice, Italy, along with Croatia and Montenegro.