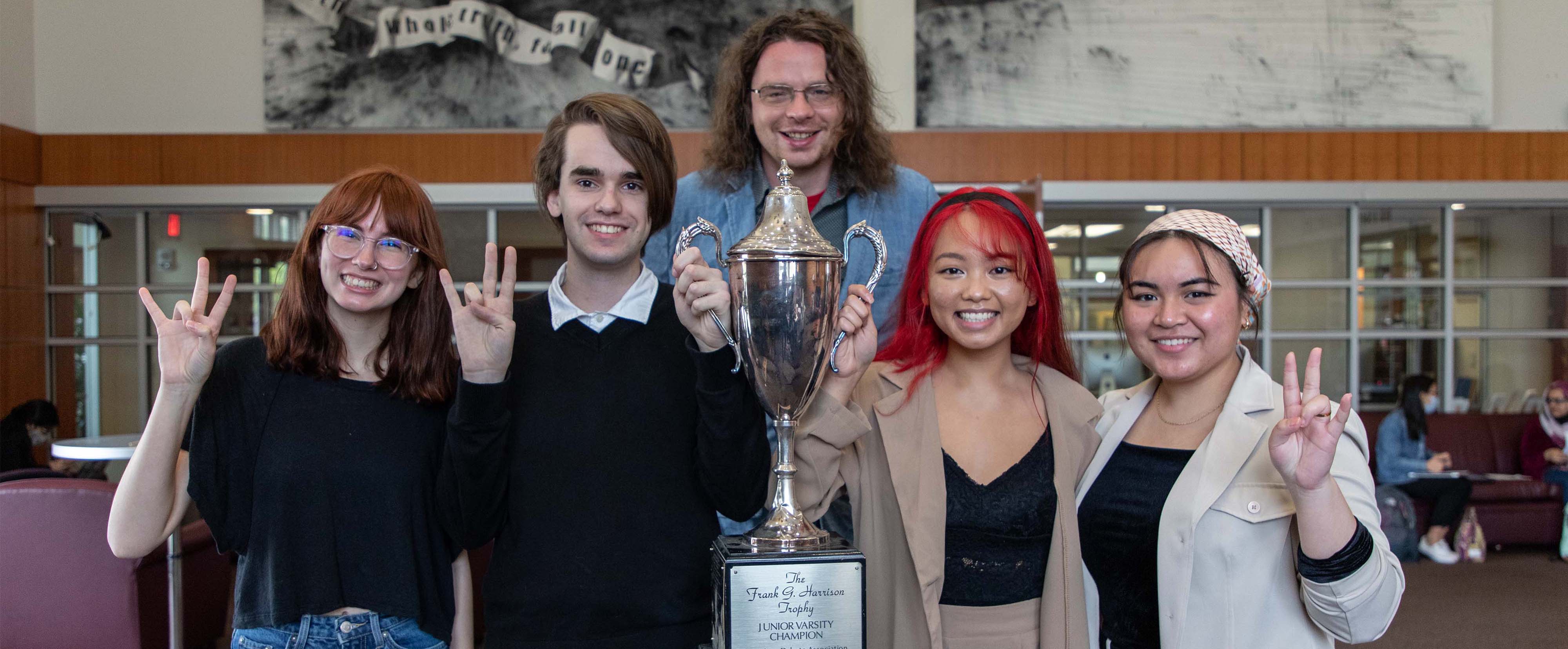 "All year, debaters have researched and worked on the expansion and scope of federal antitrust law," Assistant Coach Rob Glass said. "In every round, an affirmative team has to find a way that they expand it, and a negative team must find a way to prove that their idea is bad."
UH brought six teams to the Cross Examination Debate Association (CEDA) National Tournament at George Mason University in Fairfax, Virginia. Nicknamed "the people's tournament," it groups debaters into one pool for pairing, allowing debaters of all levels to go against each other to spark intellectual stimulation, argumentative development and strategization.
"Getting to see how different teams operated and structured their arguments at CEDA was fascinating because you were watching people at all skill levels," Diego Lopez said. The diversity of approaches was educational, encouraging new debate tactics and providing an opportunity to witness analytical engagement and critical thinking at varied stages.
"Everyone tried to keep it really fun, fresh and as low stress as possible," Lopez said. "I mean, we all want to win, but I think the overarching message for the weekend was to have as much fun as possible, because it was the last tournament of the year."
UH Debate finalized a powerful school year at CEDA, the largest intercollegiate policy debate tournament in the country, marking exceptional arguments, research and linguistic skill, with:
Nine Abad & Kayla Fries and Jenna Goodrich & Alice Nguyen closing out the Novice Championship.
Patrick Fox & Brett Cryan finished as Quarter-Finalists.
Kiran Khan & Christine Le finished as Double Octa-Finalists.
Patrick Fox awarded 13th speaker.
"Knowing that all the work you put into debate, all the research and all the time translates into doing better and getting recognition for the work that you are doing in terms of trophies or rewards is really satisfying," novice debater Abad stated. "You know that all of the time that you spent dedicated to the activity is actually worth it."
On top of a 53% overall winning percentage, the team took top speaker in JV and Novice divisions at the ADA Nationals, 1st Speaker in JV at JV-Novice Nationals and, after an accumulation of rounds won throughout the year, UH earned third place in the CEDA Sweepstakes Awards, defeating every team except Michigan and Liberty. 
This was a prominent year for debate, and "I am so happy to see them rightfully rewarded for what they were able to pull off and do," Glass said. "I am beyond impressed by everything that they have done, and I am so proud to be a part of this team and a part of the hard work, energy and dedication that they have put into every tournament."


By Jillian Holden