Honors Engineering Senior Finds Wealth of Opportunities at UH and Beyond
By Mallory Chesser
May 10, 2018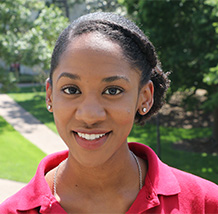 Start early. Find mentors. Say yes to opportunities. Don't put all your focus on grades. This is just some of the advice that Honors mechanical engineering senior Serrae Reed would give to students hoping to enter the competitive field of graduate studies and major fellowships. And after four years at the University of Houston, Reed is something of an expert. She is graduating magna cum laude in May, with a bachelor's in mechanical engineering and minors in mathematics and Spanish, and she heads to Yale University in the fall to begin a doctorate in mechanical engineering and material science. 
From her first year at UH, when Reed was named an Outstanding First-Year Honors Student, to being named Outstanding Mechanical Engineering Student in the College of Engineering three years running, to choosing whether to accept a Ford or a GEM Fellowship as she heads to graduate school, Reed has made the most of her undergraduate experience. She has been a member of the UH Bonner Leaders program, a service organization administered through the Honors College; the National Society of Black Engineers; the National Action Council for Minorities in Engineering; the Houston Scholars Program; and the Honors Engineering Program.
Although Reed grew up in nearby Spring, UH was not on her radar until she attended an Honors College open house event and met professors Fritz Claydon and Len Trombetta in the College of Engineering. She was invited back the next day to attend one of their classes. "That was when I realized this was a great school with good opportunities and high-caliber students," said Reed.
And after she was awarded a Tier One academic scholarship fully funding her tuition and housing, that sealed the deal. 
But Reed wasn't thinking only of academics. Because of the University's close ties with the city of Houston, she knew that she would be ideally situated to take advantage of internship opportunities in the oil and gas industry. "The internships are down the street, essentially. I thought the University would be a good place to grow, and I was right," she said. 
From studying abroad in Russia with the Honors College and in Costa Rica with Sol Education, to three years of undergraduate research in engineering professor Venkat Selvamanickam's semiconductor lab, Reed has approached each new experience as an opportunity for growth. Her funded research at UH led to a summer research project into solar panel recycling at Arizona State University, where she worked with a diverse and impressive group of students from across the country. Ultimately, this experience set Reed on the road to graduate school. 
Beyond her academic legacy, Reed hopes to have left a lasting mark on the Houston community through long-term, sustainable service with the UH Bonner Leaders program. In her sophomore year, she founded the Writing to Inspire Successful Education (WISE) project, a writing mentorship project for 7th graders in the Third Ward, a program which is entering its fourth year in the fall and now serves more than 300 students annually. 
"Through the Bonner program I've learned a lot about the history and racial politics of the Third Ward as well as its relationship with the University of Houston," said Reed. "There are a lot of community service needs that can be met by the University, by UH students, who have a lot of time and talent. I believe that if you're in a community for four years, you have to give back." 
But while Reed has enjoyed a range of co-curricular opportunities at UH, she acknowledged that there were risks: "With each new commitment, I was kind of nervous—would this affect my GPA? But I didn't want to sacrifice my different activities. I was exploring the different options available to me. That's what college is. Your GPA gets you to the interview, but it won't get you through it." 
Reed also said yes to the support offered by the Office of Undergraduate Research, which she utilized throughout the graduate school and fellowship application process. While Reed knew that she had the science and research background to succeed in a doctoral program, she also knew that she needed to be able to explain her work to a committee. She collaborated closely with Ben Rayder, director of National Fellowships and Major Awards, who read multiple drafts of her essays and personal statements for each application.
"I am tremendously excited for Serrae's accomplishment and how this will support the next stage of her academic career at Yale," said Rayder. "As part of its mission to support aspiring students from across the University, the Office of Undergraduate Research offers advising, workshops, information sessions, and mentoring opportunities that prepare candidates for fellowship applications. Serrae utilized many of these services, and I encourage other students to do the same."
Her hard work paid off. This spring she was offered a GEM Fellowship providing support toward graduate study in science and engineering, as well as an internship and post-graduate job with Shell Oil. The GEM Consortium aims to increase the participation of underrepresented groups at the master's and doctoral levels in engineering and science. 
Reed was also awarded a 2018 Ford Fellowship, which includes a generous stipend for three years of study and membership in the Ford Fellows, a unique and highly selective cohort through which Reed will enjoy mentorship and camaraderie as well as access to workshops, professional development, grant writing and research funding expertise, and an annual national conference. Because the offers are non-combinable, Reed has chosen to accept the Ford Fellowship. 
While her doctorate will open doors in academia, Reed doesn't feel pressured to make a decision about the future yet. "I see three paths in front of me: going into industry, working in education, and working in community service. Ideally, I will be able to combine at least two out of three of these passions." And with such a wealth of experiences under her belt, Reed has the knowledge and skills to go in any direction that she chooses.