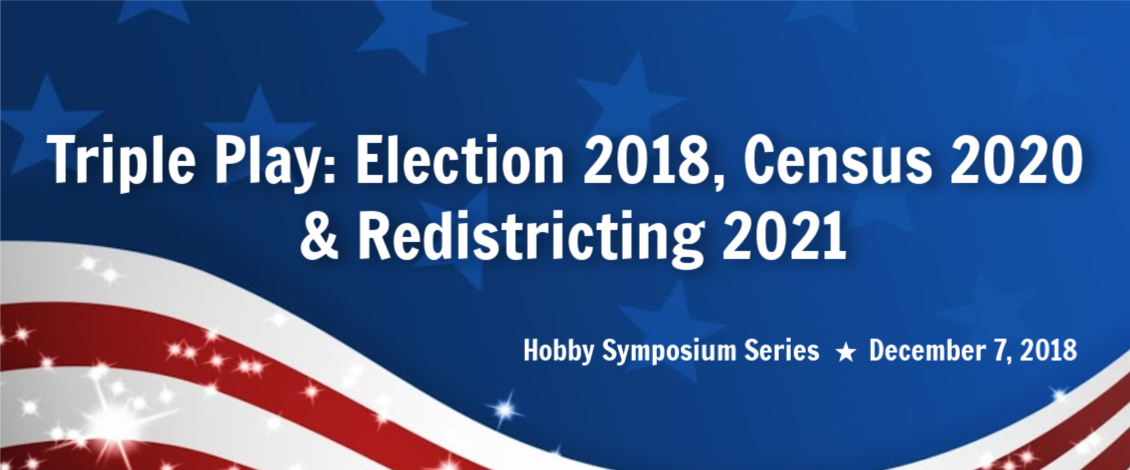 Triple Play: Election 2018, Census 2020 and Redistricting 2021
Given the importance of the 2018 election, the 2020 census and 2021 redistricting on future national and state public policy, the Hobby School of Public Affairs at the University of Houston is convening a symposium to explore the 2018 election results and their likely impact on the direction of American politics. Topics include the implications of the midterm results on the census process as it ramps up for the 2020 count and what this means for the remapping of America in 2021. Featuring leading academics and journalists, the symposium will be held at the University of Houston-Downtown on Friday, December 7, from 9AM-4PM.
The symposium is free and open to the public, however registration is required.  A light breakfast and lunch will be provided. 
AGENDA
Counting Americans in 2020: The Challenges of the 24th Decennial Census and the Consequences for American Politics
Panelists
Thomas Brunell, Professor, Department of Political Science, University of Texas-Dallas
Francisco Pedraza, Assistant Professor, School of Public Policy and Department of Political Science, University of California, Riverside
Richard Murray, Bob Lanier Chair in Urban Public Policy, Department of Political Science, University of Houston
Keynote Luncheon Address
William H. Frey, Research Professor, Population Studies Center, University of Michigan; Senior Fellow, Metropolitan Policy Program, Brookings Institution
Dr. Frey specializes in US demographics, American political demographics and the US Census. His latest book is Diversity Explosion: How New Racial Demographics are Remaking America.
The First Midterm Election in the Trump Era:  What Do the Results Tell Us about the Future of American Politics?
Panelists
Matt A. Barreto, Co-founder of Latino Decisions and Professor, Department of Political Science, UCLA
Susan J. Carroll, Professor, Department of Political Science, and Senior Scholar, Center for American Women and Politics, Rutgers
Daron Shaw, Professor, Department of Government, University of Texas at Austin
Frank Bruni, Op-Ed columnist, New York Times
Bob Erikson, Professor, Department of Political Science, Columbia University
The Impact of the 2018 Midterm Elections on the 2021 Redistricting Process:  Reports from the States  
Panelists
Susan MacManus, Distinguished Professor Emerita, School of Interdisciplinary Global Studies, University of South Florida
Mark Jones, Fellow in Political Science, Joseph D. Jamail Chair in Latin American Studies, Baker Institute for Public Policy, and Professor, Department of Political Science, Rice University
Jonathan Cervas, Research Assistant, School of Social Sciences, UC Irvine
David Daley, Author of "'Ratf**ked' the True Story Behind the Secret Plan to Steal America's Democracy", Digital Media Fellow, Wilson Center for the Humanities and the Grady School of Journalism, University of Georgia, and Senior Fellow, FairVote
DETAILS 
When: December 7, 2018, 9:00 AM to 4:00 PM
Check-in: 8:00 AM to 9:00 AM
Where: University of Houston-Downtown 
Parking: UHD Visitor Garage and metered parking on Girard Street 
Event Contacts
Emily Janowski
eajanows@central.uh.edu
713.743.7171
Isaiah Warner
inwarner@uh.edu
713.743.3942
 Media Sponsor