News Archive
October 16, 2019
The UH Student Health Center and Campus Pharmacy, in partnership with HEB Pharmacy, will host a flu shot clinic available to all enrolled UH students on Tuesday, October 29, 2019. Commercial insurance accepted or Self-Pay option is available.
---
September 25, 2019
The month of October is Breast Cancer Awareness Month.  This fall, the University of Houston will once again partner with The Rose  to deliver on site mammograms to those women who have yet to get their annual screening.
---
Friday, October 11, 2019
1:00 PM to 4:30 PM (walk-in only)
What better way to keep healthy and successful this academic year than to get vaccinated against influenza. Free flu shots will be available to currently enrolled self-pay UH students (18 and older) with valid ID. Available while supplies last. Students enrolled in the UH endorsed Student Health Insurance Plan may receive the flu shot with no out-of-pocket cost.
Find out more about services we offer: General Medical Clinic, Orthopedics, Psychiatry, Women's Health, Men's Health, Lab and Pharmacy Services.
UH Students may register for a chance to win a prize in our Fall 2019 drawing.
---
Student Health Insurance Plan Open Enrollment Extension
September 23, 2019
Due to the inclement weather on September 18, 2019- September 20, 2019, the enrollment period of the Student Health Insurance Plan will remain open through Friday, September 27, 2019.
---
Welcome Students
To those who are new to the University of Houston, we would like to welcome you to our campus. If you are returning this term, welcome back.
Our aim is to assist you with your health-related questions and needs in the most accommodating and respectful way possible. We offer convenient and easily accessible comprehensive primary healthcare to the University of Houston students.
---
September, 2019
As part of Sexual Health Awareness Month, the Student Health Center is offering an STI Screening package for asymptomatic (without symptoms) self-pay students. Appointments are required.
Routine screening package for asymptomatic (without symptoms) students includes:
Pre-counseling consult with a provider (no physical exam)
Lab testing for HIV, Syphilis, Gonorrhea, Chlamydia, Hepatitis B & C
$80.00 for Self-Pay Students
Schedule your appointment here.
(Appointment times will vary and may not be available during all clinic hours)
---
Higi Station
March, 2019
Our thanks to Hallie Vanderhider, this year's Houston Chair of the American Heart Association Go Red For Women Campaign, for generously providing our campus with a brand new higi™ station.
All UH students, staff, and faculty now have free and convenient access to this machine which tracks blood pressure, pulse, weight, and BMI. The University of Houston is the first college campus to have one!
The higi™ station is located near the UH Student Health Center and Campus Pharmacy at the Wheeler Street entrance of the Health 2 Building. Come check it out and see just how easy it is to measure numbers that are important to your health.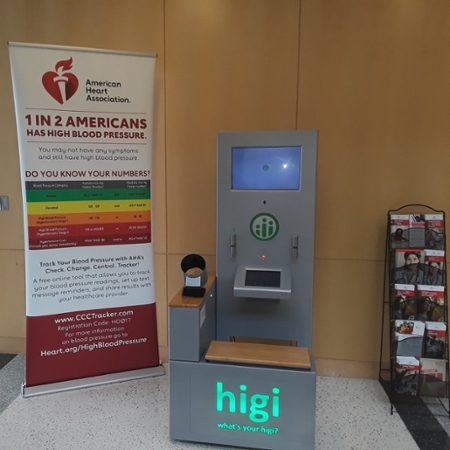 ---
Measles
The Center for Disease Control and Prevention (CDC) defines measles as a very contagious disease caused by a virus. It spreads through the air when an infected person coughs or sneezes. It is so contagious that if one person has it, up to 90% of the people around this individual could potentially become infected if they are not protected.
---
Case of Tuberculosis on Campus
The Houston Health Department has informed the University of Houston and UH Student Health Center leadership that an individual on this campus is being treated for active tuberculosis (TB).
The Student Health Center strongly encourages University of Houston students, faculty and staff to take preventative measures to limit the spread of flu by getting an annual flu shot and practicing good health habits.
HPV Vaccine Recommendations
November, 2018
The Student Health Center recognizes the Food and Drug Administration (FDA) has recently expanded its approval for the Gardasil 9 HPV Vaccine up for males and females up to 45 years of age.
The Center for Disease Control and Prevention's Advisory Committee on Immunizations Practices (ACIP) should be reviewing the expanded age range and determine if the changes will be included in the 2019 immunization schedule.
The Student Health Center follows the ACIP approved immunization schedule which DOES NOT include the expanded age range at this time. The Student Health Insurance Plan and most other insurance companies will not currently accept claims for this vaccine administered to the expanded age range.
Background Application for Expanded Age Indication for 9-valent HPV Vaccine