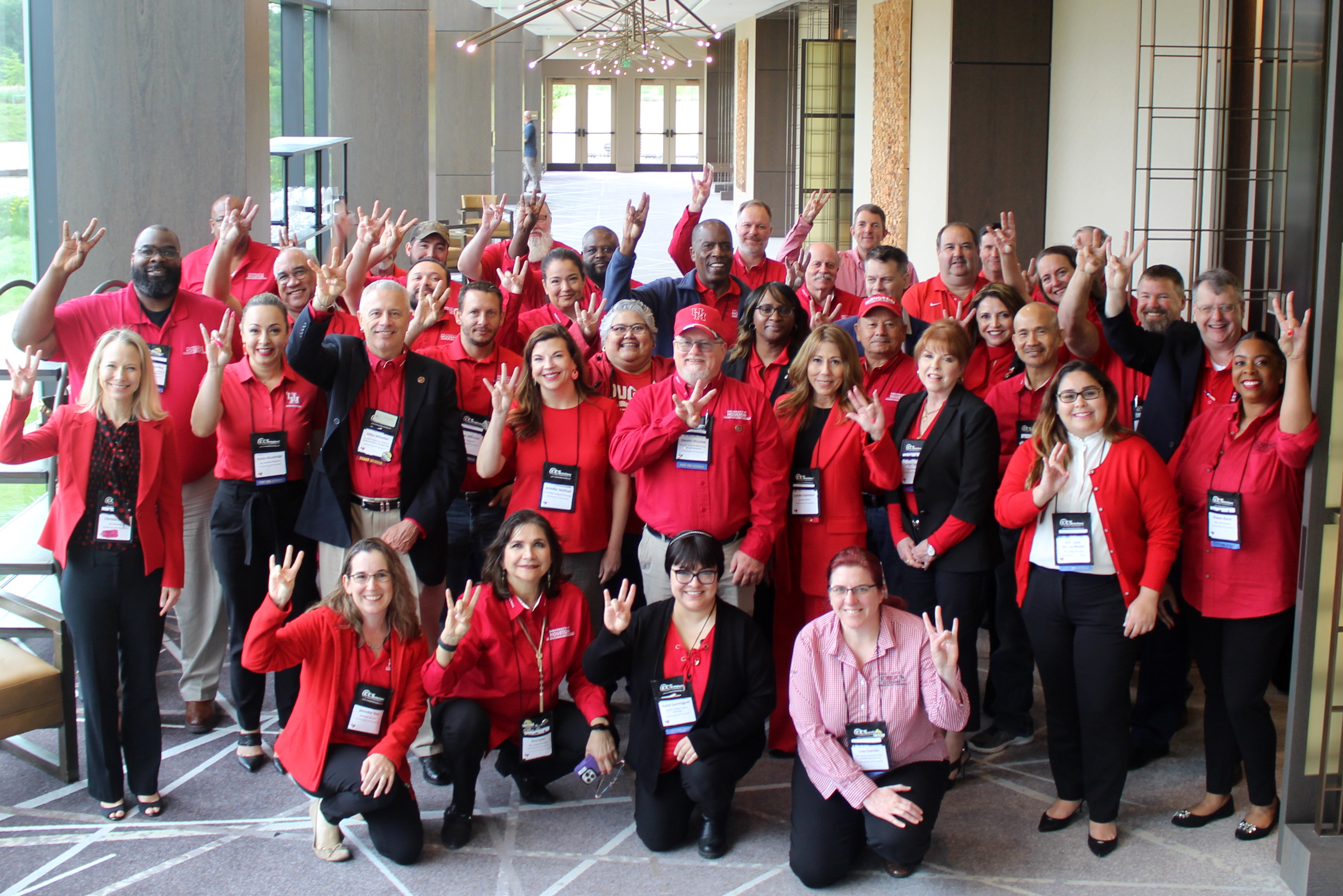 University of Houston staff members from the Facilities/Construction Management department hosted the 2022 TAPPA Educational Conference and Business Partner Fair in Spring, Texas. 
The University of Houston was initially set to host the conference in 2020, but the conference was canceled due to the Coronavirus pandemic. The 2021 edition was entirely virtual, making this year's conference the first in-person one since 2019. 
TAPPA is a non-profit organization that promotes common interest, proficiency, and professionalism in college and university facilities operations. The organization's annual conference allows attendees to get educated and informed on better managing the facilities department in their respective colleges and universities. 
The 2022 TAPPA Conference was attended by 33 higher education institutions with close to 400 participants. And there was a sea of red across the conference as over 40 UH staff members attended — some for the first time. 
First-time attendee Shawn Rand, Fleet Services Manager, found the conference informative and exciting. 
"I enjoyed seeing the other colleges and being able to sit and speak with them and having a sneak peek into the things they do differently in their Facilities departments," said Rand. 
The conference featured education sessions to improve how facilities departments across Texas universities can work more efficiently. Rand particularly enjoyed the break-out session on using technology to manage buildings and emergencies. 
The facilities staff didn't just attend the break-out sessions – they led some of them. This year, Magda Alanis, Woody Sutton, Connie Hammack, and Jim Norcom took on the role of presenters. The topics included: 
"Revolutionizing Customer Service"- Creating a Culture of Customer Excellence - From Development to Implementation

 

"Red Zone" Meet the Process that Accelerates Construction Project Completion

 

Space Audit Planning and How to ACE the Space Audit

 

Avoiding the Pitfalls and Complications of Furniture Specification

 
Aside from attending the break-out sessions, attending the TAPPA conference allowed staff to network with peers and business partners.  
"The opportunity to network with peers and business partners in an in-person environment was critical in creating and strengthening the network of partners to continue making UH successful," said David Oliver, Senior Assistant Vice Chancellor of Facilities/Construction Management. 
Networking with industry peers allowed staff to see how other Facilities departments work in their respective state universities. 
"It was enlightening to see that most, if not all, of the Institutions for Higher Education that were present at the conference are experiencing some of the same challenges related to operations, maintenance, staffing, etc. as we are," said Facilities/Construction Management Assistant Director Guicela Salazar. "It's nice to know that we are not alone." 
At every TAPPA Conference, one attendee is awarded the Facilities Management Distinguishes Service Award. This year's recipient was Mike Wheeler, Director of Projects & Technical Service. 
When the announcer read the accomplishments from the 2022 Facilities Management Distinguished Service Award, Wheeler looked around, wondering who it was. When they called Wheeler's name, he had one thought. 
"Me?" said Wheeler, who's been attending the conference since 2012. 
Shocked doesn't begin to describe how Wheeler was feeling. 
"I was very excited and kind of choked up at first," said Wheeler. "Then I said, 'I have to pull it together and get up there.'" 
After a successful job hosting this year's TAPPA Conference including a tour of the UH Fertitta Center and Indoor Practice field, the Facilities/Construction Management department looks forward to next year's conference in Denton, TX.