Coog Coalition Helps Houston ISD School Succeed
Posted Nov. 27, 2017 – When Houston ISD Principal Diana Castillo was looking to change her school's mascot, she knew the perfect symbol: the Cougars.
With two degrees from the University of Houston, Castillo said she was thrilled to give a nod to her alma mater.
"I am who I am because of UH and what it has allowed me to do. I still feel so much gratitude," said Castillo, who earned a bachelor's in history in 1996 and a Master of Education in 2003.
Castillo serves as principal of Pilgrim Academy, a K-8 campus in the Houston Independent School District. In addition to Castillo, at least 14 other UH alumni are on Pilgrim's professional staff, including a dozen teachers and both assistant principals, Andrew Casler and Carrie Flores.
Pilgrim Academy Principal Diana Castillo, 2017
In addition, six student teachers from the UH College of Education are interning at Pilgrim. Castillo said she's been so pleased with the UH student teachers that she's hired six others over the last three years.
The cluster of Cougars at Pilgrim represents the strong UH alumni network across Houston schools. Consider this statistic: UH provides more teachers to the Houston Independent School District than any other university preparation program, according to an analysis by UH's Center for Research, Evaluation & Advancement of Teacher Education.
"Principal Castillo has been such a huge supporter of our program and our teacher candidates," said Amber Thompson, who oversees the College's teacher-preparation program. "It's such a joy to visit Pilgrim and see so many of our graduates experiencing success."
Changing Lives
Castillo, who grew up in the East End, started college at Texas State University in San Marcos, but found herself returning to Houston every weekend.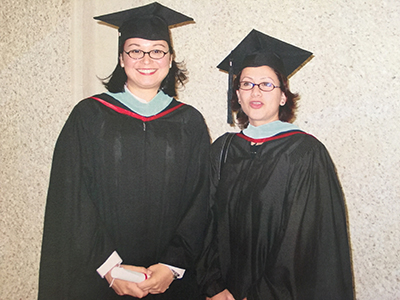 Diana Castillo, UH graduation, 2003
"I'm an only child, and it was very difficult to be away," Castillo said. "After that first year, I decided I probably needed to come home. It was the best decision I ever made."
Castillo transferred to UH as a history major. However, her interest turned to teaching after she took a course on the history of bilingual education and started tutoring at a local elementary school.
"That's when I caught the bug," she said.
The daughter of immigrants from Mexico City, Castillo had grown up speaking Spanish at home and English at school. She understood the challenges many of the students in HISD face and decided after graduation to work as a bilingual elementary school teacher. A few years later, she was selected to participate in a principal-training academy that at the time was a partnership between HISD and UH.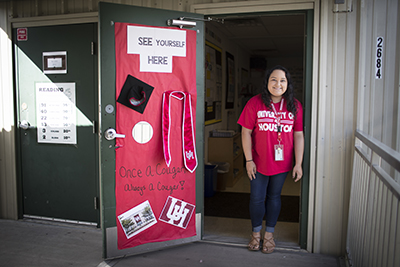 Pilgrim Academy teacher and UH grad Andrea Cruz
Castillo is now in her 12th year leading Pilgrim, which serves more than 1,100 students in southwest Houston. Nearly all are from low-income families, and many are the children of new immigrants.
"It's a very unique experience here," Castillo said. "You're not just changing a life. You're changing the trajectory of an entire family."
Under Castillo's leadership, Pilgrim was recognized in 2017 as a top-performing middle school by the Houston nonprofit Children at Risk.
One of her priorities, she said, is to create a college-going culture among her young students. Before Open House, for example, she asks her teachers to decorate their doors to illustrate where they went to college. Many, including Castillo, display Cougar pride.
'See Yourself Here'
In Andrea Cruz's sixth-grade math classroom, students enter through a red-draped door, adorned with a graduation cap and UH stole. "Once a Cougar, always a Cougar!" Cruz wrote. "See yourself here."
Cruz, a May 2017 graduate of the College of Education and the Honors College, serves as a role model for her students. The first in her family to graduate from college, Cruz grew up in Austin but chose UH after visiting Houston.
Pilgrim Academy teacher and UH grad Joel De Leon
"I loved the diversity I saw," she said. "I'm still in love with it."
Cruz did her student-teaching internship at Pilgrim and knew she wanted to work there full time. She has found a mentor in Joel De Leon, a 2012 UH grad who also did his student teaching at Pilgrim.
"I feel like I'm walking in his footsteps," Cruz said. "He's a great source of support."
De Leon, also the first in his family to graduate from college, started UH as an engineering student but made the switch to teaching after taking a child psychology course.
"I was really interested in what I was reading," he said. "I was reading the assignments ahead of time."
De Leon said he still keeps in touch with Jane Cooper, the College of Education professor who served as the site coordinator for Pilgrim during his internship.
"I had an amazing student-teaching experience here," De Leon said. "I couldn't think of a better place."
Gaining Experience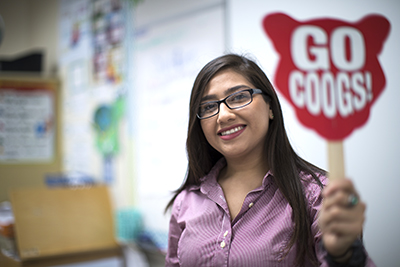 Pilgrim Academy teacher and UH grad Martha Hernandez
Castillo, who's worked to build a staff of teachers focused on the whole child, said her new UH hires fit in seamlessly. She attributes their readiness largely to the yearlong student-teaching internship that UH now requires. Many other programs require only a semester or less.
"That's one of the things I love about UH – they brought us to the field. They showed us the real experience of teaching and helped us through it," said Martha Hernandez, who graduated from the College of Education in May 2017 with Cruz and teaches a bilingual second-grade class at Pilgrim.
–By Ericka Mellon