When Classes Had to Move Online, UH College of Education Professors, Students Proved Resilient
Posted April 15, 2020 — In less than two weeks, professors at the University of Houston College of Education transitioned hundreds of courses to virtual versions in response to COVID-19.
While many professors had experience teaching online, they and their students have learned new technologies, set up makeshift home offices and found ways to make meaningful connections, all while navigating the emotional stress of the public health crisis. As many faculty said, the strength of the human spirit shines through.
"I am truly impressed at how adaptable my students are," said Sissy Wong, an associate professor in the Department of Curriculum & Instruction. Wong's course, Teaching Science in Elementary School, was previously an in-person class, but she and her students have worked together to ease the transition. "They have taken this situation and made the most of it!"
Learn more about how faculty have adapted to remote teaching in the Q&A below.
Sissy Wong, Associate Professor in Curriculum & Instruction
Currently teaching: Teaching Science in Elementary School (original format: face-to-face)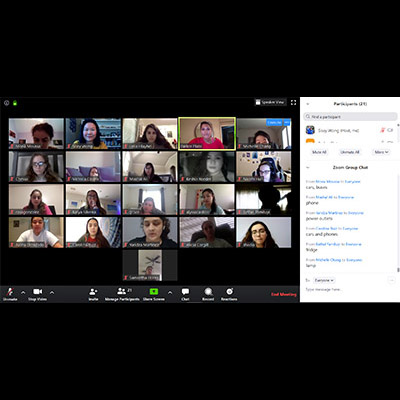 How have you set up your workspace at home?
I work in our family room, which is surrounded by family pictures and treasures from our travels. I feel like I am sharing a little bit of my life with my students when I teach in this room.
What's been the reaction from your students?
My students have been very cooperative and collaborative. I am very proud of them during this transition. They remain engaged, interactive and attentive. They have taken the lessons they were supposed to teach to their classmates in person and transformed them to the online format.
What's your goal for the semester?
To maintain a collaborative and minds-on class atmosphere where students can investigate and question the phenomenon we are exploring in class. I want to make sure my students are healthy, feel supported and still have access to the same high-quality instructional opportunities we provide in person. My goal, overall, is to take this new challenge of being completely online and make science as accessible, interactive and engaging as it always has been.
Jahnette Wilson, Clinical Professor in Curriculum & Instruction
Currently teaching: Assessment (original format: face-to-face)
Currently overseeing: Student Teaching (original format: face-to-face)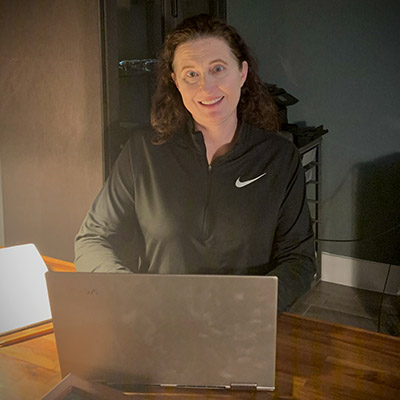 You oversee a Student Teaching course. How are those students using technology to stay connected with their PK – 12 students?
They are creating Kahoot games and videos of mini-lessons and them reading aloud. It is incredible. One student started creating newsletters for her class, and others in the cohort have followed suit. Another student is building a website for her class where they can go on and do various activities.    
What has warmed your heart throughout this experience?
The students amaze me. They are persevering in spite of everything they are dealing with personally.  They want to learn — they are keeping up with their work. They have not asked for extra time even though it has been offered. I'm so proud of them and the fortitude they are exhibiting during this time.
What's your goal for this semester?
To continue to be there for my students and support them in all aspects of their learning.
Elsa Gonzalez, Assistant Professor in Educational Leadership & Policy Studies
Currently teaching: Advanced Qualitative Research (original format: hybrid)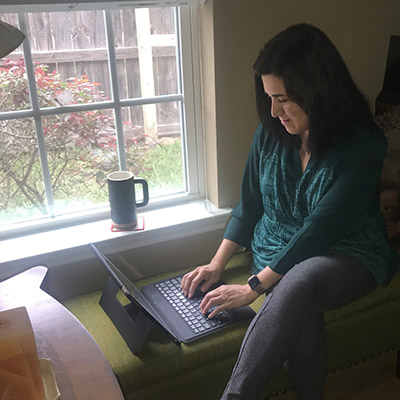 How are your students handling the transition?
Most of my students are toward the second half of their doctoral program. They are scholars in their own research projects, and I treat them as colleagues and life-long learners. We are in this together and we will make it work if we support each other.
What has been the biggest takeaway or silver lining from this experience for you?
We have to start and finish our days with the positive, find the good in what we are living. We are doing so many good things now that, in the past, we probably never would have considered because of time limitations and mental constraints. It is moving to see so many examples of human resilience.
What are your goals for the semester?
For the class, to finish strong and create the space to have confident scholars that are ready for impactful research. Personally, to adapt better and appreciate the greatness around each of us.
Kayce Solari Williams, Clinical Assistant Professor in Psychological, Health, & Learning Sciences
Currently teaching: Introduction to Public Health (original format: face-to-face), Adolescent Health (original format: online), Field Work in Community Health (original format: face-to-face)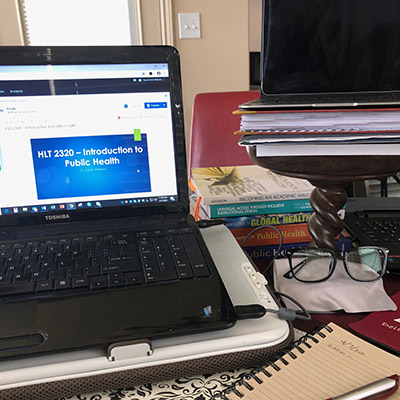 How have you set up your workspace?
I do not have a home office set up in the traditional way. I repurposed my breakfast room to serve as my desk because it's surrounded by windows. I don't turn on lights during the day. I have my ancient laptop — purchased in 2010, webcam no longer works, not enough memory to even open (let alone edit!) a file — next to my iPad resting on a cake stand and some notebooks for the "right angle."
What are your personal and professional goals for the rest of the semester?
Personally, to not spend too much time tethered to a device — remembering to take hourly breaks to stand and that the weekend is the weekend and to treat it as such.
Professionally, to maintain that sense of connection I work to establish with my students and in the field — connection through engagement and fostering an environment that encourages intellectual curiosity as well as maintaining my own!
What have you learned from your students through this experience?
I caught a glimpse into the resiliency of the human — we are not going to be defined by what is happening to us right now. We will get through this and we should be looking forward to all of the wonderful experiences and opportunities ahead of us.
Dustine Thomas, Clinical Assistant Professor in Curriculum & Instruction
Currently teaching: Social Education (original format: face-to-face)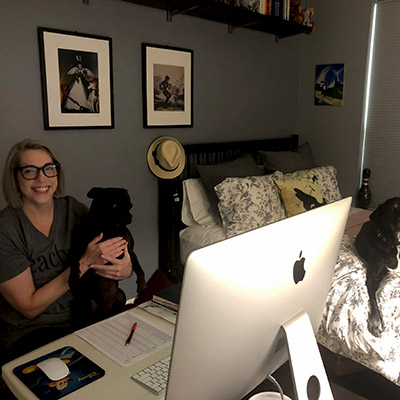 How are you structuring your class now that they are all online? What changes have you made to ease the transition?
I am using a mix of synchronous and asynchronous lessons. I have removed an assignment and am recording class meetings for those who cannot participate. I am also meeting a lot with students individually to walk through course material and just to check in on them during these times. My students are stepping up and really making an effort to participate any way they can. I think having the multiple ways for them to engage has been the key.
Have you connected with your students in new or surprising ways?
Like so many, I have dogs that decide to participate in my class at the worst times. I find myself apologizing to my students, but they respond by posting pictures of them with their pets. It's a great feeling to know that they understand we are all in this together. Not to mention I love seeing pictures from them.
What's been the biggest challenge?
I think for me the biggest challenge is closing the door on work and having that personal time. I have an open-door policy, which is easy to balance when you physically go to an office for those hours but more difficult when your office is 100 feet away.
What's your goal for the semester?
To support my students and still engage in learning. To be understanding and empathetic to your students' needs is preached in the course so I want to make sure I am leading by example.
— By Natalie Thayer
— Photos courtesy of Sissy Wong, Elsa Gonzalez, Kayce Solari Williams and Dustine Thomas