School Leader Draws on UH Lessons to Help All Students Thrive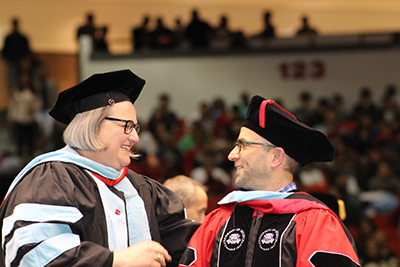 Associate Professor Jacqueline Hawkins praised 2016 Ed.D. graduate Elliott Witney for his evidence-based, kid-focused leadership style.
Posted Jan. 31, 2018 – We all have those pivotal career moments. For Elliott Witney, it happened in his first year teaching two decades ago.
Three months in, he asked his fifth-graders whether a math lesson made sense. A student named Lilia responded: "Yes, Mr. Witney, we learned this before. Our teacher taught us this last year. He taught us everything you taught us last year."
"I remember thinking, 'Ouch,'" Witney recalled. "But I didn't know."
That experience shaped Witney's passion for focusing daily on the learning experiences of every child, whether they are struggling or far ahead academically. Years later, as associate superintendent of research and design in the Spring Branch Independent School District, the concept of personalized learning for students remains central to his work.
"There are kids all over the city, state, country and world who today already know what they're learning and could learn more. And there are kids who are behind," Witney said. "For us to truly reach our goals of postsecondary success for our kids, we need to meet every child where they are and help them reach their potential."
To further his own learning, Witney applied to the doctoral program in professional leadership at the University of Houston College of Education. He graduated in December 2016 with a specialization in special populations.
"I use the skills and the habits I developed in the program everyday," Witney said. "In some cases it's around data analysis. In other cases it's a focus on rigorous research. And in other cases it's trying to figure out how to translate theory and research into practical, actionable next steps to help people."
'In love with education'
As an undergraduate at the University of Pennsylvania, Witney started as an engineering major but found English a better fit. Not clear about his path after graduation, he joined Teach for America and taught in the Houston Independent School District.
"I fell in love with education," Witney said. "I actually didn't know if I'd like it or not, and I fell in love with it."
He shouldn't have been too surprised. His dad ran a tutoring center, and his mom worked as a substitute teacher. As an eighth-grader, Witney recalls watching his dad help a 12th-grader learn to read.
"I remember feeling uncomfortable," Witney said, "but proud of my dad."
After HISD, Witney joined the KIPP charter school network and held various leadership roles locally and nationally. He began working for Spring Branch ISD in 2012 as executive director of strategic initiatives and innovation. His job included supporting a partnership between the district, KIPP and the YES Prep charter network.
Traditional district or charter, Witney said the goal should be the same.
"My focus has been educational leadership for 20 years," he said. "What I'm trying to figure out in this new work is, 'How do we really create world-class schools for every child?'"
What Works for Kids
With Superintendent Scott Muri in Spring Branch, Witney is piloting an effort with 10 schools to solicit input from community stakeholders and reshape schools so they work well for all children.
Witney, measured with his words, gives an example.
"We know children need to know how to be complex problem solvers to thrive in the global economy," he said. "Right now in every school you have some kids who are really awesome problem solvers and some who really need help. How would you reimagine the school and the school day so every child leaves the school capable of solving complex problems and thrive after they graduate?"
Witney said his experience in the College of Education gave him a broader perspective on school improvement, thanks in part to the diversity of his classmates. Administrators, teachers and higher education officials learned from each other during evening and online classes.
Associate Professor Jacqueline Hawkins, who oversees the College's special populations Ed.D. program, praised Witney's evidence-based, student-centered approach. She called him a "support leader," going beyond the servant leadership style.
"Elliott is passionate at his core about students, their teachers and the progress of schools," she said. "He wants to do things that work but he wants them to work for the kids, the teachers and the schools – rather than just an administrative fix."
–By Ericka Mellon
–Photo by Kathy Patnaude