'I Understand the Difficulties': UH School Psychology Student Leads with Empathy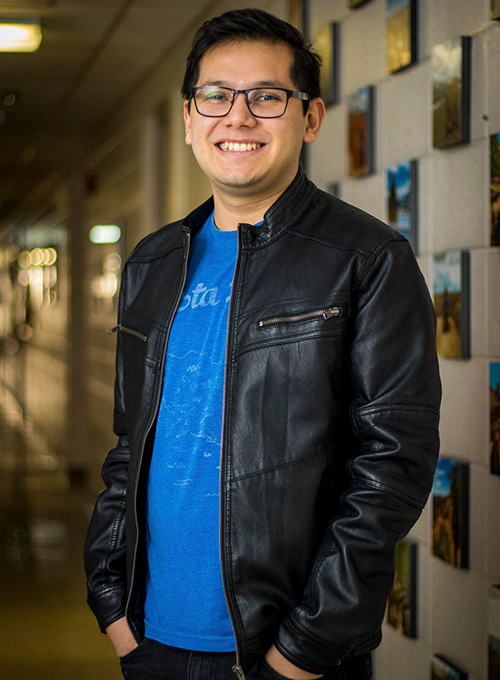 Posted March 30, 2022 — As an immigrant from Costa Rica, Elías Loría struggled as a young adult to assimilate to a new culture, learn a second language and access resources.
Now a doctoral student at the University of Houston, he's using his voice to help others.
"I have experienced how it feels to be a secondhand member of society, so I want to help families from underserved minoritized backgrounds because I understand the difficulties," said Loría, who's studying school psychology in the College of Education.
A leader among his peers, he serves as president of UH's Graduate and Professional Student Association and recently was appointed to the search committee for a new University provost.
"It's a great opportunity to bring voice to students," he said of his committee role.
Associate Professor Sarah Mire, who has worked with and mentored Loría in the Ph.D. program, said she values his input in helping select a new provost.
"I am thrilled that he will have a role in the provost search process because I trust his ethics, his wisdom, his judgments and his consideration of how this critical role will affect our students here at UH and the university community at large," Mire said.
Learn more about Loría's interests in the Q&A below.
Why did you decide to enroll at UH?
Part of the reason I decided to join the UH school psychology program is because of their main values. The department puts such a big emphasis on diversity and social justice. The program has a lot of opportunities for students to work with Spanish-speaking families, autistic kids and [to gain] understanding on how we can develop better culturally informed practices.
How has UH helped you professionally?
Most of the time, we're talking about diversity, social justice. We're having discussions on how to add that cultural component to each of our cases. Being at a university that puts such a big emphasis on social justice and diversity has helped me to become a better psychologist.
What are you interested in researching?
My research interests broadly surround the development of more effective academic assessment tools for culturally and linguistically diverse students, especially Spanish-speaking students. I am currently working on my candidacy project, which investigates the reliability and validity of a Spanish scoring system for written expression curriculum-based measurement. I am also interested in public policy development to ensure adequate and equitable educational services.
What do you want to achieve as president of UH's Graduate and Professional Student Association?
I joined the organization to better advocate for the needs of graduate students. Speaking on behalf of students is an important role because as students we don't have a lot of room to talk to the people that [make] important decisions. So, being able to advocate for students gives me that ability to help students.
How are you unique as president?
I bring different perspectives. I'm able to talk about my personal experience as an international student, a graduate student, a minoritized student and advocate for those that might not have the opportunity to do so. There's a lot of unique challenges international students face.
What do you do as president?
I attend faculty committee meetings in which we work to better understand the needs of students. We've had events about mental health, self-care, how to deal with burnout and imposter syndrome.
What are you looking for in a new provost?
They have to be able to connect and listen to students, faculty and staff because at the end of the day we all have to work together to thrive. [They must have] a commitment to social justice and diversity. They [should] support students in how to succeed academically, professionally and personally.
What do you do for fun?
In my spare time, I enjoy watching television shows, baking, cooking and playing with my cat, Link.
What is a unique fact about yourself?
I'm obsessed with bread. Every one of my friends can confirm I'm obsessed with bread. I can really just eat bread in any shape without having to put anything on it.
—By Lillian Hoang
—Photo courtesy of Elias Loría