Doctoral Student Gains Valuable Experience at Summer Education Conference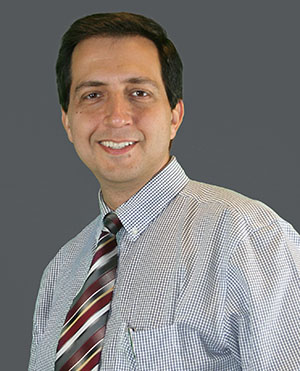 Adrian Bidulescu, who just began his doctoral studies in the Professional Leadership K-12 program at the UH College of Education had an opportunity to attend the 67th Annual Summer Conference on Education, sponsored by TASA (Texas Association of School Administrators) and The University of Texas at Austin's College of Education.
Bidulescu is a former Clear Creek ISD (CCISD) instructional specialist for secondary behavior and currently is head of special programs at Space Center Intermediate which is also in CCISD.  Dr. Greg Smith, superintendent of CCISD, where Bidulescu currently works also attended the conference.  Smith, named the 2012 Superintendent of the Year by the Texas Association of School Boards, is a UH Alum and received his MS in Educational Management in 1984.
Greg Smith and Adrian Bidulescu at the 67th Annual Summer Conference on Education in Austin Texas.
During the three day conference Bidulescu networked and learned from highly skilled professionals from across the state.  "High level officials, superintendents and district directors shared their vision, expertise, and most importantly, some of their success stories as educational leaders at various levels of responsibility," said Bidulescu. "Very personal and very motivating!"
Bidulescu received important information and learned more about various educational methods and skills that Professional Leadership K-12 doctoral students use and apply in their classes. "Specifically, I learned more about school finance and FSP (Foundation School Program), standard-based evaluations under the new appraisal system, the federal flexibility initiative, plus the impact of the 84th Legislature on state assessment and accountability systems in general," he said.
Keynote speaker, Gary Marx, President, Center for Public Outreach discussed 21 trends for the 21st century and Bill McRaven, UT System Chancellor spoke to his belief that "education has the power to change lives and change the world." 
"Adrian Bidulescu is eager and thoughtful in his approaches to educational leadership, management, and policy. He is an individual who seeks research-based, evidence-driven answers to important questions that will improve organizational, personnel, and student outcomes," said Department of Educational Leadership & Policy Studies (DELPS) chair Anthony Rolle. "I am confident Adrian's attendance at the TASA Summer Conference assisted him with his academic and professional journey."
Bidulescu is inspired by the high level of energy and the commitment of DELPS department chair, Dr. Anthony Rolle.  "Dr. Robert McGowan and Dr. Angus MacNeil also impress me with their practical knowledge and how they translate theoretical concepts into practical contexts and school administration situations in each and every class," he said.
Bidulescu plans to use the knowledge and practical skills he gained in the Professional Leadership program to improve his leadership abilities.  "I hope to continue to lead programs, departments, and hopefully, an entire school or a school district one day," he said. "I also plan to stay in touch with the large group of educational experts in my cohort, my colleagues and friends."