UH College of Education Psychology Researchers Present at APA Conference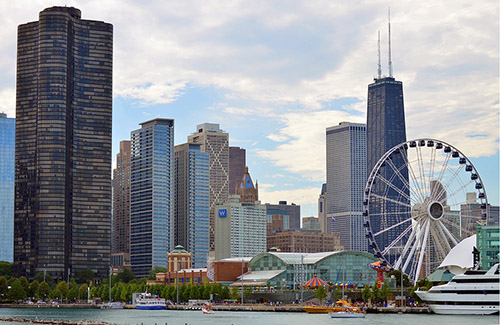 Posted August 8, 2019 – About 60 professors, students and alumni from the University of Houston College of Education will share their research on stress, depression, autism spectrum disorder, mindfulness, and other timely topics at the 2019 American Psychological Association conference in Chicago.
In addition, Roberta Nutt, a clinical professor of counseling psychology at the College, will receive a lifetime contribution award from the Council of Counseling Psychology Training Programs for her work preparing future counseling psychologists.
The conference, which takes place August 8 to 11, is a chance for scientists, educators and practitioners from around the world to share their research and connect.
Nathan Smith, interim chair of the Department of Psychological, Health, and Learning Sciences, said he's thrilled the College's faculty and students are well-represented at the conference. He'll be presenting with three fellow professors – Weihua Fan, Lorraine Reitzel and Ezemenari Obasi – on research linking stress physiology to drug use in LGBTQ invididuals.
Assistant Professor Sarah Mire said she's also looking forward to the conference.
"It gives me a chance to learn more about the innovative research and practice that psychologists are doing all over the country, in all kinds of settings, and for the benefit of all people," said Mire, who will share her research on parents of children with autism and their impact on treatment.
For Ashley Ramclam, a doctoral student in the school psychology program, the conference provides an opportunity to network with other students and professors. She helped with planning as a member of the APA Graduate Student Association Convention Committee.
"I am extremely proud of the programming we are able to offer to graduate students and feel confident in the variety of sessions as they will prove to be a value for students from different backgrounds and at various stages within their programs," she said.
Explore a list of all the APA presentations featuring UH College of Education members this year:
Thursday, Aug. 8, 2019
Male learned helplessness in relation to aggressive behavior within intimate violent relationships
9-9:50 a.m., McCormick Place Hall F
Presenting Authors: Alexandra Slaughter, Madeleine Desrochers and Jonathan Schwartz
A study of school-based mindfulness practice effect on latent affective states
10-10:50 a.m., McCormick Place/Hall F Level 3-West Building
Presenting Authors: Han Joe Kim, Syed Rizvi, Kimberly Smoots, Patrick Sajovec and Bradley Smith

Effects of instructor fidelity on student engagement
10-10:50 a.m., McCormick Place Hall F
Presenting Authors: Angela Serrano, Patrick Sajovec, Lena Gerecht, Stacey Grebe, Jorge Gonzalez and Bradley Smith
The role of social skills and problematic behavior in the development of early literacy skills
10-10:50 a.m., McCormick Place Hall F
Presenting Authors: Nayoung Choi, Jacqueline Anderson and Jorge Gonzalez
Effects of brief mindfulness activities on students' on-task behavior in a classroom setting
10-10:50 a.m., McCormick Place Hall F
Presenting Authors: Patrick Sajovec, Kimberly Smoots, Syed Rizvi, Han Joe Kim and Bradley Smith
Measuring academic skills in children with ASD: A scoping review and call for research
11-11:50 a.m., McCormick Place Hall F
Presenting Authors: Amy Barton, Lindsey Landry, Morgan McNeel, Emily Jellinek, Milena Keller-Margulis and Sarah Mire
Influence of parent cognitions on behavioral intervention outcomes for autism spectrum disorders
11 p.m.-11:50 a.m., McCormick Place Hall F
Presenting Authors: Emily Jellinek, Georgina Rosenbrock, Morgan McNeel and Sarah Mire
Using SMART goals to promote academic achievement
1-1:50 p.m., McCormick Place Hall F
Presenting Authors: Christian Stewart, Loren Trujillo, Lena Gerecht, Jorge Gonzalez and Bradley Smith
Perceived stress, coping, and eating behaviors among undergraduate women
2-2:50 p.m., McCormick Place Hall F
Presenting Authors: Alexandria Posada, Margit Wiesner, Tammy Tolar, Consuelo Arbona and Norma Olvera
HRSA Grant-Funded Training to Provide Behavioral Health Services in Interprofessional Care Settings
6-6:50 p.m., Hyatt Regency McCormick Place Hotel Regency Ballrooms A & B
Presenting Authors: Madeline Desrochers, Briana Johnson, Alexandra Slaughter, Jonathan Schwartz, McClain Sampson and Consuelo Arbona
Friday, Aug. 9, 2019
Caregiver stress during function-based treatment for children with autism spectrum disorder
12-12:50 p.m., McCormick Place Hall F
Presenting Authors: Stacey Grebe, Dieu Truong, Georgina Rosenbrock, Emily Jellinek, Mycah Ayala and Sarah Mire
The association of minority stress and diurnal cortisol with drug use in sexual minority adults
12-12:50 p.m., McCormick Place/Hall F Level 3—West Building (Poster E2)
Presenting Authors: Nathan Smith, Weihua Fan, Lorraine Reitzel and Ezemenari Obasi
Saturday, Aug. 10, 2019
Roberta Nutt's Lifetime Contribution to Education and Training in Counseling Psychology Award
Council of Counseling Psychology Training Programs business meeting
9-11 a.m., Hilton Garden Inn McCormick Place Cord & Auburn room
Motivations for dating: Comparing between dating app users and non-users
9-9:50 a.m, McCormick Place Hall F
Presenting Authors: Autena Torbati and M. Nicole Coleman

Are we dating? Relationship status as a predictor of consistent condom use among black women
9-9:50 a.m., McCormick Place Hall F
Presenting Authors: Temara Holt and M. Nicole Coleman
Discrepancies in Latinx parent and teacher ratings of Latinx preschoolers' behavior using the SSIS
10-10:50 a.m., McCormick Place Hall F
Presenting Authors: Caroline Silva, Christian Stewart, Francisco Usero-Gonzalez and Jorge Gonzalez
Using the dual-factor model to examine school-based yoga outcomes
10-10:50 a.m., McCormick Place Hall F
Presenting Authors: Patrick Sajovec, Han Joe Kim, Norma Olvera, Jorge Gonzalez and Bradley Smith
School discipline, achievement, and mental health in juvenile justice-involved youth with LD
11-11:50 a.m., McCormick Place Hall F
Presenting Authors: Alexandra Slaughter, Maria Dragomir-Davis and Sascha Hein
Traumatic events and distress symptoms among Hispanic college women
11-11:50 a.m., McCormick Place Hall F
Presenting Authors: Emily Naveira, Andrea Argueta, Luiza Martins and Consuelo Arbona
Cortisol awakening response, perceived stress, and neighborhood violence among African Americans
12-12:50 p.m., McCormick Place Hall F
Presenting Authors: Krystal Christopher, Ann Chen, Chaniqua Mazyck, Sarah Childress, Sandra Yan, Christine Smith and Ezemenari Obasi
Hispanic and African American perspectives of body size and physician weight control advice
12-12:50 p.m., McCormick Place Hall F
Presenting Authors: Alexandria Posada, M. Manzano, P. Rinaldi and Norma Olvera
Student well-being and stress: The impact of mindfulness and spirituality
4-5 p.m., McCormick Place Hall F
Presenting Authors: Gulden Esat, Bradley Smith, Syed Rizvi, Arifa Habib and Caroline Mousa
Minority status stress anxiety and depression among Hispanic college women
4-4:50 p.m., McCormick Place Hall F
Presenting Authors: Luiza Martins, Emily Naveira, Andrea Argueta and Consuelo Arbona
Immigration enforcement events and distress among Hispanic college women
4-4:50 p.m., McCormick Place Hall F
Presenting Authors: Andrea Argueta, Luiza Martins, Emily Naveira and Consuelo Arbona
Sunday, Aug. 11, 2019
Symposium: Traumatic events exposure and PTSD symptoms among urban career firefighters
11-11:50 a.m., McCormick Place Room W186c
Participants: Christine Pao, Temara Holt, Sarah Lute, Maria Dragomir-Davis, Lycinda Rodriguez, Consuelo Arbona (Chair) and Jana Tran (Discussant)
Symposium papers:
Frequency and type of duty-related traumatic events and PTSD symptoms in urban male firefighters.
11-11:50 a.m., McCormick Place Room W186
Participating Authors: Christine Pao and Consuelo Arbona
Worst traumatic event and PTSD clusters' symptoms in male firefighters
11-11:50 a.m., McCormick Place Room W186
Participating Authors: Sarah Lute, Christine Pao, Maria Dragomir-Davis, Lycinda Rodriguez, and Consuelo Arbona
Trauma exposure and PTSD symptoms among career female firefighters
11-11:50 a.m., McCormick Place Room W186
Participating Authors: Temara Holt, Sarah Lute, Christine Pao, Norma Olvera, and Consuelo Arbona
–Compiled by Kathy Patnaude
–Photo courtesy of Pixabay