iSMART** Frequently Asked Questions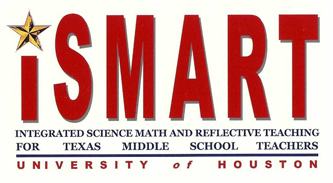 About iSMART | iSMART in the News
Publications & Presentations | Resources | FAQ | Faculty Bios
What is iSMART**?
iSMART** stands for integrated science, mathematics, and reflective teaching. It is a 2-year online M.Ed program for eligible science and mathematics teachers.
Am I eligible to apply?
You are eligible to apply if you have been a practicing science or math teacher for at least 1 year, , and you intend to continue classroom teaching at least 50% of the time during the 2 year program.
What if I am not in the classroom full time?  
Our program requires that at least 50% of your workload is spent as a classroom teacher.  Half-time teachers with additional campus duties are welcome to apply, provided they intend to maintain a 50% load or greater for the duration of the program.  
When does the program start?
Provided that there is enough enrollment, a cohort will start each fall semester. There will be an online orientation scheduled during the summer before.
What kind of technologies do I need for this program?
You must have access to a computer and a fast Internet connection. Broadband, Cable and DSL connections are the best for this. You will also need a webcam and access to digital video equipment.
What will I need to apply for the iSMART** program?
You will need current Graduate Record Examination scores (The General Test - http://www.ets.org/gre/). Your scores must be less than 5 years old at the time of application. You will also need verification of past and current employment and official undergraduate and if applicable, graduate transcripts.  You will also need to submit a favorite lesson with a one-page reflection, a resume, and a one-page teaching philosophy. You will also participate in a webcam interview. For more specific information about the application process, please see About iSMART**.
Where can I take the GREs?
The quickest way to take and receive your GRE scores is by taking them at a local computer-based testing center. The GRE's are offered at many locations and at several times. Go to http://www.takethegre.com/, click on "Where?" and search with your zip code.
Can I be added to your email list?
Yes!  Click here to add yourself to the iSMART** listserv.
If I have more questions, who should I contact?
Please direct additional questions to our team at ismart@uh.edu and we will get back to you as soon as possible.
** The iSMART program is no longer funded; students are responsible for tuition and fees.