DSA News
September 19, 2022
Torrence Douglas has joined the University Career Services (UCS) department as the new program manager 2. Douglas will support local, regional, and national employers with their campus-wide branding and recruiting efforts. This includes supporting both new and experienced recruiters with continuing to build their on-campus presence. He will also be managing the "on-campus interviewing program," leading informational sessions, coordinating special programs, and coordinating career fairs hosted by UCS.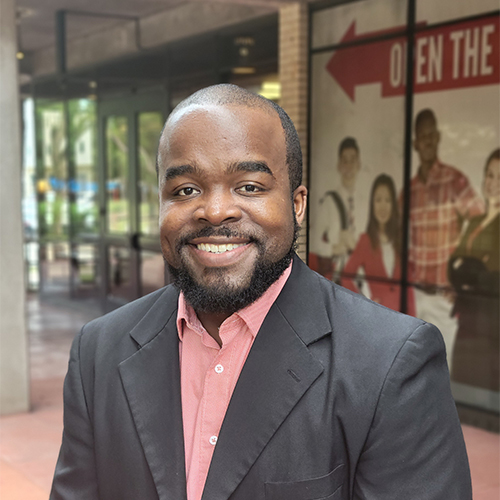 He joined the UCS team as the Sr. Recruiting Manager in July 2022.
Douglas brings 10 years of experience as an administrator in higher education, the non-profit sector, career services, and workforce development. Douglas states. "Through challenging leadership positions, my involvement in student services, career services, and other work experience, I have gained qualities of dedication, commitment, and the will to help others succeed. My work ethic is one that any institution would be proud to have on staff. Working in career services and joint education workforce has allowed me to build upon my experience in working with various consumer types and people from diverse backgrounds."
Douglas' involvement in career services and the joint education workforce has allowed him to expand his experience in developing strategies for connecting with external/internal stakeholders to support experiential learning and job placement. Torrence is passionate about helping students manifest their authentic selves through diverse opportunities including education, reflection, service, and employment. Dr. Thompson, Interim Assistant Vice President, said "I am pleased Torrence is joining the University Career Services (UCS) team. He is creative, positive, and engaging and will be a true asset to the Employer Development and Relations team. With Torrence's previous experience in both higher ed and career services and exceptional strategic and relationship management skills, I am confident he will continue to lift and advance UCS's career success initiatives at University of Houston (UH)."
As a Kentucky native, Torrence earned his Bachelor of Arts degree in Communication Studies from Western Kentucky University and a Master of Arts in Higher Education-College Administration from the University of Louisville.