DSAES News
July 21, 2022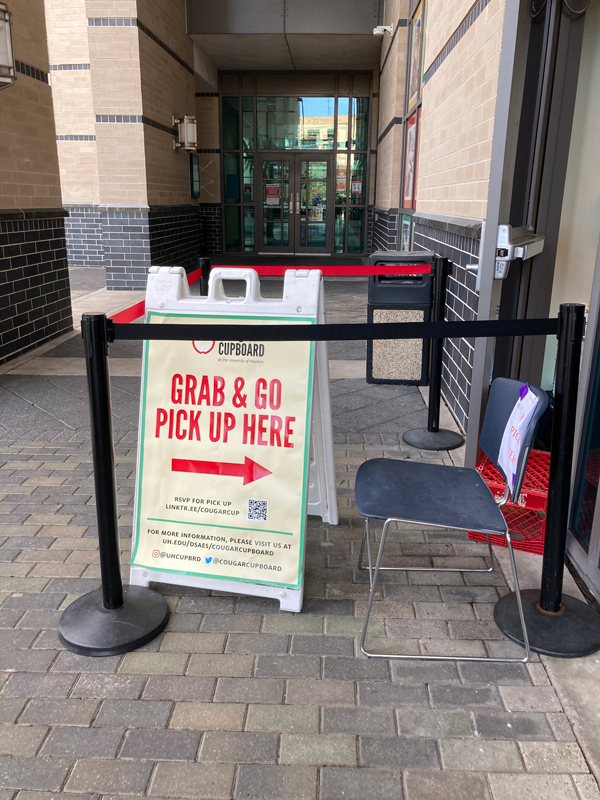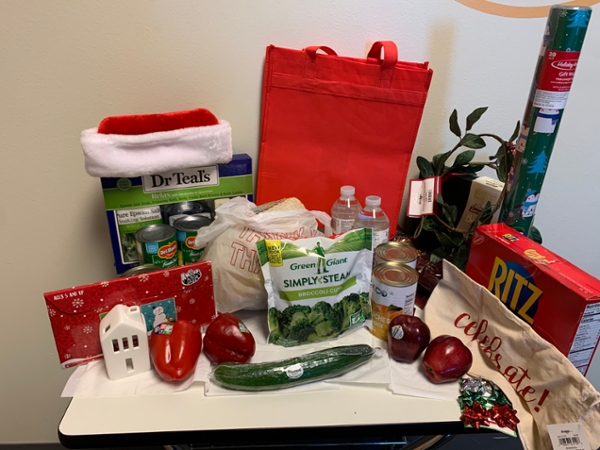 Food bank program expands to include Door Dash delivery during pandemic
Cougar Cupboard turned one year old recently — and its first year has been transformative.
Launched in January 2020 through UH Wellness, Cougar Cupboard started up right before one of the worst economic crises to ever hit the US began, courtesy of COVID-19. Easing the burden for students facing food insecurity became even more important during a global pandemic.
Not only did Cougar Cupboard help students who could not afford enough nutritious food to fuel a regularly healthy lifestyle, it adapted to reach those who could not come to it: It partnered with United Way and Door Dash to offer no-cost food delivery to vulnerable students who need to stay isolated and socially distanced to protect their health.
In its first year, Cougar Cupboard gave out nearly 35,000 pounds of food to 723 students who enrolled into the Food for Change program, and that despite being shut down for several months because of the pandemic.
"Our first-year journey with the Cougar Cupboard has been a challenging but extremely rewarding experience," said Vaishnavi Dusi, the graduate coordinator for the program. "Opening a food pantry right before a pandemic has forced us to be adaptable and resilient as we keep trying new things to get assistance to students who need it while keeping everyone safe. Despite these hardships, we have had a successful first year and been able to make a difference in the lives of hundreds of students."
The number of students who have signed up has now increased to 801 students, and since October, the program has given out 16,215 pounds of canned goods, frozen meat, dry goods and fresh fruit. That's to students who can come to campus and pick up the grab and go bags, he said.
The 365 students who qualify for Door Dash — they must live less than 10 miles from campus — have received 5,475 pounds of food.
Winter Storm Uri, which wreaked havoc in Texas and left millions without power and water, also left many students struggling to find sufficient food. "After the winter storm, we saw a spike in students reaching out to the Cupboard for help," Dusi said. "In the week following the storm we distributed groceries to around 100 students and handed out over 150 pounds of food- an increase of over 50 percent from the previous weeks."
Cougar Cupboard will continue to distribute food via prebagged methods and Door Dash throughout the spring semester, Dusi said.
Launched in partnership with the Houston Food Bank's Food for Change market network, the cupboard is available to all enrolled undergraduate or graduate students who may need access to additional food. The Cullen Trust for Higher Education gave it a boost last year with a $100,000 gift to UH and the Houston Food Bank to help University students and members of the community in immediate need of food assistance.
Located on the first floor of the Campus Recreation and Wellness Center in UH Wellness, suite 1038, students RSVP online and then do contactless pickup of 30 pounds of groceries each week.
Dusi said the cupboard will reopen to in-person services — but only when it's safe. All updates will be posted on our official UH Cougar Cupboard website, he said.
To utilize Cougar Cupboard, a student must attend a one-time market orientation hosted by Cougar Cupboard staff and complete a short application for the Houston Food Bank's Food Scholarship Program.
While statistics on food-insecure college students can vary greatly, the Center for Law and Social Policy estimated that 20 to 33 percent of students at four-year colleges experience food insecurity.
As personal finances have been devastated by the coronavirus, about 40 percent of people visiting food banks nationwide are first-time recipients of food assistance, according to estimates from the food assistance nonprofit Feeding America.