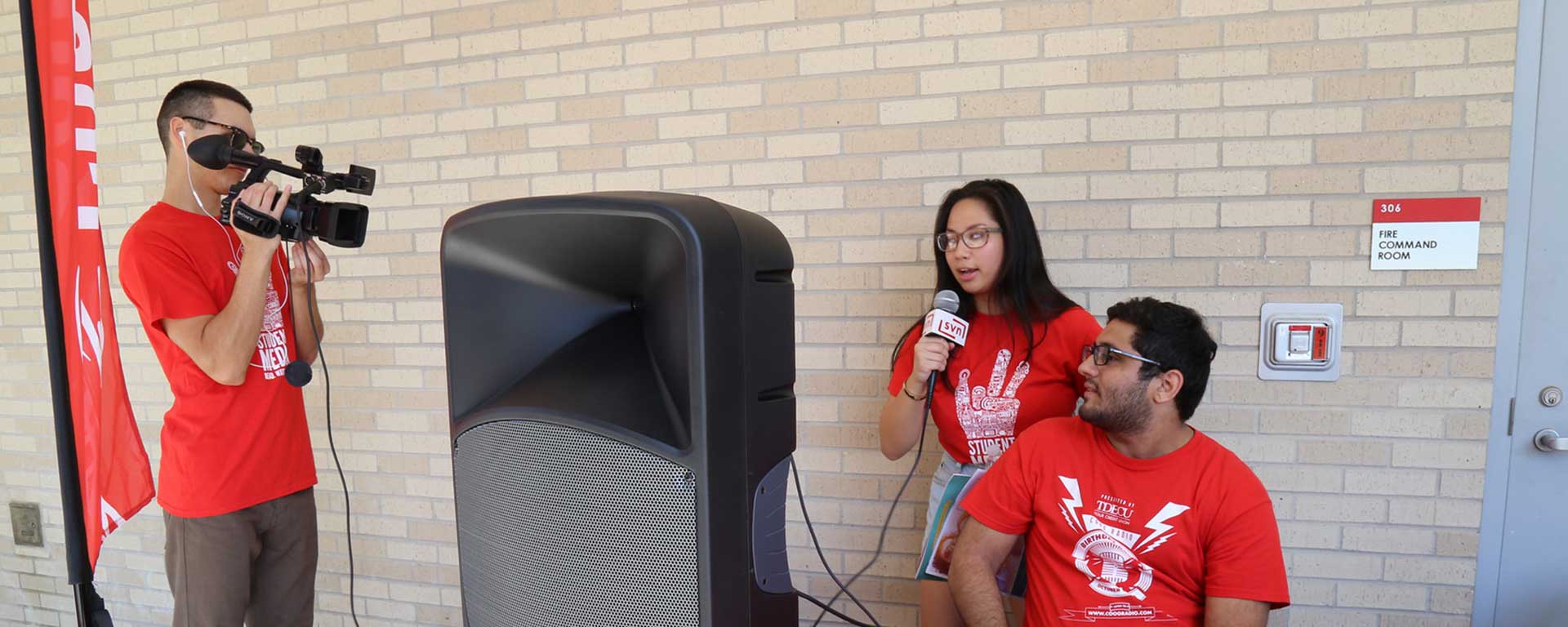 Overview
The Center for Student Media formed in Fall 2013 to provide comprehensive advisory and financial support to the university's student-run media: The Daily Cougar newspaper, CoogTV and COOG Radio.
Part of the Student Life portfolio in the Division of Student Affairs, the CSM is concerned with the development of students, focusing on critical thinking, leadership, ethics, collaboration, intercultural competence, goal-setting and ultimately, degree attainment. While our students are engaged in producing and promoting media channels and content, our goal is to ensure they are learning to become better thinkers and leaders in the process.
The second goal of the CSM is to manage the revenue-generating activities — advertising and media services — that can be used to grow our student media programs and provide richer experiences to the students involved.
Mission
Grounded in professional ethics and best practices, the Center for Student Media supports and empowers student-driven expression, publishing and broadcasting.
Vision
The Center for Student Media aspires to be a cutting-edge multi-platform laboratory that prepares collaborative, innovative and creative students for real-world leadership.
Staff
Lawrence Daniel

Director

Christopher Walker

Assistant Director, Media Services and Fee-Funded Organizations

Marina Vences

Activities Coordinator

Pamela Moon

Office Coordinator

McKenzie Misiaszek

Instructional Assistant
Advisory Committee
The Student Media Advisory Committee is charged with monitoring and advising the CSM and the media organizations under it. One of its primary responsibilities is to appoint the top student leader of each media organization and ensure those leaders fulfill their designated role.

The SMAC meets regularly to monitor the activities of student media and to provide a channel for feedback from academic, professional and community stakeholders. The committee includes three voting seats that are open to the student body and appointed by the Student Government Association. This committee adheres to the Student Media Advisory Committee Bylaws.

Voting Members
Sam Khan Jr.
Professional representative
Glissette Santana
Professional representative
TBD
Professional representative
Alex Barboza
CoogTV representative
Donna Keeya
The Cougar representative
TBD
Coog Radio representative
Iqra Khan
SGA representative
TBD
SGA representative
TBD
SGA representative

Ex-officio 
Lawrence Daniel
Director, DSAES IT Services and Student Media
Chris Walker
Assistant Director, CSM and Media Services
Keith Kowalka
Assistant Vice President, DSAES
Marina Vences
Activities Coordinator, CSM
Jhair Romero
Editor in Chief, The Cougar
Brittany Lau
Executive Producer, CoogTV
CJ Moorer
Station Director, Coog Radio
Ashley N. Brown
Staff Council
Julie Fix
Faculty Senate
Dr. Sahar Hamzah
School of Communication