Towards a New Theory of Masculinity & Violence on the US/ Mexico Borderlands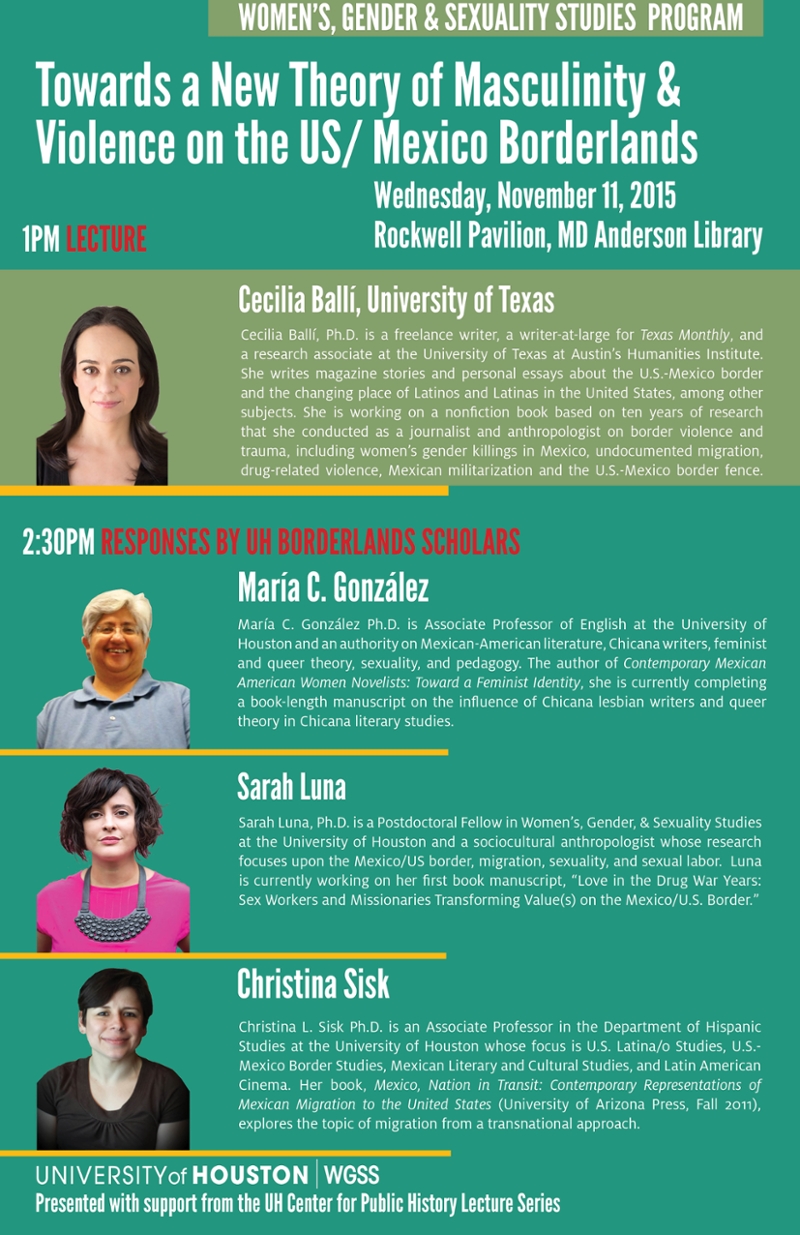 Lecture by Cecilia Ballí 
Wednesday, November 11, 2015
1pm Lecture
2:30pm Responses by Christina Sisk, Maria Gonzalez, & Sarah Luna
Presented with support from the UH Center for Public History Lecture Series
M.D. Anderson Library, UH Main Campus, Rockwell Pavilion
Parking available in Welcome Center garage
at Entrance 1, cross street to Library
Cecilia Ballí Ph.D. is a freelance writer, a writer-at-large for Texas Monthly, and a research associate at the University of Texas at Austin's Humanities Institute. She writes magazine stories and personal essays about the U.S.-Mexico border and the changing place of Latinos and Latinas in the United States, among other subjects. She is working on a nonfiction book based on ten years of research that she conducted as a journalist and anthropologist on border violence and trauma, including women's gender killings in Mexico, undocumented migration, drug-related violence, Mexican militarization and the U.S.-Mexico border fence. Fully bilingual and bicultural, she has carried out long-term ethnographic fieldwork in Ciudad Juárez, Mexico, and Brownsville, Texas, and reported magazine stories in other cross-border communities such as Nogales, Arizona, and Nogales, Sonora; Presidio, Texas, and Ojinaga, Chihuahua; Laredo, Texas, and Nuevo Laredo, Tamaulipas; and Ciudad Mier, Tamaulipas; as well as in southern Mexico and Honduras.
The daughter of Mexican immigrants who were former migrant fieldworkers, she was born in California and grew up in the south Texas borderlands, where she spoke Spanish at home and learned English after entering public school. She began writing for her hometown daily, The Brownsville Herald, as a high school senior. She graduated with honors and distinction from Stanford University with a B.A. in American Studies and Spanish, and later received a Ph.D. in Anthropology from Rice University. Her dissertation examined questions related to gender, territoriality and power in the context of the ongoing abduction and violent sexual killing of poor, Mexican teenage girls in Juárez. She spent six years as a tenure-track professor in the Anthropology Department of the University of Texas at Austin, but left the academy in 2014 to research and write full-time. She is interested in the intersection of literary journalism and ethnography, and has taught narrative nonfiction writing to undergraduate and graduate students and faculty.
María C. González Ph.D. is Associate Professor of English at the University of Houston and an authority on Mexican-American literature, Chicana writers, feminist and queer theory, sexuality, and pedagogy. The author of Contemporary Mexican American Women Novelists: Toward a Feminist Identity, she is currently completing a book-length manuscript on the influence of Chicana lesbian writers and queer theory in Chicana literary studies.
Sarah Luna, Ph.D. is a Postdoctoral Fellow in Women's, Gender, & Sexuality Studies at the University of Houston and a sociocultural anthropologist whose research focuses upon the Mexico/US border, migration, sexuality, and sexual labor. Luna is currently working on her first book manuscript, "Love in the Drug War Years: Sex Workers and Missionaries Transforming Value(s) on the Mexico/U.S. Border."
Christina L. Sisk Ph.D. is an Associate Professor in the Department of Hispanic Studies at the University of Houston whose focus is U.S. Latina/o Studies, U.S.-Mexico Border Studies, Mexican Literary and Cultural Studies, and Latin American Cinema. Her book, Mexico, Nation in Transit: Contemporary Representations of Mexican Migration to the United States (University of Arizona Press, Fall 2011), explores the topic of migration from a transnational approach.