---
Message from Department Chair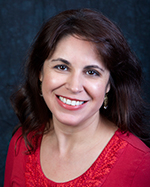 Dear Spring and Summer 2020 Hispanic Studies Graduates,
Congratulations
Although this semester we will not have the privilege of actually shaking your hands as you walk across a stage, we have great hope for the future, precisely because it is in your hands. It has been an honor to have you in our classes. We also salute the friends and family who accompanied you on this journey.
You all have worked so hard, and overcome many challenges to get to this place today. We are confident that as you begin this next phase of your lives you will triumph by following your hearts, and leading with knowledge.
Be inspired by Gloria Anzaldúa's wise words: "Books saved my sanity, knowledge opened the locked places in me and taught me first how to survive and then how to soar." Rise high as you embark on a lifetime of learning.
You will always remain a part of our family. ¡¡¡Adelante Coogs!!!
Maria Elena Soliño
Department Chair and Professor
---
SPRING GRADUATES
Doctor of Philosophy
Viviana Diaz-Leuro
Nuria Montserrat Enriquez Burria
Francisco Estrada Medina
---
Master of Arts
Maria Sanchez Carbajo
---
Bachelor of Arts 
Luis Alberto Arreguin
Ashley Kieu-Nhi Cao
Rachel Nhung Cao
Anthony Ray Clark
Linda Karla Fuentes Reyes
Ana Gladis Gomez
Mariam S. Hosseini Gohar
Jonathan Bach-Viet Huynh
Sumaia Islam
Yasser Lopez
Pablo C. Olivos
Daniel Alejandro Perez
Leslie Resendiz
Yulia Romanovna Saliy
Paulino Tovar
Devyn Nicole Williams
---
Summer Graduates
Bachelor of Arts
Adriana G. Alvarado
Mariana Lindo
Carlos David Lopez Perez