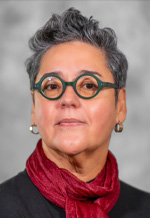 Associate Professor
US Latino and Caribbean Literature
Office: 423 Agnes Arnold Hall
Email: mcuesta@central.uh.edu 
Education:
Ph. D.,  Latin American Literature,The Graduate Center, City University of New York, 2011
MA, Latin American Literature The Graduate Center, City University of New York, 2010
BA, Hispanic Studies, Universidad de La Habana, Cuba, 1999
Courses taught:
Graduate:
*SPAN6397- 2012, SP, 2017, SP-TOPICS IN SPAN-AMER. LIT. –CUBA: PANORAMA POST-SOVIETICO (Cross listed with WGSS)
*SPAN 6397- 2012 FA- TOPICS IN SPAN-AMER. LIT. –MUJERES Y REVOLUCIONES EN EL CARIBE HISPANO (Cross listed with WGSS)
*SPAN 6396- 2013 FA- CREATIVE WRITING
*SPAN 6397- 2014 FA- QUEER DISCOURSES IN THE SPANISH CARIBBEAN ISLANDS (Cross listed with WGSS)
Undergraduate:
*SPAN4397-2013 SP, 2015 SP- EDITING & PUBLISHING: CUBA AND THE UNITED STATES, A COMPARATIVE APPROACH
SPAN3384 - 2011FA, 2012 SP & FA, 2013 SP & FA, 2014 FA, 2016 SP INTRODUCTION TO HISPANIC LITERATURE
SPAN3308 - 2011FA, 2015 SP -WRITTEN COM-HISP HERIT LEARNER
SPAN 3312- 2015 FA, 2016 FA, 2017 SUM & FA- ENGLISH/SPANISH TRANSLATION
SPAN 3301-2015 FA, 2016 FA, 2017 SP & FA- SPANISH ORAL COMMUNICATION FOR CRITICAL THINKING
SPAN 3374-2016 SP-SPANISH AMERICAN CULTURE&CIVILIZATION
Publications:
Edited Volumes
Nuestro Caribe. Poder, Raza y Postnacionalismo desde los límites del mapa LGBTQ. (Cuesta, ed.) Editorial Isla Negra, 2016, Puerto Rico: 250 pp.
Book
Cuba post-soviética: un cuerpo narrado en clave de mujer

. Cuarto Propio, Chile, 2012.
Book Chapters (peer-reviewed marked with asterisk)
* "Jacqueline Herranz-Brooks, para un saber lesbiano en la transición cubana hacia el siglo XXI". Gendering XXI. Latinas, caribeñas y sus otros modos de ser. Editorial Tiempo Nuevo, San Juan: 29-49, 2017.
*"El vasto Mare Atlanticum o algunas estrategias para desmantelar la neocolonizaciónen la narrativa de Mylene Fernández Pintado". El Atlántico como frontera. Mediaciones y cruces culturales entre España y Cuba. Verbum, Madrid: 233-250, 2014.
"Una temporada de parloteros caníbales suicidas" (Prologue). Temporada para suicidas. Manuel Adrián López. Eriginal Books LLC., Miami: 11-13, 2014.
"Memorias de una mujer con los pies desnudos" (Prologue). Las memorias vacías de Solange Bañuelos. Maité Hernández-Lorenzo. Ediciones Vigía, Matanzas: 1-4, 2014.
"Otra vez Anhedonia" (Prologue). Anhedonia. Mylene Fernández Pintado. Ediciones Matanzas, Matanzas: 7-17, 2013.
"Porque nos parecemos a las calaveras (estranguladas) de Guadalupe Posada". (Prologue) Porque nos parecemos a las calaveras de Guadalupe Posada. Damaris Calderón, Ediciones Una Temporada en Isla Negra, Isla Negra: 17-20, 2013.
El grupo Orígenes de Lezama Lima o el infierno de la trascendencia (Prologue). Legado Ediciones&Dirección General del Libro, Archivos y Bibliotecas del Ministerio de Cultura, Madrid: 11-15, 2012.
"Poetas cubanas de Nueva York: pasajeras indómitas en el carro del sol" (Epilogue) Indómitas al sol. Cinco poetas cubanas de Nueva York. Antología crítica. Betania, Madrid: 108-126, 2010.
*"Crossing Borders: Notes on Forgetting" The Portable Island. Cubans at home in the world, Palgrave Macmillan, New York: 209-214, 2008.
*"Others Islanders on Lesbos: A Retrospective Look at the History of Lesbians in Cuba" Our Caribbean. A Gathering of writing from the Antilles, Duke University Press, Durham & London: 132-141, 2008.
Articles (peer-reviewed marked with asterisk)
* "Yerba Prendida (Cubanos a la deriva/Fronteras que no se besaron)". Mitologías hoy. Revista de pensamiento, crítica y estudios literarios latinoamericanos, Volume 12: 245-252, Winter 2015.
* "Lydia Cabrera entre amigas: un tren de sores para una ciénaga cementada". Cuadernos Hispanoamericanos, Issue 779: 12-23, 2015.
* "Nuestra Señora de la Noche, para un informe sobre mito, arquetipo y carnaval en clave hispanocaribeña". Cuadrivium, Issue 10, Year 16: 127-137, 2015.
* "Lola Rodríguez de Tió o el perpetuo viaje. Apuntes patrios para una lectura de lo 'transcaribeño'". Centro Journal. Volume XXVI, Number I: 10-21, Spring 2014
*"De La nada cotidiana a Todos se van: una década de contradictoria liberación". Alba de América. Issue 32, Vol. 60-61: 332-351, 2012.
*"Homoerotismo y nación: otros cuerpos y otras Cubas en Sonia Rivera-Valdés". Temas. Cultura, Ideología y Sociedad. La Habana, Issue 71: 52-57, June-December 2012.
*"Teresa Dovalpage, posesa y deslenguada de La Habana". Cuadernos de Literatura. Pontificia Universidad Javeriana, Bogotá. Issue 31: 162-174, January-June 2012.
*"Karla Suárez, Silente Viajera". Diálogo 15:2. Center for Latino Research at DePaul University: 6-9, June 2012.