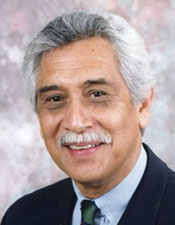 Associate Professor
Phone: (713)743-3136
Email: tmindiola@uh.edu 
Office: 323 Agnes Arnold Hall
Education
Ph.D. Sociology, Brown University
M.A. Sociology, University of Houston
B.A. Business Administration, University of Houston.
Biography
Professor Mindiola is an Associate Professor of Sociology and Director of the Center for Mexican American Studies (CMAS) at the University of Houston.  Professor Mindiola's research, publications, and teaching areas are in race relations, with particular emphasis upon Mexican Americans. His current research deals with the relationship between Mexican and African Americans, a study of a interaction in a Mexican American cantina and the analysis of conflict and consensus in dreams.   Professor Mindiola is also a political and social analyst and has appeared on various television programs and written a number of editorials for VIVA Magazine and the Houston Chronicle.
As the Director of CMAS, Dr. Mindiola is credited for developing it into one of the premiere academic programs of its type in the country. Under his direction, the center has developed a minor in Mexican American Studies, a visiting scholar's program, research and graduate fellowships, leadership training, academic advising, community service, and a recruitment and retention component. The Center also publishes the University of Houston Series in Mexican American Studies and sponsors conferences and speakers on campus.
Research Interests
JBs: A Mexican American Cantina
Chicano Dreams: Conflict and Consensus
Graduate Courses
Reading in Race Relations
Reading in Mexican American Studies
Readings in Ethnography
Undergraduate Courses
Race Relations Thru Film Mexican
American Experience Thru Film
Hispanics in Houston
Selected Publications
Mindiola, Tatcho and Emilio Zamora, eds. 1992. 

Chicano Discourse

. Houston, TX: National Association for Chicano Studies.
Mindiola, Tatcho, Yolanda Flores Niemann, and Nestor Rodriguez. 2002. 

Black-Brown Relations and Stereotypes

. Austin, TX: University of Texas Press.
Mindiola, Tatcho. 2005. "Chicano Studies: On the Margins or Part of the Academy." 

International Journal of Qualitative Studies in Education

 18(2): 235-242.
Mindiola, Tatcho. 2006. "Should We Open the Southern U.S. Border to Immigration." In 

Controversial Issues in Social Policy

, edited by Howard Krager, James Midgley, Peter Kindle and C. Brene Brown. Boston, MA: Allyn and Bacon, Boston.
Mindiola, Tatcho. Forthcoming. "Book Review: 

'I know It's Dangerous': Why Mexicans Risk Their Lives to Cross the Border

 by Lynnaire M. Sheridan. Tucson, AZ: University of Arizona Press (2009)." 

Contemporary Sociology

.
Mindiola, Tatcho and Nestor Rodriguez. Forthcoming. "African Americans and Latinos in Houston: Intergroup Perceptions and Relations." In 

Beyond Conflict or Cooperation: Research on African American and Latino Relations in the United States: Shared Fates?

 Thousand Oaks, CA: Sage Publications.
Affiliations
Awards/Memberships
Member, Mayor's Hispanic Advisory Committee
Mayor's Hispanic Heritage Award
Member, National Honor Society of Phi Kappa Phi
Distinguished Alumni Award, University of Houston
Ally Award, Center for the Healing of Racism, for research on Black-Brown Relations