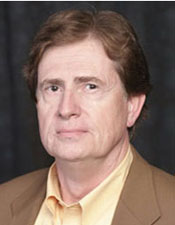 Professor
Phone: 713.743.3959
Email: jlorence@uh.edu
Office: 481 Philip G. Hoffman Hall
Download CV
Education
Ph.D., University of Minnesota
M.A., Iowa State University
B.A., Central College
Honors
The George F. Magner Award for Undergraduate Advising 2004-2005, University of Houston
Research Interests
Determinants of academic achievement, teacher effectiveness, characteristics of effective schools, educational measurement
Teaching
Statistics
Quantitative Research Methods
Sociology of Work and Occupations
Social Stratification and Inequality
Selected Publications
Lorence, Jon. 2014. "Third Grade Retention and Reading Achievement in Texas: A Nine Year Panel Study." Social Science Research 48:1-19.
Lorence, Jon. 2010. "Trait Validity and Reliability of TAAS Reading Scores." EducationalResearchQuarterly 34(2): 18-59.
Lorence, Jon. 2009. "Grade Retention Redux: A Dissenting Perspective." Pp. 1153-1175 in International Handbook of Research on Teachers and Teaching: Part Two, edited by Lawrence J. Saha and A. Gary Dworkin. New York: Springer.
Lorence, Jon. 2008. "Texas TAAS Scores Revisited." EducationalResearchQuarterly 31(4): 3-31.
Dworkin, A. Gary and Jon Lorence. 2007. "Non-Promotional School Change and the Achievement of Texas Students: Possible Public School Choice Outcomes under No Child Left Behind." Pp. 243-266 in No Child Left Behind and the Reduction of the Achievement Gap: Sociological Perspectives on Federal Education Policy, edited by Alan R. Sadovnik, Jennifer O'Day, George Bohrnstedt, and Kathryn Borman. New York: Routledge.
Lorence, Jon. 2006. "Retention and Academic Research Revisited from a United States Perspective." International Education Journal 7(5): 731-777.
Lorence, Jon and Anthony Gary Dworkin. 2006. "Elementary Grade Retention in Texas and Reading Achievement among Racial Groups: 1994-2002." Review of Policy Research 23(5): 999-1033.
Dworkin, A. Gary and Jon Lorence. 2004. "Retention in Grade and School Survival: A Challenge to the Current Consensus." Section A2 (Life Chances and Participation). Pp.1-9 in Key Contexts for Education and Democracy in Globalising Societies, edited by R. Ruzicka, J. Ballantine, and J. A. Ruiz Roman. Prague, Czech Republic: Charles University, Argentura Action M.
Lorence, Jon, A. Gary Dworkin, Laurence A. Toenjes and Antwanette N. Hill. 2002. "Grade Retention and Social Promotion in Texas, 1994-1999: Academic Achievement among Elementary School Students." pp. 13-52 in Brookings Papers on Educational Policy: 2002, edited by Diane Ravitch. Washington DC: The Brookings Institution.